In June 2021, leaders from ABIM and 23 specialty societies convened virtually for the annual Internal Medicine Summit. Marianne M. Green, MD, attending her last Summit as Chair of the ABIM Board of Directors, set the stage for the meeting by sharing an overarching goal with
attendees: to explore and identify ways ABIM and the specialty societies can collectively leverage their respective Diversity, Equity, and Inclusion (DEI) initiatives to make a greater impact in key areas, such as:
Ensuring fairness in physician education and assessment
Making the physician population more representative of the communities they serve
Improving outcomes for patients such as reducing health disparities and increasing access for the underserved/underrepresented
President's Update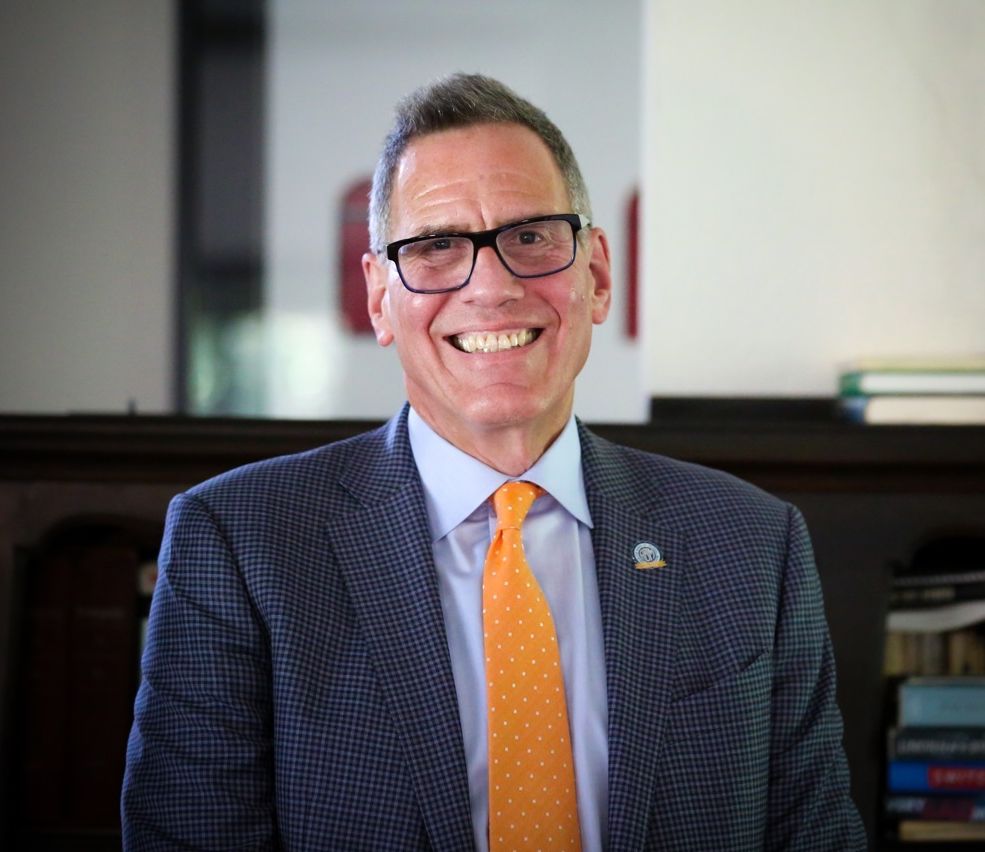 Richard J. Baron, MD, President and CEO of ABIM and ABIM Foundation, articulated the importance of collaborating with societies to improve DEI across all of health care, and stressed ABIM's desire to have action-oriented conversations that will lead to meaningful change. Dr. Baron reflected on the past year and the additional burdens the pandemic has placed on physicians. He reminded the group about ABIM's announcement in May 2020 that no one would lose certification if they weren't able to complete a Maintenance of Certification (MOC) requirement that year, and a subsequent March 2021 announcement that deadlines for all MOC requirements would be extended until the end of 2022. Dr. Baron then shared three recent decisions by the ABIM Board of Directors that followed through on ABIM's Statement of Racial Justice from a year earlier:
Adding health equity content to future ABIM assessments:
Knowledge and understanding of the impact of race, ethnicity, gender and other factors on patient health outcomes is critical to staying current in the field of internal medicine and all of our subspecialties. Decades of research have identified inequities in health care and health outcomes.
Physicians who are certified by ABIM should be able to demonstrate that they are aware of the ways in which structural racism and health inequities manifests itself in their field.
By including health equity content on our assessments, ABIM underscores the expectation that physicians learn about addressing health equity. Society partners will continue to play a vital role by providing educational programs and resources.
It will be some time before these questions appear on assessments, and they will undergo rigorous pre-testing, similar to all ABIM exam questions.
Acquiring race/ethnicity data on ABIM diplomates:
The American Association of Medical Colleges (AAMC) will provide ABIM with race/ethnicity data on its diplomates that will allow ABIM to conduct additional analyses to determine if there is bias within ABIM assessments at the individual item level, and to consider additional research on fairness.
Exploring the use of race and ethnicity data in ABIM exam questions:
ABIM will conduct research with volunteer diplomates to discuss the possible impact of adding race/ethnicity identifiers -which have been stripped out for almost 20 years- to ABIM exam content.
 In addition to these three areas, Dr. Baron noted that ABIM is eager to listen and learn from the professional societies and to look for other synergies and potential areas of collaboration in DEI. Learn more in a new section on ABIM's website highlighting its commitment to health equity.
Advancing DEI in Health Care and Beyond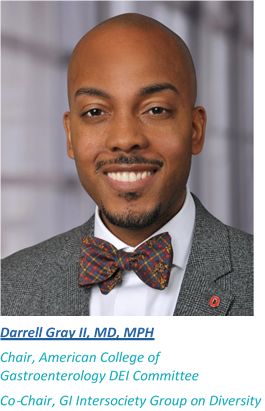 Darrell Gray II, MD, MPH, an associate professor of medicine at The Ohio State University and an active leader in championing health equity in gastroenterology (GI), delivered a keynote address on the importance of DEI that helped frame the day's discussions. Dr. Gray opened by defining the terms 'diversity', 'equity' and 'inclusion,' and illustrated the need for their adoption across all of medicine. He posited that in order to achieve health equity, we must address both disparate outcomes and root causes, noting that there are many different determinants of health. He also referenced a number of societal examples that reinforce how diversity and inclusion drives excellence and innovation, such as better patient-physician communication and greater adherence to recommendations and care. Yet across medicine, underrepresentation of certain racial and ethnic groups continues to be a problem. As an example, he cited that African Americans represent approximately 13% of the US population, but only 5% of physicians (Association of American Medical Colleges. AAMC Facts. 2020). He provided additional statistics showing that GI is a discipline where there is substantial room for improvement with regard to DEI, and as Co-Chair of the GI Intersociety Group on Diversity, he highlighted some of the initiatives of the four GI professional societies that attended the meeting. He then referenced an article entitled 'Diversity and Inclusion in GI' that he co-authored and published in the American Journal of Gastroenterology in May 2020. It outlined five critical steps to consider when trying to make sustainable improvements in diversity and inclusion:
Create and support pipeline programs at the earliest stages of education
Incorporate holistic review and implicit bias training in recruitment selection committees
Encourage mentorship and sponsorship
Use mandatory implicit bias training for faculty, staff and trainees
Cultivate an inclusive cadre of leadership
Dr. Gray closed the session by stressing that "DEI is everybody's business" and although there is a long road ahead, he stated that he is optimistic about the many positive developments he has seen recently in medicine and in the field of GI, specifically.
How Can We Work Together to Make a Greater Impact in DEI?
ABIM's Chief DEI Officer and Senior Vice President of Communications, Pamela Browner White, followed Dr. Gray's presentation and outlined ABIM's progress in DEI over the past year. She also shared some common themes heard at spring Specialty Board meetings where society leaders joined as guests:
Lack of trust: With new initiatives focusing on DEI, communities of color have sometimes been hesitant to embrace these initiatives due to many instances of broken trust over the years.
Data collection challenges: Many societies are attempting to collect more data on the race and ethnicity of their members, but the lack of trust has created a barrier.
Resistance to cultural shifts: It was noted that many are in different places with regard to their understanding and acceptance of health equity data and DEI issues in society at large. Some physicians have resisted the recent cultural shifts in medicine, and that needs to be understood as an ongoing barrier to change.
Workforce issues: Physician populations often do not look like the patients they serve, a trend that further contributes to inequities in health care and the mistrust that underserved patients often feel.

Specialty societies are looking for ways to recruit more Black and Brown students into STEM fields at an earlier age, and to foster pathways in medicine.
ABIM and many of the societies have created grant programs and scholarships to bring more young people of color into medical training.
Daniel Wolfson, Executive Vice President and COO of the ABIM Foundation, briefly presented on a DEI grant program being conducted in partnership with the Alliance for Academic Internal Medicine (AAIM), ABIM, the American College of Physicians (ACP) and the Josiah Macy Jr. Foundation – to help address the root causes of distrust in the provision of care. The grants support programs that incorporate DEI into internal medicine education and training, and Mr. Wolfson urged society guests to consider partnering on the joint grant program through additional funding opportunities. Ms. Browner White was joined by Lorna Lynn, MD, Vice President for Medical Education Research and the Staff Administrator for the Diversity, Equity and Inclusion Committee, and Pilar Padilla, Communications Integration Manager, to facilitate a series of small-group conversations on a variety of DEI-related issues facing the healthcare system. Attendees were asked to respond to two specific questions:
How can ABIM help with what your societies are doing in this space?
How can societies support what ABIM should do in this space?
Topic Areas of the Small Group Discussions
Health Equity Education: As highlighted by Dr. Baron, ABIM's Board of Directors recently passed a resolution to begin incorporating health equity content into ABIM assessments. How can we (ABIM and societies) collaborate to develop exam content and educational materials around discipline-specific health equity issues?
Collecting Data on Race/Ethnicity/Gender: These data are vital in order to identify disparate outcomes around programs, policies and leadership opportunities. All voices must be represented in these important discussions.
Addressing the Pipeline: Access and exposure to role models are important factors in whether or not someone can even begin to believe that they can be a doctor. Knowing that "you can't be what you can't see," what can we do to make earlier interventions (middle school, high school, or undergraduate) with potential future physicians?
Mentorship and Retention: Role models remain vital during medical school, residency and fellowship training, and in the early years of independent practice or an academic career. What steps can we take to help ensure success for all physicians, especially those who may have to face additional barriers along the path?
Member/Diplomate Buy-In for DEI Initiatives: We know that not all members of the community may initially be comfortable with the direction many of our organizations are going, bringing issues of health disparities and their root causes to the forefront. If we cannot expect outright support, how do we come to a place of understanding with these members?
Becoming a Trustworthy Medical Community: How do we support doctors in building trust with patients who have been historically disenfranchised and, in some cases, experienced harm? What do we need to do to become a trustworthy medical community?
DEI Research Agenda: We know that there is a well-established body of research about health equity and social determinants of health. How do we disseminate this research broadly and ensure physicians are knowledgeable about it? How do we identify and address the gaps?
Overarching Takeaways from the Small Group Discussions
Demographic data collection needs to be more robust and, ideally, should be standardized across certification boards and societies. This will need to be a multi-year effort that includes many stakeholders.
Health equity content being added to ABIM assessments is expected to drive change in education and training, and there could be numerous opportunities to partner in this area.
Sharing DEI resources that are already in existence. There is no need for organizations to reinvent the wheel when existing resources can be shared to maximize their utility.
Addressing the pipeline by supporting underrepresented minority students in all phases of their education is an important issue across all specialties within internal medicine. All agreed that it is critical to start early in the education journey to make the most profound impact.
Building trust is an important foundational element in order to achieve progress in DEI. People of color often do not trust the motives behind initiatives such as demographic data collection, which is an issue that many societies are struggling with as they seek to learn more about their membership demographics.
We must keep the conversation going. There is broad consensus that there is a long road ahead but these kinds of discussions are helpful.
Preparing to Launch the Longitudinal Knowledge Assessment
ABIM's Chief Information Officer, and Executive Sponsor of the Longitudinal Knowledge Assessment (LKA) project, Jeff Miller, shared the latest developments of the LKA and briefly recapped how it will work. Society guests had a chance to ask questions and to gain clarity on questions such as how to earn MOC points through the LKA. Since the Summit, ABIM has announced that LKA will be included at no extra cost as part of a physician's annual payment under updated MOC fees going into effect in 2022.
Closing Remarks
As the IM Summit drew to a close, Dr. Baron paid tribute to the many accomplishments of Dr. Green, whose term as Chair of the ABIM Board of Directors was due to end June 30, 2021, when new Board Chair Yul Ejnes, MD, would begin his term. Dr. Green reflected on the meeting goals and echoed that she heard from attendees that one of the key opportunities for collaboration will involve the sharing of existing resources; there is no need for any single organization to 'reinvent the wheel'. After hearing that many societies in attendance listed demographic data collection as a challenge they are currently addressing, she noted that another possible opportunity for collaboration could be to find ways to standardize the data collection from society members and ABIM diplomates. Dr. Green then acknowledged there is still so much learning ahead and difficult work that needs to be done, but she reaffirmed ABIM's commitment to DEI as a strategic priority and expressed optimism that ABIM and the specialty societies would be able to build off of the Summit conversations to bring about collaborative action and meaningful change.
You may also be interested in...