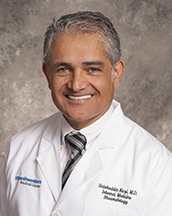 Meet the new Chair of ABIM's Rheumatology Board, Salahuddin Kazi, MD. ABIM Board Certified in Internal Medicine and Rheumatology, Dr, Kazi is Professor of Internal Medicine in the Division of Rheumatology, Vice Chair of Education, and Director of Residency Training at the University of Texas Southwestern Medical Center in Dallas, Texas. Dr. Kazi joined ABIM's Rheumatology board in 2014 when the new Governance structure was created and first included Specialty Boards.
---
Why did you want to serve on ABIM governance?
The practice of medicine has had a number of stakeholders, including the accreditation of graduate medical education, licensing bodies and certification entities. For me, the most meaningful imprimatur is the personal one: Do my knowledge and skills meet the standards set by the American Board of Internal Medicine? As a program director, I recognize that there is considerable variation in how resident performance is assessed. The passage of the Certification Examination is the final seal of approval that training was appropriate and meaningful and might well be the most important outcome of residency training. To serve on ABIM governance gives me the opportunity to not only understand the rich history and recent evolution of what it means to hold certification and remain certified, but also to contribute to the ever-changing future of maintaining medical knowledge in an era of rapidly developing sources of knowledge acquisition.
What are your goals as Chair of the Rheumatology Board?
I believe that goals are future facing, whereas intentions are about the present. I would prefer to set intentions rather than goals.
My intention is to both understand and to contribute to this valuable discourse on how best to design knowledge and competence assessment pathways that are cognizant of the dual needs of society and physicians. During my term, I hope that I will help launch the longitudinal assessment pathway, engage my colleagues on the Board and in the community in rich discussion, and play a role in determining the future of certification.
What are you most looking forward to during your term of service?
The opportunity to serve on a national committee will greatly expand and enhance the current mental models I hold regarding education, competence and public confidence. The ecosystem of healthcare practice and delivery is large, interwoven and interdependent. By broadening my view and taking advantage of new vantage points, I hope to come away with a more robust understanding of the factors that interact in this endeavor.
Why did you want to become a physician?
As a product of a South Asian family (where parents often choose your career), the simple answer would be that I wanted to become a physician to please my parents. In reality, I chose not to deviate from this pathway, because I recognized that medicine exists at that remarkable intersection of the human condition and science—both of which I have enjoyed studying and continue to study.
What's the best advice someone gave you about being a doctor?
"Trust but verify."
Many mentors along the way have reinforced the idea that we are subject to a number of cognitive biases which may lead to premature diagnostic closure or a sunk cost fallacy where we pursue a failing treatment pathway. We are taught to trust our instincts and intuition but exhorted to ensure that we—either independently or through consultation—verify our initial diagnoses and treatment plans.
What is one of the proudest moments in your career?
When I passed the ABIM initial certification exam, I finally had independent verification that I was good enough. Being an international medical graduate, I always worried about the adequacy of my training. Plus, it was not always possible to know if residency training had sufficiently prepared me to the standards I sought. Once I passed the ABIM exam, I was confident that all the preparation in medical school and residency training had served me well.
What's one of the biggest misconceptions about doctors?
They will have an answer to everything. I think patients are continuously surprised when a doctor says, "I don't know," or "I'm not sure." Clearly, there was a time in which the currency of all knowledge at graduation held its value during the lifetime of practice. This is not the situation now, with exponential shortening of the time during which medical knowledge doubles.
What are your interests outside of medicine?
I'm interested in organizational psychology. Running a large residency training program requires understanding personality, human factors, mentoring and process improvement.
What's something your colleagues might not know about you?
Other than for smallpox, I was never immunized as a child and had virtually every childhood viral illness. Somehow, I escaped chickenpox…which I acquired during residency.
You may also be interested in...