Jeffrey S. Berns, MD, is the incoming chair of the American Board of Internal Medicine's (ABIM) Council, and will begin his term in July 2018. He is currently chair of ABIM's Nephrology Board and is board certified in Internal Medicine and Nephrology. He lives in Cherry Hill, New Jersey, and is Professor of Medicine and Pediatrics, Associate Dean for Graduate Medical Education, and Nephrology Fellowship Program Director at the Perelman School of Medicine at the University of Pennsylvania.
Dr. Berns is Professor of Medicine and Pediatrics at the Perelman School of Medicine at the University of Pennsylvania, where he is Associate Dean for Graduate Medical Education, Associate Chief of the Renal, Electrolyte, and Hypertension Division, and Director of the Nephrology Fellowship Training Program. Dr. Berns maintains a general nephrology practice at the Hospital of the University of Pennsylvania. He is a board certified internist and nephrologist.
Dr. Berns was in private practice, first in Northern Virginia, then in Philadelphia, for about 12 years before joining the faculty of the University of Pennsylvania in 1999.
Dr. Berns serves as Dialysis Section co-Editor for UpToDate® and is co-Deputy Editor of American Journal of Kidney Disease. He is Chair of the American Board of Internal Medicine (ABIM)'s Nephrology Board and Chair-Elect of the ABIM Council. He also served previously on the ABIM Nephrology Board Exam Committee and the ABIM Nephrology Self-Assessment Committee. He is Immediate Past President of the National Kidney Foundation. He has received numerous teaching awards, including the Christian R. and Mary F. Lindback Award for Distinguished Teaching from the University of Pennsylvania. He is also the recipient of the Exemplar of Humanism in Medicine Award from the College of Physicians of Philadelphia. He has been regularly honored in Philadelphia Magazine as a "Philadelphia Top Doc" and as one of America's "Top Docs" in nephrology.
Dr. Berns received his medical degree from Case Western Reserve University in Cleveland, Ohio. He completed his internal medicine internship at University Hospitals of Cleveland and then his nephrology fellowship at Yale University.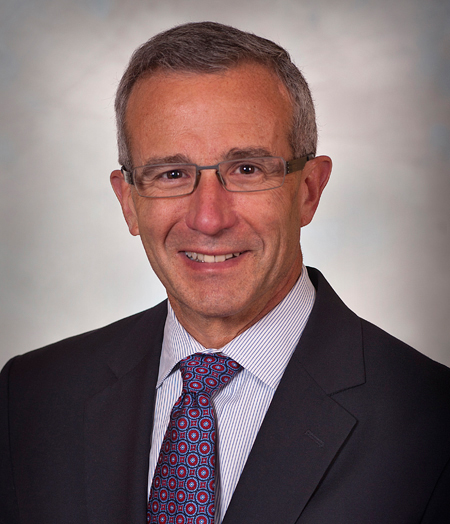 ABIM is proud of our diverse governance boards and committees, which include practicing doctors from a wide variety of backgrounds, regions, practice settings and age ranges who are committed to working with the community to enhance ABIM programs. We invite you to get to know Dr. Berns by reading more below.
When did you first know that you wanted to be a physician? 
High school; at the time, it seems there were many fewer career paths for people interested in the sciences than today. I contemplated becoming a psychologist in college, but came back to the idea that I really wanted to be a medical doctor.
What drew you to be a nephrologist?
When I was in my Internal Medicine training, I found that I liked the mix of in-patient and out-patient care of nephrology. I see patients in the ICU who have very complex conditions and are quite ill. I also see many healthier patients in the office. Taking care of out-patients who are on dialysis is like being a primary care physician for a small group of people. And I found that many of the other subspecialty areas of internal medicine didn't resonate with me. I also really like the physiology of the kidneys.
What made you decide to get involved in ABIM governance?
I was persuaded to become a Nephrology Exam Committee member by Stu Linas (a former Chair of the ABIM Nephrology Board and former Secretary-Treasurer of the ABIM Board of Directors) and others. It took some persuading, but it proved to be a wonderful experience. I learned a lot and have been able to work with wonderful, dedicated, very smart people – both the other exam committee members and staff at ABIM. I was later asked to chair the ABIM Nephrology Board as the new ABIM governance structure was developed. I am very passionate about improving nephrology fellow training, making Maintenance of Certification (MOC) meaningful for nephrologists in practice, regardless of their practice setting, and developing a strong collaborative relationship between ABIM, its diplomates, and nephrology societies. Being involved with ABIM governance gives me an opportunity to be involved and hopefully influence each of these areas for the better.
What are some of your goals as Chair for the ABIM Council? 
There is a lot going on right now with ABIM. I am hoping to engage Council in very thoughtful discussions about new assessments, what "MOC" means in our changing environment with the Knowledge Check-In, where CME fits in, and how ABIM and societies can best support physicians with meaningful opportunities to stay current in their knowledge and practices in a way that is effective and efficient. Maximize the gain, minimize the pain.
What is one of the most surprising aspects of being an educator? 
I think most of us who are in academic medicine get tremendous joy from teaching, be it medical students, residents, fellows or others. One of the things that surprises me, and at the same time delights me, is how often one of these younger learners asks about something that I just hadn't ever really thought of before. They are so incredibly bright and interested, and just bring a fresh inquisitiveness to our discussions.
What is one lesson you can share with the community from being editor-in-chief of Medscape Nephrology and co-deputy editor of the American Journal of Kidney Diseases?
There are many important unanswered questions that are critically important to patients with kidney disease. Compared to many other areas of nephrology, there seems to be much less "certainty" when it comes to kidney disease. So my lesson: We should be wise in using our resources to make sure they are directed toward conducting studies that provide us with the right answers to the most important questions. By this I mean things that will improve the health and lives of patients with kidney disease. I have also learned that writing a clear, concise, logical journal article is hard.
What is something unique about your relationships with your patients as a nephrologist?
The nephrologist needs to wear many "hats" when taking care of our patients with chronic kidney disease as they move along the path from being first told that they have kidney disease (often correcting misconceptions about what this means), to working with them through medications, diet and lifestyle modifications to help manage their disease, to talking about dialysis, transplant, quality of life and goals of care. I have also found that, for some patients, seeing me is a just an opportunity for reassurance. Kidney disease frightens people, I think sometimes even more than a cancer diagnosis. They come back to see me to hear that things are "OK". I like to say to patients, "No need for you to worry just yet. Let me do the worrying for now, and if the time comes when you need to worry, I will let you know."
What do you do to find joy in practice?
I am pretty much a "general nephrologist," meaning I see patients with pretty much any kind of kidney disease. That keeps things interesting. For me, seeing a young patient with kidney failure get a kidney transplant, without ever having been on dialysis, and then go on to have a normal life with work, marriage, family, travel and so forth, nothing beats that. But I have also taken care of many others over the years who I have known for more than 15 years. It is great to get to know them, their spouses or significant others, and hear about their families over that kind of time frame.
You may also be interested in...