Starting in 2022, ABIM Board Certified physicians have a new Maintenance of Certification (MOC) assessment option to help them keep their medical knowledge current: the Longitudinal Knowledge Assessment (LKA™).
Enrollment is still open for the 2022 LKA and more than 17,000 physicians have signed up across all 12 disciplines in which it is being offered this year, with many having already completed all 30 of the first quarter's questions.
One of the features of the LKA is that it gives physicians three months to answer each set of 30 questions (120 questions offered per year). This may be a better option for some, especially as physicians in many parts of the country continue to care for patients during another surge of COVID cases.
Overall, early feedback has been positive, such as that shared by Tulika Singh, MD, MHA, AAHIVS, FACP, FIDSA, who is participating the LKA in internal medicine, conveyed appreciation for its more formative aspects:
"The LKA is such a refreshing way of learning while maintaining my ABIM Board Certification. It will help us know what we know, and know what we don't, so we can focus our educational efforts and immediately put that learning into practice. I was part of the initial planning committee for the ABIM Knowledge Check-In, and this is huge progress. Appreciate all you have done."
One way the LKA differs from ABIM's traditional, 10-year MOC exam is that it better melds assessment and learning by providing regular feedback along the way that physicians can use to identify and address knowledge gaps. As a longitudinal assessment, it's scored differently too, allowing physicians to demonstrate improvement as they continue to answer questions over the 5-year cycle.
A board certified internist who is participating in the LKA said, "I just had my first day with the LKA. Eureka! ABIM found the right way for its diplomates to learn internal medicine and become knowledgeable physicians with ongoing day to day learning. The admirable thing is that one has time after attempting the question to learn more about the topic using their preferred personal resources. I think you've got it! My full support for the LKA!"
Other benefits of participating in the LKA include:

If you're interested in participating in the LKA and due for an assessment this year, there's still time as the first quarter is open until March 31, at which time those questions will expire. Please note you can only start LKA in your assessment due year, and you should start it early in that calendar year so you do not inadvertently miss any questions. And remember, because a pass/fail decision isn't made until the end of 5 years, as long as you are already certified and continue to meet the LKA Participation Requirement and any other MOC requirements, you'll continue to be reported as certified the entire time. Even better, the LKA is included at no extra charge as part of your MOC fees.
Learn more about LKA's features, benefits, and other important details in this new demo video, or at abim.org/lka. To enroll sign into your personalized ABIM Physician Portal.
In 2022 ABIM updated its fee structure to allow most physicians to choose an assessment option that allows them to pay less over time.
Beginning this year, the annual Maintenance of Certification (MOC) fee for the first certificate you maintain will be $220, and for each additional certificate you maintain there is a $100 discount, meaning you'll pay $120 per year. Access to the LKA is included at no additional cost for each certificate you are paying to maintain.
You must be up to date on payments for all your certificates to access the LKA, even if you are participating in just one discipline. If you pay the year before your assessment is due you'll get a 5% discount on all annual fees; if you pay after the due date, there will be a $40 fee.
Here's how it works:
You pay an annual MOC fee for each certificate you are maintaining.
The annual fee for the first certificate you are maintaining is $220.
Each additional certificate you are maintaining is an additional $120 per year.
You must be up to date on payments for all your certificates to access the LKA for any of them.
If you choose to take the traditional, 10-year MOC exam, there will be a $700 test center fee in addition to your annual fee. The test center fee is waived for Transplant Hepatology, Adult Congenital Heart Disease, Advanced Heart Failure and Transplant and Clinical Cardiac Electrophysiology because the LKA is not being developed in those specialties.
If you decide you no longer want to maintain one of your certificates, you must inform ABIM by January 31, 2022 that you would like to deactivate it or you will be charged the annual fee for that certificate for 2022, and will be reported as "Certified" in that discipline for the remainder of the calendar year. You can opt to stop maintaining one or more of your certificates by signing in to your personalized ABIM Physician Portal.
Here's what the fee structure looks like:

Examples of savings for physicians choosing the LKA over a 10-year period – (does not reflect a 5% discount if paid in advance):

What do I get for my fees?
The fees you pay ABIM help you, and physicians like you, directly by supporting enhancements and innovations in assessment options, such as the LKA, MOC activities and CME credit. It also provides you, your peers and your patients with confidence that you are keeping your medical knowledge current.

Please note your annual MOC fee is due each year on January 1. You can pre-pay for 10 years in advance up until December 31 of the preceding year. You will receive a 5% discount on years paid in advance. If your payment is past due, you can enroll in the LKA and access your dashboard, but the questions will only become available after payment has been received. This includes any back payment of fees owed for certificates you choose to "deactivate" (not maintain). An additional $40 will be added to the MOC fee for each certificate if paid after the year in which it was due.
The past two years were incredibly difficult and stressful for physicians – and while the country faces yet another surge of COVID cases, there is hope that it will be behind us in the coming months. As a reminder, ABIM previously extended deadlines for all Maintenance of Certification (MOC) requirements to 12/31/22 (and to 2023 for Critical Care Medicine, Hospital Medicine, Infectious Disease and Pulmonary Disease), which means you may have requirements to complete by the end of this year to remain certified. To find your specific due dates, please sign into your personalized Physician Portal.
The new Longitudinal Knowledge Assessment (LKATM) is an MOC assessment option you may want to explore, with additional flexibility in when and where physicians can take questions. The first set of questions are available now through March 31, meaning if you're interested there still time to enroll and complete the them before they expire.
The LKA is available in the following disciplines:
If the LKA is not available in your discipline or if you prefer the traditional, 10-year MOC exam, you can review the schedule and register for an exam through your Physician Portal.
In certain cardiology disciplines, the ABIM/ACC Collaborative Maintenance Pathway may also be an option to meet your assessment requirement.
The American Board of Internal Medicine (ABIM) collaborated with physicians to design a new, user-friendly app. With the ABIM Physician Portal app it's never been easier to keep up with your MOC program requirements.
The Physician Portal App allows you to:
Track your MOC assessment deadlines
Track your MOC points requirement progress
Customize your reminders for assessments, points and payments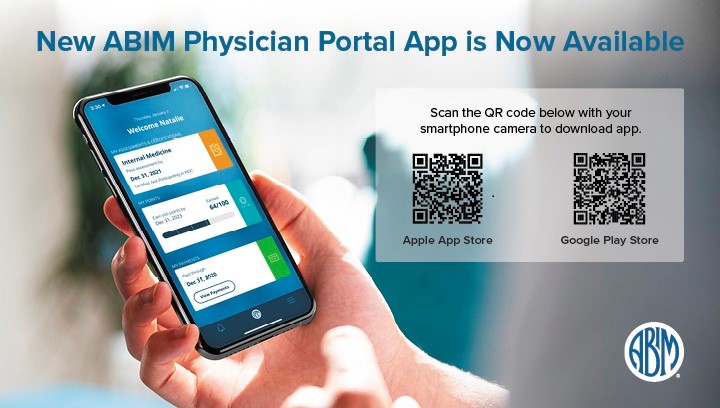 For those who have already downloaded the app, please make sure you have the latest version with the newest features.
ABIM's Governance is comprised of leading physicians in internal medicine and its subspecialties. In addition to helping to shape ABIM and its work on behalf of the board certified community, they often serve as media experts who work with reporters to ensure the public receives accurate, science-based medical information.
Here are a few recent examples of their work with the media.
Erica N. Johnson, MD, Chair of the ABIM Infectious Disease Board
An infectious disease doctor explains how lanyards may keep your face mask clean and in better condition, plus where to snag one.
"I think one of the main benefits of a mask lanyard is that it keeps your mask easily on hand to facilitate wearing it and keeping it in place. It can be really useful for children or for anyone who is in a situation where they might need to remove their mask frequently. Lanyards might also help in maintaining the integrity of your mask. Specifically surgical masks or KN95s, which are more likely be worn out quicker, particularly in areas like the nose piece which keep the mask secure."
"It just requires conversations with your friends and family and considerations around how you want to protect the most vulnerable people who might be in your group…Keep in mind that the antigen-based tests don't have the same ability to pick up early infection in the way that the PCR-based tests do, even though we get the results back more quickly."
"Early, accessible testing and access to the results in a time frame that allows us to make a decision is really going to be key to these medications. It puts the onus on our public health strategy to make these available."
Vineet Arora, MD, Hospitalist, ABIM Board of Directors
"Because society is open and people are moving on with their lives, it's honestly like there is huge cognitive dissonance by hearing how hard it is for healthcare workers and hospitals. This surge feels different. In some ways it is more complicated."
 Omicron is inundating a health-care system that was already buckling under the cumulative toll of every previous surge.
 Every nurse and doctor I asked said that the majority of their COVID patients were admitted because of COVID, not simply with COVID. Many have classic advanced symptoms, such as pneumonia and blood clots. Others, including some vaccinated people, are there because milder COVID symptoms exacerbated their chronic health conditions to a dangerous degree. "We have a lot of chronically ill people in the U.S., and it's like all of those people are now coming into the hospital at the same time. Some of it is for COVID, and some is with COVID, but it's all COVID. At the end of the day, it doesn't really matter." (COVID patients also need to be isolated, which increases the burden on hospitals regardless of the severity of patients' symptoms.)
Vineet Arora, MD & Ali Khan, MD, ABIM Board of Internal Medicine
Co-authored an op-ed with others in MedPage Today: The Demise of the Social Contract in Medicine
Recent health policy changes benefit patients but ignore demoralized healthcare workers
As we enter the third year of the COVID-19 pandemic, much attention focuses on the public's lack of trust in healthcare. Yet, virtually no one is considering how the pandemic has affected healthcare workers' trust in healthcare organizations and our society at large. That distrust was exposed in the swift and brutal reactions of healthcare workers to recent policy changes made by the CDC and the American Heart Association (AHA) to benefit patients, but without equal attention to the impact on healthcare workers.
You may also be interested in...