Late last week, I learned with sadness of the death of Harry Kimball, MD, who was my predecessor as CEO of the American Board of Internal Medicine and the ABIM Foundation from 1991–2003 after serving on the ABIM Board of Directors from 1983–1990, including one year as chair. I am told he died peacefully in his sleep. He would have been 86 this past Saturday.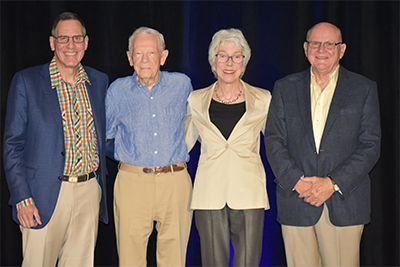 As I reflect on the impact Harry had on ABIM and me personally, I remember the time he called me in the winter of 2001 to tell me I was being invited to serve on the ABIM Board of Directors. As a doctor in community practice in Philadelphia, I was honored and surprised. I wasn't at all sure it was a good fit for me, and, when I did join, I was the only "private practice" doctor on a board of 29. Surrounded by academic physicians, Harry's kindness and support meant a lot to me and encouraged me to get involved in the work of the Board. He modeled that effective leadership needs to be open to change and demands the ability to prepare organizations for a future one can never reliably see.
Harry was a deeply principled and ethical person who led ABIM at an important moment, into the future we now inhabit: it was Harry who moved the organization from offering lifetime certification to time-limited certification. He and the Board were convinced that the rapid evolution of knowledge meant that a relevant credential needed to speak to more than someone having once completed training and successfully passed an exam at some time in the (increasingly remote) past. Rather, it was important for patients and colleagues that being certified also signified that a doctor had stayed current in their field, a commitment all good doctors make to better serve their patients.
Harry saw the importance and value of that change, and while it was deeply unpopular at the time, he defended it as important for the profession and for patients.
Harry was also instrumental in shaping the ABIM Foundation's focus on improving health care by strengthening medical professionalism, and oversaw the creation of the Physician Charter on Medical Professionalism in 2002. That seminal document has been distributed hundreds of thousands of times across the globe and serves as a fundamental guide setting forth the professional principles and commitments expected of all physicians.
We have much to be proud of in internal medicine: we are a discipline anchored in using science for the benefit of our patients. Those centering values are animated, actualized and carried forward by what we do every day. We can be grateful for leaders who shape institutions around the values that we share. Harry has left us a rich legacy.

Richard J. Baron, MD, MACP
President and Chief Executive Officer,
ABIM and ABIM Foundation
You may also be interested in...