In this edition of News & Notes …
---
A letter from Dr. Rajeev Jain, new Chair of the ABIM Board of Directors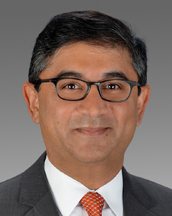 As I start my two-year term as Chair of the ABIM Board of Directors, I am excited and humbled to serve our diplomate community. As background, I am a board certified gastroenterologist and I have been serving in community practice since July 1999 in Dallas. I have always volunteered my time and service to my practice, my hospital and medical societies. During my time on the Institute Governing Board of the American Gastroenterological Association, I was nominated for a position on the ABIM Board of Directors. Back then, I thought, "Why would ABIM want a private practice GI on its Board?" I recall looking at my ABIM certificates and seeing renowned physicians' signatures, but I did not see anyone like me. I was surprised and excited during the interview process as my view of ABIM from a distance was quite different from what the organization is in reality.
In 2016, I joined the ABIM Board of Directors and now more than 75 percent of the Directors have current clinical experience. The Board still has renowned academic physicians, but there are also private practice clinicians best exemplified by our immediate past chair Dr. Yul Ejnes, who is in private practice in Rhode Island.
In the years since, I have seen ABIM transform the way it assesses physicians by offering an alternative to the traditional, 10-year Maintenance of Certification (MOC) exam. In 2018, the Knowledge Check-In allowed physicians to take a lower-stakes exam in their own setting, but still needed virtual proctoring.
Then, in 2022, ABIM launched the Longitudinal Knowledge Assessment (LKA®), allowing physicians to answer questions at any time of their choosing on their computer, tablet or smartphone. I am enrolled in both the Internal Medicine (IM) and Gastroenterology LKAs. I was due for recertification in Gastroenterology and preferred the LKA over the 10-year MOC exam. Additionally, because of the lower stakes approach, I decided to enroll in the IM LKA to improve my knowledge in general IM, which I have found helpful in my day-to-day practice.
My experience with both LKAs has been great, and I hear similar positive experiences from my colleagues throughout Internal Medicine and its numerous subspecialties. ABIM has responded to the community with better testing options and a wide variety of activities which seamlessly connect accredited continuing medical education to ABIM's MOC requirements.
As a physician with a busy community practice I understand the many competing time demands that we face every year.
I recognize that MOC may be seen as just one more of those demands. But for me, I'd argue that the value evidence, and research that supports MOC, makes it among the most valuable things I do to remain current. It tests my knowledge on an ongoing basis and demonstrates to my peers and patients that I am an expert in my field; validated by an independent board.
During the next two years, I look forward to building on the success of the LKA with further refinements and innovations, and responding to physician concerns, such as the spread of medical misinformation.
ABIM will continue to collaborate with the diplomate community, medical societies, fellow member boards of the American Board of Medical Specialties (ABMS) and our many other stakeholders. We have accomplished a lot, but we continue to strive to improve the value of this important certificate for our diplomates who deliver excellent patient care.

Ensuring ABIM's exams fairly assess physician knowledge
Once a year, a group of the country's leading experts on testing and measurement gather to discuss, debate and provide feedback on the scientific underpinnings of ABIM's assessments. The Technical Advisory Committee (TAC) reviews the work of ABIM's measurement staff and provides feedback on the technical psychometric procedures that ensure ABIM assessments are a fair and valid measure of physician knowledge.
ABIM invites some of the worlds most respected experts in educational measurement and psychometrics to form its Technical Advisory Committee. This group of scholars serve as independent external advisors who are brought together to analyze, debate and critique the scientific underpinnings of ABIM's assessments, with an eye toward ensuring they are as good as they can be.
"Some assessment organizations are unwilling to shine a light on the assessment work performed by their psychometricians, but ABIM has sought out some of the brightest minds in assessment to ensure that we are continuing to deliver defensible state-of-the-art assessments," said Jerome Clauser, Ed.D., Sr. Director of Research & Innovations at ABIM. "I am so proud of the expertise that is on display within this committee, and so pleased that ABIM is choosing to subject itself to this sort of scrutiny when many testing organizations choose not to."
The TAC is comprised of experts from around academia and the testing industry, invited for their expertise and willingness to provide honest feedback on ABIM's assessments.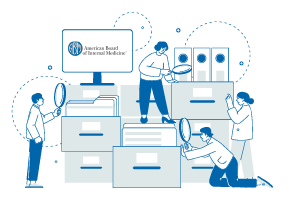 During a recent meeting, committee members provided feedback and engaged in lively debate on a broad range of topics, including everything from aligning assessment with practice by including patient characteristics on multiple choice questions to aggregating scores for summative assessments.
The committee is part of the holistic process that ABIM follows to ensure all assessments are meaningful and accurately measure physician knowledge.
"ABIM designs and builds all of our assessments to ensure they are fair for examinees and accurate for our stakeholders," said Brad Brossman, Ph.D., Vice President of Psychometrics at ABIM. "The TAC provides an outside second opinion to guarantee that our assessments are meeting the highest standards in certification testing."
TAC member Neil Dorans, Ph.D., said he joined because he believed that his "four decades of experience with the theory and practice of assessment could benefit ABIM in their efforts to identify physicians who possess both the requisite knowledge of internal medicine and essential skills needed for ensuring proper patient care. Measurements collected under proper measurement conditions are as essential to accurate assessment of the skills and knowledge possessed by physicians as are the measurements that inform physicians about the health of their patients."
TAC members:
Kurt Geisinger, Director of the Buros Center for Testing and Distinguished Professor at the University of Nebraska-Lincoln
Neil Dorans, former Distinguished Presidential Appointee at ETS
Hariharan Swaminathan, Professor Emeritus at the University of Connecticut
Mike Kane, Messick Chair in Validity at ETS
Suzanne Lane, Professor Emeritus at the University of Pittsburgh
Matthias Von Davier, Director, International Study Center at Boston College
LKA Roundup: New Internal Medicine assessments to launch in January
A new version of the Internal Medicine MOC assessment focused on inpatient care will become available in both the LKA and traditional, 10-year MOC exam formats in January. Click here to learn more about these assessment options.
Thousands of physicians are now participating in the LKA—which is available in 15 specialties—to maintain nearly 52,000 certificates. The LKA was created in collaboration with physicians who were looking for a more flexible assessment option that fit within their busy schedules. Physicians say they like the flexibility and immediate feedback that the LKA provides, and on average spend less than two minutes answering each question, equating to about an hour per quarter. And because life happens, physicians can choose to not open up to 100 LKA questions over the course of their 5-year LKA cycle.
Enrollment for all MOC assessments opens on 12/1/23. Anyone due for an assessment can try the LKA (pending availability in their specialty) at no additional cost; if they don't like it, they can switch to the traditional, 10-year MOC exam instead.
The LKA has a number of features that make it a helpful resource for physicians to affirm that their knowledge is current, including:
a snapshot of their progress in responding to each quarter's questions;
customizable reminders to help participants stay on track;
resources, such as a time bank if more time is needed to respond to a question, or the option to bypass up to 100 questions over the five-year period; and
immediate feedback—along with references and a rationale—for most questions.
A question history, available after six months of participation, shows participants' self-identified level of confidence in their answers and rationale, whether the response was correct and what was highlighted when responding to the question. In addition, participants who have responded to enough questions (usually after the fifth quarter of participation) will receive a progress report with detailed information about their performance, including how they are doing in relation to others who are taking the assessment.
For more information on the LKA, we invite you to visit our dedicated website or watch the video below that walks you through how it works.
Do you have MOC requirements due?
During the COVID-19 pandemic, ABIM extended MOC requirement deadlines for all disciplines through 2022. For Critical Care Medicine, Hospital Medicine, Infectious Disease and Pulmonary Disease, that date was extended through December 31, 2023. If you are in one of these disciplines, you may have requirements to complete by the end of this year to remain certified. Sign in to your Physician Portal to see which items need your attention.
There are a number of ways to fulfill MOC requirements, and you can learn more about how to receive MOC points for completing CME on ABIM.org. Please be aware that the CME provider is responsible for collecting and submitting your activity completion information, so it is best to contact the CME provider to inquire about how to claim MOC points for a specific activity. You do not need to contact ABIM to claim MOC points; you will be notified when your points have been processed.
Learn more about the science behind MOC and how it supports you throughout the course of your career.
If you have any questions about your MOC points, feel free to email request@abim.org.
ABIM to provide additional information about certification status
Next year, ABIM will begin providing additional information about why physicians are publicly reported as "Not Certified." ABIM does not currently differentiate how it reports the certification status of physicians who are not certified for disciplinary reasons from how it reports the status of physicians who are not meeting Maintenance of Certification (MOC) requirements. That will change beginning in January 2024, when the following qualifiers will be added after a "Not Certified" status:
Lapsed will indicate non-disciplinary loss of certification, including not meeting MOC requirements, or voluntary deactivation of certification. Certification may be restored by meeting MOC requirements for the applicable certificate.
Suspended will indicate a loss of certification due to disciplinary action where there is a defined pathway to restoration of certification.
Revoked will indicate loss of certification due to disciplinary action for which ABIM has determined that the conduct underlying the sanction does not warrant a defined pathway for restoration of certification at the time of disciplinary sanction.
ABIM may suspend or revoke the certification of a physician according to the Disciplinary Sanctions and Appeals Policy. The decision to add an explanation about why a physician is not certified provides more transparency for patients who rely on it, and follows the American Board of Medical Specialties (ABMS) Standards for Continuing Certification, which include a Standard for Transparent Display of Certification History. Among other things, it states that "changes in the status of a certificate must be publicly displayed, including any disciplinary status."
A year in review: Diversity, Equity and Inclusion: Creating an Environment where Health Equity Works
In the tumultuous summer of 2020, ABIM made a public commitment to explore our role in perpetuating—intentionally or not—racial disparities in health care through our Board of Directors' policies and programs. Our initial commitment in 2020 focused on racial justice. Since then, ABIM's Diversity, Equity and Inclusion (DEI) strategy has broadened to bring as many voices to the table as possible.
ABIM has taken some positive steps toward enhancing DEI work over the past year, with many of the improvements made after engaging in listening sessions with physicians from a variety of career experiences and representing a diverse range of races and ethnicities. This work includes:
Physician Portal enhancements allowing physicians to better self-identify their gender, race and ethnicity
Website updates and changes that make navigating ABIM.org easier for individuals with disabilities, and a dedicated page for ABIM DEI work
Differential item functioning analysis to analyze potential bias in exam questions in four disciplines (Internal Medicine, Cardiovascular Disease, Gastroenterology and Nephrology), with plans to expand into other subspecialties in the coming years
Health equity exam content being developed for assessments to help identify whether a physician can demonstrate that they have the knowledge needed to address an area in their field where there is known inequity in health care or health outcomes between different groups, based on gender, race/ethnicity, or other factors (As with all questions on ABIM assessments, these questions will be reviewed and tested before appearing on assessments as a scored question)
Listening sessions held with several groups of diplomates, whose feedback is being reviewed and implemented where possible
ABIM staff training in the areas of microaggressions, building trust and teamwork
Meeting with 24 society partners ("DEI Journeys in a Shifting Landscape") to discuss how to recruit diverse medical students in light of the recent Supreme Court decision on affirmative action (This conversation was led by Dr. Mark Henderson from UC Davis, and there were breakout sessions on increasing pathway programs, supporting mentorship and sharing DEI resources)
ABIM will continue to work toward equity in medicine and looks forward to hearing from more of you about your experiences.
You may also be interested in...