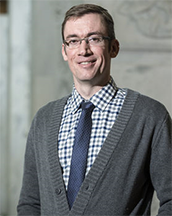 The Sleep Medicine Advisory Committee held its fall meeting on Wednesday, December 7, 2022. The agenda provided an opportunity to update the Advisory Committee on activity at ABIM and allowed for discussion of pressing issues in the field. The Sleep Medicine Advisory Committee was joined by guests from the American Academy of Pediatrics (AAP), the American Academy of Sleep Medicine (AASM), the American Thoracic Society (ATS) and the Society for Behavioral Sleep Medicine (SBSM).
The Sleep Medicine Advisory Committee comprises representatives of American Board of Medical Specialties (ABMS) member boards that cosponsor the discipline:
The following is a summary of the fall meeting.
Administrative Board Update
Richard J. Baron, MD, President and Chief Executive Officer, ABIM
Dr. Baron presented an overview of ABIM's progress on a number of fronts since the Sleep Medicine Advisory Committee met in the spring, including:
The continued success and growth in participation of the Longitudinal Knowledge Assessment (LKA®). Enrollment for all assessments opened December 1, 2022.
ABIM's concentrated efforts in advancing diversity, equity and inclusion work streams, including research, listening sessions, staff trainings, cultural celebrations and analysis of ABIM's programs and services, while addressing any inequities discovered.
The ongoing campaign against medical misinformation, which remains a growing concern in the medical community. ABIM is actively working with organizations across the House of Medicine to build a comprehensive approach identifying strategies and tactics that can be employed to battle misinformation and promote accurate information.
Diversity, Equity and Inclusion (DEI) Update
The Sleep Medicine Advisory Committee received an update on ABIM's DEI work from Lorna Lynn, MD, Vice President of Medical Education Research; Kelly Rand, MA, CPH, Manager of Diversity and Health Equity; and Pamela Browner White, Senior Vice President of Communications and Chief DEI Officer.
Ongoing work in DEI includes a pilot program incorporating differential item functioning analysis in ABIM assessments, design of a study investigating the impact of patient race and ethnicity identifiers in assessment questions, developing health equity questions and reporting on the demographic characteristics of the internal medicine workforce.
The Advisory Committee members discussed ways to advance DEI work in the areas under its oversight. Richard G. Battaglia, MD, FACP, ABIM's Chief Medical Officer, encouraged members of the Advisory Committee to work with the cosponsoring boards that appointed them to develop a succession plan that better represents the diversity of the field, which would in turn improve diversity on the Advisory Committee. Dr. Sterni noted that the blueprint is one way for the Advisory Committee to incorporate DEI into education. Dennis H. Auckley, MD, Chair of the ABIM Sleep Medicine Traditional, 10-Year Maintenance of Certification (MOC) Exam Approval Committee, pointed out that the Approval Committees do not customarily include identifiers in assessment questions unless clinically relevant and would need to consider how to incorporate DEI into the blueprint. Dr. McConville shared that ABA has successfully integrated DEI questions into its Maintenance of Certification in Anesthesiology (MOCA®) program.
The group emphasized the importance of health equity, noting that although all patients sleep, there are important cultural boundaries that help define what is considered to be good sleep. They discussed ideas to improve the core issue of implementation of health equity content, such as collaborating across boards, being purposefully inclusive with who is writing questions, and integrating patient voices.
Dobbs v. Jackson: Implications for Sleep Medicine
The Sleep Medicine Advisory Committee held an open discussion on the implications of the 2022 Dobbs v. Jackson Women's Health Organization ruling for the discipline of sleep medicine, specifically those areas under the oversight of the Advisory Committee, including training, assessments and stakeholder relationships within the sleep medicine community.
Members identified several connections between sleep health, sleep medicine and reproductive health, and how the Supreme Court's ruling could affect those areas. One member pointed out that sleep health is related to fertility: disruptions in sleep rhythms can exacerbate issues related to pregnancy, miscarriage and postpartum complications. Severe psychiatric illness can also develop with sleep disturbance during pregnancy. Another noted that some medications may decrease the efficacy of birth control, leading to more unplanned pregnancies. In addition, unplanned pregnancies may impact the care of chronic sleep disorders or even cause the development of new sleep disorders, such as obstructive sleep apnea (OSA).
The group also discussed the implications for residents and training, faculty and resident recruitment, and the safety of attending conferences in certain states where abortion is illegal.
In closing, staff informed the Specialty Board that ABIM is conducting a formal content analysis of themes found throughout analogous discussions by all of the ABIM specialty boards and may consider an article authored by the members of the ABIM Council to illustrate the widespread and cascading effects of Dobbs v. Jackson on the internal medicine community.
Longitudinal Knowledge Assessment (LKA®) Update
Jeff Miller, ABIM's Chief Information Officer, provided an update on the progress of the LKA since spring 2022, including overwhelmingly positive feedback from participants. Of more than 5,100 diplomates surveyed, 91% of respondents reported that they found the LKA useful for learning, and 75% said they would recommend it to a colleague. ABIM will continue to gather data through interviews, a user panel, an in-depth study of learning and an annual survey. Several diplomates have shared their positive LKA experiences in short blog posts, reflecting on its flexibility, convenience and actionable feedback. ABIM is analyzing large amounts of data gathered during the initial roll-out of the LKA, and working on optimizing the ongoing development of the assessment.
The Advisory Committee then received a live demonstration of the LKA platform and user experience. (A video walk-through is also available online.) Among other things, it was pointed out that questions on the LKA expire each quarter, and that questions are "retired" from use so that diplomates will never see the same question twice if they continue in the LKA for multiple five-year cycles. This means that there is an emphasis on continually developing new items for the assessment and underscores the importance of the Item-Writing Task Force (IWTF) responsible for writing questions. ABIM is actively seeking item-writers, and instructions and criteria for application in sleep medicine can be found on ABIM's website. A full list of all governance openings with application instructions can also be found online.
Mr. Miller also reviewed preliminary registration numbers for the Sleep Medicine LKA: OSA Emphasis and the Advisory Committee discussed whether the pathway is too specialized. The OSA pathway is a focused assessment, which means that it covers the entire sleep medicine blueprint with a higher percentage of items on OSA intended to strike a balance of relevance to more specialized patient care with the broader standard of sleep medicine. ABIM employs rigorous modeling to ensure these standards are met. Twenty percent of the content on the general Sleep Medicine 10-year MOC exam pertains to sleep-related breathing disorders; thirty percent of the content is on sleep-related breathing disorders in the Sleep Medicine LKA: OSA Emphasis, which also includes additional questions on bruxism, snoring, gastrointestinal reflux disease and home sleep apnea testing. Overall, there is an overlap of approximately 70% with the current general Sleep Medicine blueprint so that the full blueprint is assessed in both options.
Some members of the Advisory Committee recommended changing the name of the pathway to make it clearer that it represents a specialized assessment that still covers the entire discipline. The group agreed that they would like to revisit the development process for the pathway at a future meeting.
Diplomates of cosponsoring ABMS member boards should check with their certifying board about whether they have access to the LKA. Learn more about the features, benefits and other important details of the LKA at abim.org/LKA.
American Academy of Sleep Medicine (AASM) Update
Jennifer Martin, Ph.D., President of the Board of Directors for AASM, gave the Advisory Committee an overview of AASM's strategic initiatives, including:
a strategic analysis
an insomnia initiative
a task force on the International Classification of Sleep Disorders
an OSA awareness program
a program on how sleep is good medicine
a task force on hypopnea scoring rules
patient advocacy
AASM is holding its annual meeting, Sleep 2023, June 3–7 in Indianapolis. In answer to a question from the Advisory Committee, Dr. Martin also reported that AASM is encouraging legislators to consider the health consequences of making daylight saving time permanent. Dr. Yaremchuk asked whether AASM had done a workforce assessment on the number of physicians caring for patients with sleep conditions. Sally Podolski, Graduate Medical Education Specialist for AASM, noted that there is a clear need for providers: many patients wait for months for an appointment and many physicians practice sleep medicine in combination with other disciplines, rather than exclusively.
Advancing Innovation in Residency Education (AIRE) Program Update
The Sleep Medicine Advisory Committee received an overview of AASM's AIRE program, which includes two pathways:
A "blended model" combining adult sleep medicine fellowship with pulmonary or critical care training, or a pediatric pulmonary/critical care fellowship program
A "part-time model" allowing practicing physicians to complete a single-year fellowship in sleep medicine by alternating practice and training over a two-year period
The AIRE pilot program has seen an increase in program and fellow participation each year—including one pediatric program—since its inception with positive initial outcomes. The program is open for enrollment for the fifth and final year. AASM is looking into ways to continue the program (which is costly) as a non-funded pilot. When outcomes are available, the Sleep Medicine Advisory Committee will determine whether to incorporate the models as part of standard training pathways to attain eligibility for certification in Sleep Medicine.
Update from the Sleep Medicine Approval Committees
Sabra M. Abbott, Ph.D., MD, Northwestern University Feinberg School of Medicine; Chair of the Sleep Medicine LKA Approval Committee
Dennis H. Auckley, MD, Case Western Reserve University; Chair of the Sleep Medicine Traditional, 10-Year Maintenance of Certification (MOC) Exam Approval Committee
There are two ABIM Approval Committees working with the Sleep Medicine Advisory Committee: the traditional, 10-year MOC exam Approval Committee (which also deals with the initial certification exam), and the LKA Approval Committee. Approval Committees are responsible for approving all assessment content and maintaining the assessment blueprints in their discipline. Drs. Abbott and Auckley described the meeting process and the committees' interaction with the IWTF, as well as current challenges and successes.
ABIM is actively seeking item-writers. Instructions and criteria for application in sleep medicine can be found on ABIM's website. Item-writers serve a two-year term with the option to renew. Information about openings on the Sleep Medicine Approval Committees can also be found online.
In Closing
The Sleep Medicine Advisory Committee values the feedback and commentary of the entire medical community, including diplomates and society partners.
Do you have any questions? Are you interested in getting involved?
If you are certified by ABIM and have questions after reading this report, please connect with us through the following channels:
You may also be interested in...