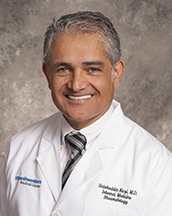 The Rheumatology Board met virtually on November 18, 2021 to discuss recent and upcoming changes at ABIM, as well as many other important issues facing the discipline.
The meeting included three guests from the American College of Rheumatology (ACR):
Kenneth Saag, MD, President
Donna Hoyne, MD, former Vice President of Education
Carole Langford, MD, Treasurer
Below is a summary of the key takeaways from the meeting:
Leadership Update
Richard J. Baron, MD, ABIM President and CEO, joined the Rheumatology Board to provide members with recent updates, including:
Diversity, Equity and Inclusion: Progress Report
Pamela Browner White, Senior Vice President of Communications and Chief Diversity, Equity and Inclusion Officer; Lorna Lynn, MD, Vice President for Medical Education Research and the Staff Administrator for the Board of Director's Committee on Diversity, Equity and Inclusion; and Weifeng Weng, PhD, Director of Research Analysis, updated the Rheumatology Board on ABIM's progress in advancing DEI and becoming an actively anti-racist organization.
Ms. Browner White noted that she has been Chief Equity, Diversity and Inclusion Officer for a little more than a year at the time of the meeting, and encouraged Specialty Board members to visit the year in review post on the ABIM blog.
She noted that the organization is beginning with race and ethnicity data to understand the makeup of ABIM diplomates but the committee understands that diversity is much broader than that.
She also reminded the Specialty Board of ABIM and ABIM Foundation's Racial Justice statement: "It's not simply enough to say passively we will do no harm; we pledge actively to do our part in opposing and dismantling systems and policies that cause harm to our patients and disproportionately affect those in Black and Brown communities."
She said much of the work has been guided by this statement, and updated members in a number of areas ABIM is making progress.
Dr. Lynn and Dr. Weng then provided an overview of race and ethnicity data for the overall rheumatology diplomate population. Dr. Lynn noted that while the current reports rely on external data, in the future, ABIM will ask diplomates to self-identify with regards to their gender, race and ethnicity.
To this end, ABIM will collaborate with society partners and others to decide on what identifiers will be used. It will also be important to be clear as to why we will begin to collect this information; it's all about assuring that our programs are fair, and that we make sure a broad range of voices are included in our discussions.
Rheumatology Board members shared their reactions to these data and their ideas for how ABIM can best move this work forward, as well as their personal experiences working within their own institutions.
There was some discussion about better understanding how many Black and Hispanic physicians applied to and then were ultimately matched with rheumatology programs, to determine if there is a gap between these numbers compared to other populations. Dr. Kazi noted that program directors often become overwhelmed with candidates, and rely on test scores and letters from deans, which can leave out good candidates who historically do not do as well on tests. He feels there needs to be an exploration of changing the whole residency/fellowship application and ranking process.
Ms. Browner White shared that one way ABIM and the ABIM Foundation are attempting to address pipeline issues is through the creation of a grant program that commits to helping organizations to build trust through diversity, health care equity and inclusion training programs.
As ABIM continues this work it will keep the community informed on its progress. More information can be found in a special section of our blog entitled ABIM's Commitment to Health Equity.
American College of Rheumatology (ACR)
Kenneth Saag, MD, President of ACR, shared with the Rheumatology Board that the organization is very excited about the LKA, and noted that 722 rheumatologists are eligible to enroll in 2022. ACR will promote the LKA to its members, including updating the ACR website and emailing members about the new MOC assessment option. In addition, they are refining the ACR Learning Management System to align with the ABIM rheumatology blueprints, which they believe will help support rheumatologists in addressing knowledge gaps.
ACR also plans to host a town hall meeting in collaboration with ABIM for its members in January 2022 to demonstrate how LKA works, and how it will benefit practicing rheumatologists.
Dr. Saag then updated the Specialty Board on ACR's five-year strategic planning process, where several critical issues have been identified and remediation efforts will be focused, including: workforce shortages, patient access to care, practice environment challenges, the need for enhanced inclusiveness, and physician burnout.
Specific to workforce shortages, Dr. Saag said ACR is considering innovative methods for supporting fellowship positions, training providers who would be committed to serving underserved regions, and bolstering workforce recruitment efforts. He said that somewhat ironically, the shortage comes at a time when rheumatology is popular with medical residents who want to match with a fellowship program, but not enough slots are available to meet the demand. While most attendees agreed opening more slots is necessary, it was thought to be unlikely to occur in the immediate future because of financial constraints.
Dr. Saag told the Specialty Board that the ACR Winter Rheumatology symposium will be held January 22-28 in Snowmass Village, Colorado, the ACR Knowledge Exchange will be in person (with a virtual option) April 28-May 1 in Orlando, Florida and the ACR Convergence will be in person (with a virtual option) in Philadelphia in November.
Issues Affecting the Field of Rheumatology
Dr. Kazi invited members and guests to comment on what they saw to be important issues within the rheumatology community based on their personal experiences and conversations with colleagues. Several agreed with the desire to attract more physicians to rheumatology by providing more exposure to the field in training and in practice. Others mentioned the effect of the pandemic on the discipline as well as patient access to medication and treatment.
Longitudinal Knowledge Assessment (LKATM) Update
Alison Carey, Senior Director of Engagement and Digital Experience, gave the Specialty Board a preview of the Longitudinal Knowledge Assessment (LKA) Platform and updated them about how ABIM has engaged physicians throughout the development process to ensure it will meet their needs and provide a good user experience.
The engagement work included establishing a Physician Advisory Panel of 10 board certified physicians, who met on a monthly basis to share feedback on a variety of areas, such as the LKA assessment platform, communications materials, and other program design elements.
The Panel's insights were enhanced through regular user-testing sessions, additional physician interviews, surveys and feedback gleaned from diplomate phone calls and emails. In addition, in August 2021, 26 physicians volunteered to serve as beta testers for the LKA platform to help identify bugs and any user experience issues; their feedback resulted in important improvements to the assessment platform prior to launch.
All of this physician feedback also helped generate a comprehensive LKA Physician Journey, outlining physician opportunities and challenges. Some of the top challenges were discussed during the meeting to help prepare members in case colleagues approach them with questions.
For example, one challenge identified was that enrolling and participating at the beginning of a physician's assessment due year is a departure from how many diplomates engage with MOC, and may not be intuitive. To address this challenge, ABIM will communicate clearly through multiple channels, including emails, social media, its website and more to ensure physicians are informed about this new process.
ABIM plans to continue engaging with the community beyond the LKA launch and make improvements based upon physician feedback. All ABIM Board Certified physicians are encouraged to join the Community Insights Network where they may receive occasional requests to share their thoughts about various ABIM programs or topics.
Enrollment for the 2022 LKA opened December 1, 2021 for 12 disciplines, including rheumatology. The first set of questions was delivered January 4, 2022 and the quarter ends March 31, 2022, so enrolling early ensures physicians will have enough time to access and answer questions for that quarter. The LKA differs from the traditional, 10-year MOC exam in that it better melds assessment and learning by providing regular feedback along the way that physicians can use to identify and address knowledge gaps. As a longitudinal assessment it's scored differently too, allowing physicians to demonstrate improvement as they continue to answer questions over the 5-year cycle. Learn more about the features, benefits, and other important details of LKA at abim.org/lka.
Exploring Opportunities to Enhance Trust Between ABIM and the Community
In an effort to continually improve its programs and relationships with the diplomate community, Specialty Board members engaged in an exercise aimed at identifying opportunities to enhance trust between ABIM and the physicians it serves. Insights previously gleaned through Governance member feedback have informed other important changes at ABIM, including advancing DEI initiatives, better accommodations for nursing mothers, and the LKA launching in 2022.
A number of ideas emerged during this session, such as helping diplomates better understand their MOC fees, and continuing to explore new ways for ABIM to deliver value to physicians and their practice.
Similar sessions were held at each ABIM Specialty Board meeting throughout the fall. The top ideas will be presented to the ABIM Council for further consideration of future implementation.
In Closing
The Rheumatology Board values the feedback and commentary of the entire medical community, including diplomates and society partners.
Do you have any questions? Are you interested in how to get involved?
If you have questions after reading this report, please connect with us through the following channels:
You may also be interested in...