We know how busy you are. That's why we've created this quarterly newsletter to keep you informed about ABIM news, share insights from your fellow doctors and let you know about opportunities to get involved with ABIM. We hope you find it helpful, and thank you for all you do as an important member of the ABIM physician community.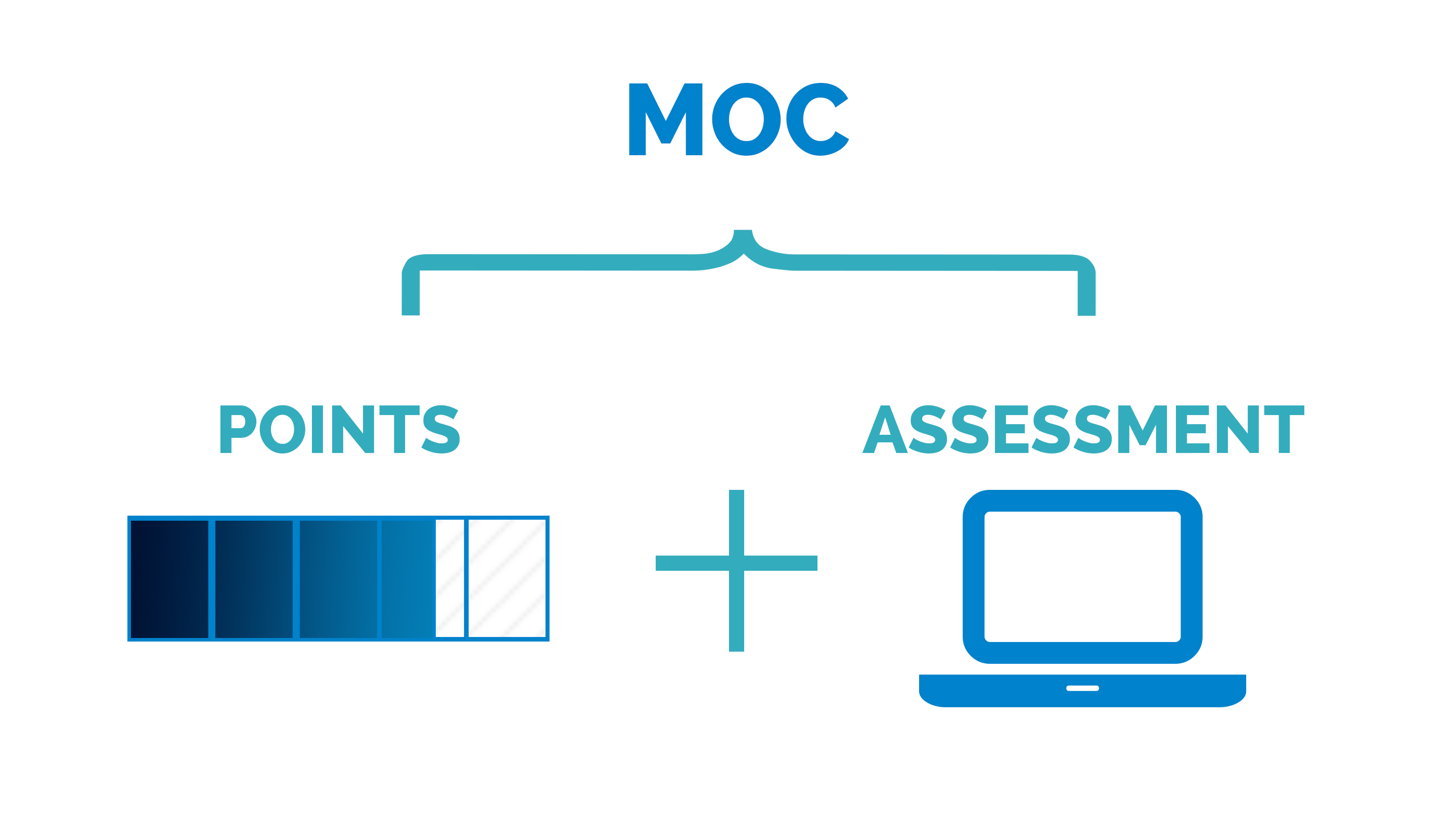 If you have questions about where you stand in the MOC program — and what you need to do next — signing in to your personalized Physician Portal at abim.org is a great place to start. There you'll see how many points you've earned, when your next assessment is due, and any other outstanding requirements.
By keeping up now you can avoid a last minute end-of-year rush, and also ensure that activities and meetings you're attending now will count toward your requirements later.
There are many ways to earn MOC points, and you can choose the activities that work best for you:
ABIM's Medical Knowledge modules can earn you 10 MOC points.
Thousands of activities can earn both CME and MOC. Learn more by visiting ACCME's CME Finder. Most ABIM products also earn CME credit. 
When you complete a QI/PI activity through the ABMS Multi-Specialty Portfolio Program or the Approved Quality Improvement Program, you can earn up to 30 MOC points.
Earn MOC points for the searching you do to support your clinical decisions at the point of care, including a variety of internet search tools such as UpToDate®.
If you're a fellow, you'll earn 20 MOC points for each year of eligible fellowship training.
When you take an MOC assessment, you earn 20 MOC points.
If you're certified by another ABMS board, our ABIM MOC point requirement can be waived if you are currently certified by and meeting the MOC requirements of that board. 
If you earn a new subspecialty certificate, your current 100-point requirement will be met as a result of passing your initial subspecialty exam.
Remember that physicians participating in ABIM's MOC program need to earn 100 MOC points every five years to stay certified. Learn more about your point requirements by going to abim.org/points or signing into your Physician Portal.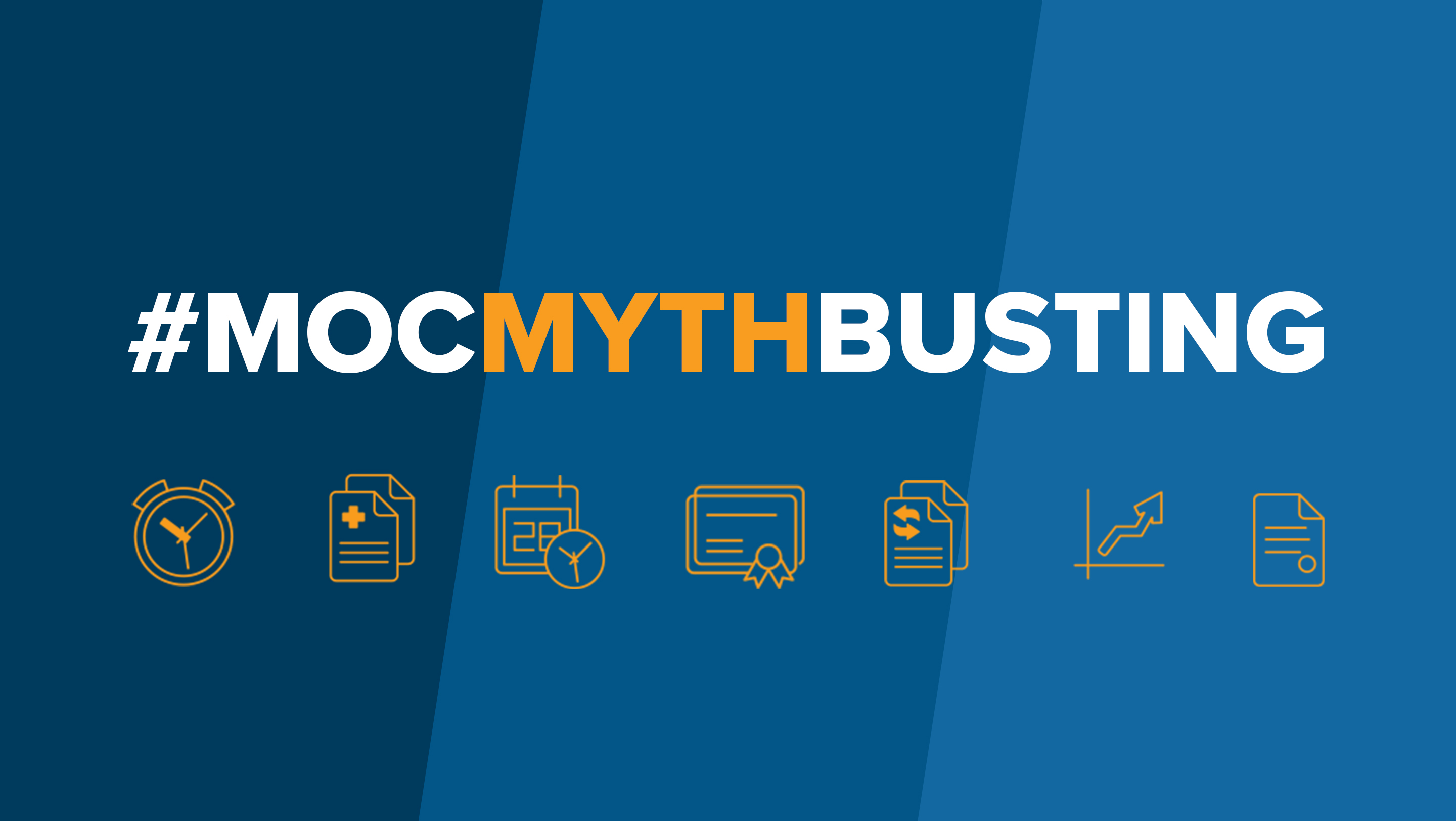 There's been a lot of physician-led change at the American Board of Internal Medicine (ABIM) within the past few years. If it's been a while since the last time you engaged with us, you might have questions about some of these changes, and you may have heard some misinformation about the MOC program and what you need to do. Here are some common myths we've heard, along with some fact checking.
MOC Assessments

Myth: Now that the Knowledge Check-In is available, I have to begin taking it right away, even if I recently passed the MOC exam.
Fact Check: Your due date for an assessment is 10 years from the last time you passed an MOC exam. You do not need to pass another assessment until the due date shown on the home page of your ABIM Physician Portal.  You can choose between the Knowledge Check-In or the traditional 10-year exam for meeting your assessment requirement based on availability and your eligibility for each.

Myth: I have to take both the Knowledge Check-In and the traditional 10-year MOC exam.
Fact Check: You can choose which assessment pathway works best for you. You can decide to take either the Knowledge Check-In every two years or the traditional MOC exam every 10 years.

Myth: I can take the Knowledge Check-In at any date or time.
Fact Check: The Knowledge Check-In is not offered on-demand. If you register early, you have a better chance of securing your preferred testing day and appointment time.

Myth: If I take the Knowledge Check-In to maintain one of my certifications, I have to take it for all of my certifications.
Fact Check: You can choose different assessment pathways for different certifications. Choose the option that works best for your individual situation.
 MOC Points

Myth: You have to earn all of your MOC points before you can take an assessment.
Fact Check: You can earn your MOC points at any time, before or after you take an assessment. As long as you complete the activities by the deadlines shown in your portal, you will be meeting your MOC requirements. Note: Taking an assessment will earn you MOC points.

Myth: If I have multiple certifications, I need to earn 100 points for each one.
Fact Check: You only have one MOC program. The MOC points that you earn apply to all of the certifications you are maintaining. You also just pay one program fee that covers all of the certifications you choose to maintain.

Myth: I need to send a CME certificate to ABIM for them to grant me MOC points for CME activities I completed.
Fact Check: You do not need to submit a CME certificate. In fact, ABIM is not able to grant MOC points based on the CME certificate. You earn MOC points for CME activities when the provider of the activity registers it for MOC in ACCME's system and submits your completion data to ACCME. 

Myth: All CME activities will also earn ABIM MOC points
Fact Check: Activity providers decide whether or not to register their activities to grant ABIM MOC points. Not all providers participate in CME + MOC. Not all CME activities will also grant ABIM MOC points.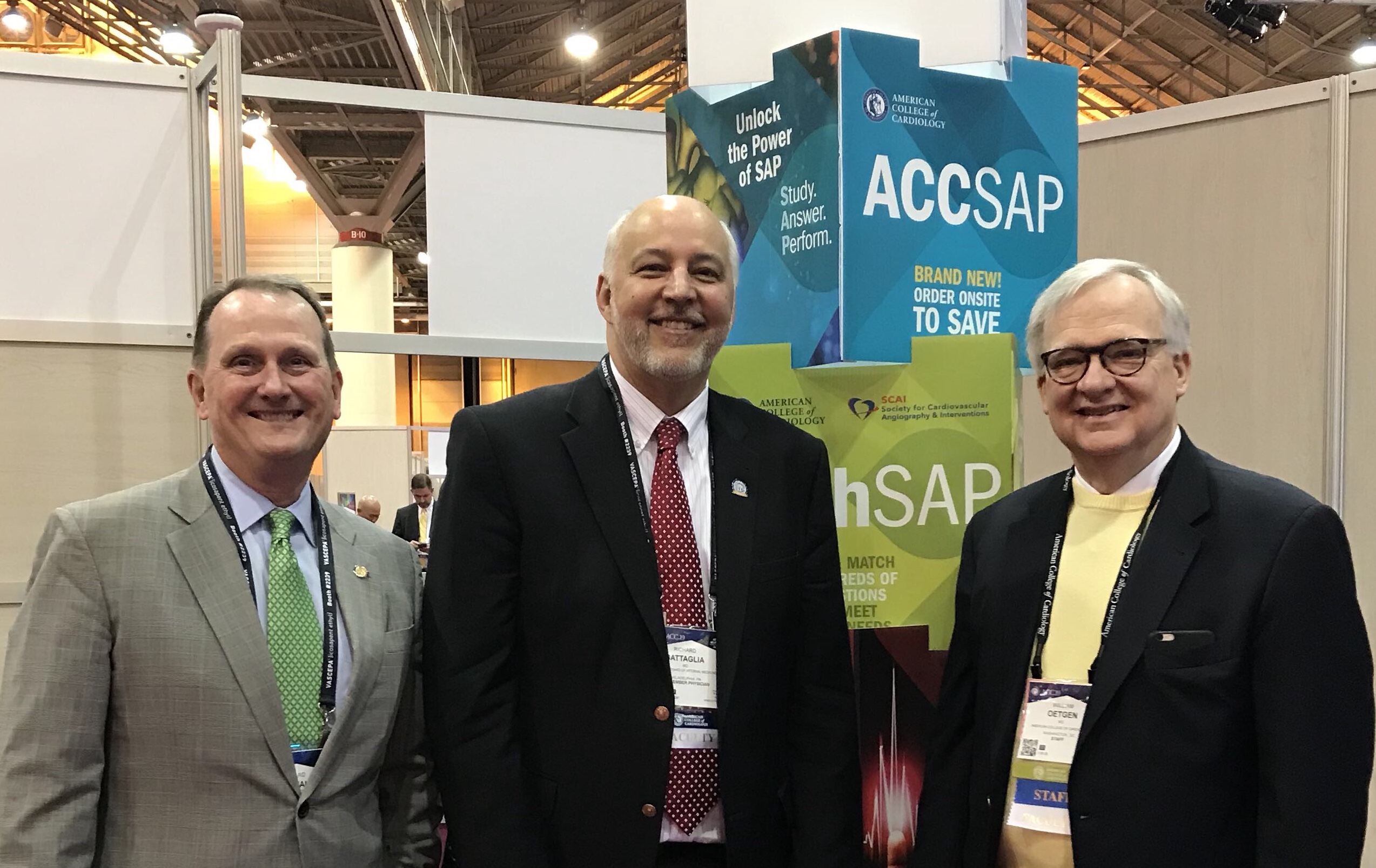 L-R: Drs. Richard Chazal (ACC Past President), Richard Battaglia (ABIM Chief Medical Officer), and William Oetgen (ACC EVP of Science Quality, Education, and Publishing).
Earlier this spring the American Board of Internal Medicine (ABIM) and the American College of Cardiology (ACC) announced a new Collaborative Maintenance Pathway (CMP) option for certified cardiologists who wish to maintain their board certification. The new option, announced to coincide with the ACC's 68th Annual Scientific Session March 16-18 in New Orleans, integrates lifelong learning and assessment with the goal of helping physicians stay current in knowledge and practice.
A Cardiovascular Disease CMP utilizing the ACC's Adult Clinical Cardiology Self-Assessment Program (ACCSAP) for both formative engagement in learning and the demonstration of currency with an annual performance assessment will be available in 2019. For certified cardiologists, this pathway centers on successful engagement with the ACCSAP educational materials in specific content areas each year as a prerequisite to qualify for a performance assessment later in the calendar year on those same topic areas.
A new performance assessment will be available each year, with each covering approximately 20 percent of the field of cardiovascular disease. Ultimately, the breadth of general cardiology will be covered in a span of five years. The 2019 ACCSAP performance assessment will focus on arrhythmias. This means physicians planning to enter the CMP in 2019 can begin to focus their studying on the arrhythmia section of ACCSAP now, with the performance assessment on arrhythmias available in the fall.
It is anticipated that CMPs in Clinical Cardiac Electrophysiology, Interventional Cardiology and Advanced Heart Failure and Transplant Cardiology will become available in 2020. ACC is working in collaboration with the Heart Rhythm Society, the Society for Cardiovascular Angiography and Interventions, and the Heart Failure Society of America in conjunction with the ABIM on these efforts.
With this new MOC pathway, ABIM will continue to set performance standards and issue certifications, and ABIM's current MOC program requirements will remain in place. ABIM's traditional 10-year MOC exam and the two-year Knowledge Check-In assessment will remain available to diplomates if they choose not to participate in the CMP.
Similarly, ACCSAP will remain a standalone Continuing Medical Education option as an educational resource in the field of Cardiology, regardless of a physician's participation in ABIM MOC.
To be eligible to participate in this new option a physician must:
Be currently certified by ABIM and not in an MOC exam grace period
Participate in ACCSAP
Spend time "engaging" in the topic areas covered annually by the CMP Performance Assessment. This means a physician will need to spend at least seven hours:

Reading the text, watching/listening to presentations and/or completing practice questions in the Arrhythmias chapter
Completing all 94 Arrhythmias practice questions and answering at least 70% of them correctly to align with current CME requirements (with the opportunity to answer as many times as necessary to achieve that score).

Take the first Performance Assessment in fall 2019
More information and FAQs about the ABIM/ACC CMP are available on ABIM's website.
Additional updates include:
Gastroenterology
In January, the American Association for the Study of Liver Diseases (AASLD), the American College of Gastroenterology (ACG), the American Gastroenterological Association (AGA) and the American Society for Gastrointestinal Endoscopy (ASGE) announced an agreement to collaborate with ABIM to explore the development of a new assessment pathway through which gastroenterologists can maintain board certification. The goals for this innovative approach would be to enhance the range of options for Maintenance of Certification (MOC) available to gastroenterologists and hepatologists.
Work on this new pathway is underway and updates will be shared as they become available. As this work continues, ABIM's current MOC program requirements will remain in place, including the launch of the new, shorter Knowledge Check-In assessment option, which will be available this year in gastroenterology.
Oncology
A new assessment option for oncologists – called the ABIM/ASCO Medical Oncology: Learning & Assessment will become available in 2020 and will take the place of ABIM's Knowledge Check-In in Medical Oncology.
The Learning & Assessment is a flexible, lower stakes MOC program that offers physicians the choice of medical oncology assessments – a general medical oncology assessment, or disease-specific medical oncology assessments (i.e. Breast Cancer, Hematologic Malignancies). Whichever module one chooses, this path assures that a physician will continue to receive a valid and fair assessment that recognizes them as an ABIM Board-certified Medical Oncologist who is staying current in their field. To support continuous learning, the Learning & Assessment will help oncologists identify knowledge gaps and strengths and will link them to relevant educational resources before and after the exam. Physicians will also be able to access support tools during the assessment, a process that better resembles day-to-day practice.
ABIM's traditional 10-year MOC exam will also remain an option for medical oncologists to maintain certification. More information about the Learning & Assessment will be available on ABIM and ASCO's websites throughout 2019.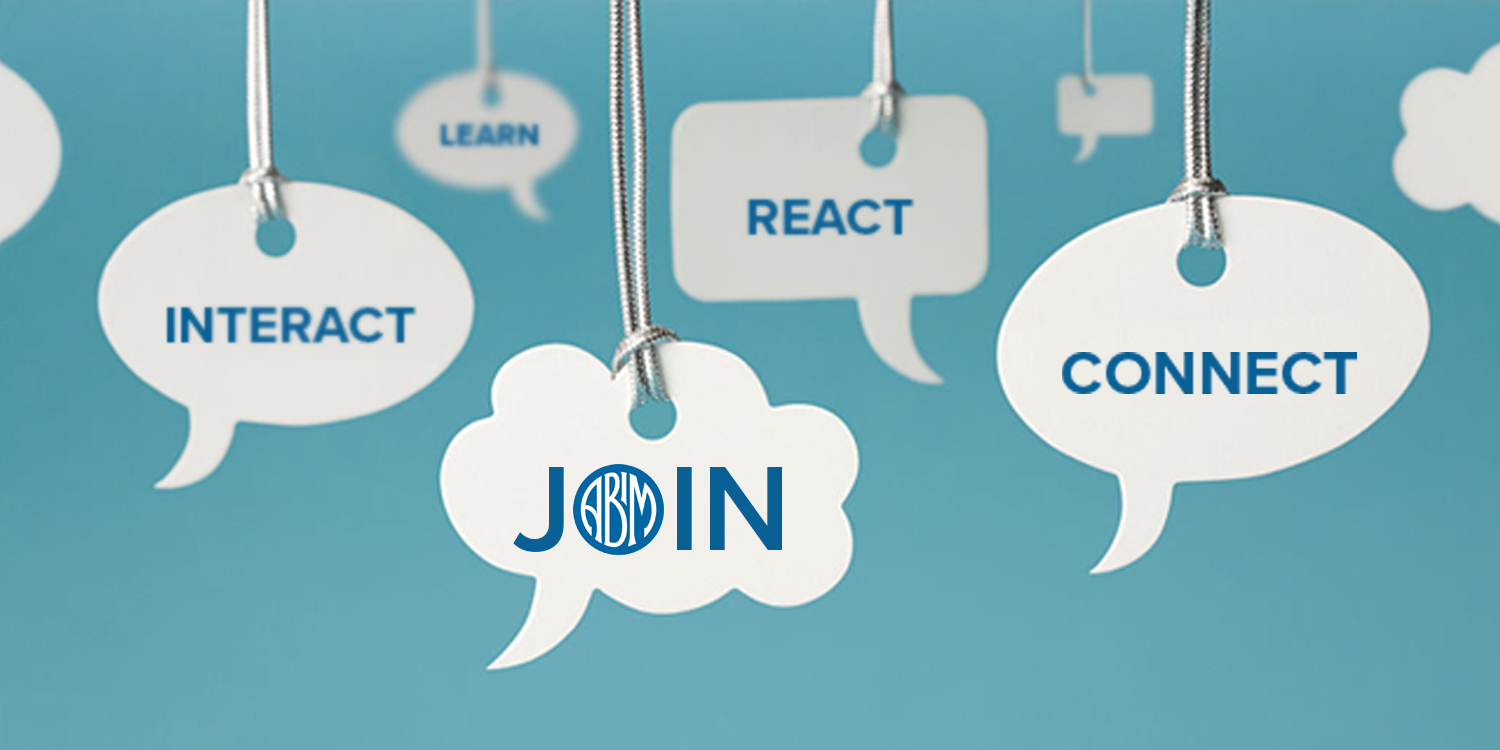 Feedback from the internal medicine community helps ABIM make meaningful improvements to its programs. Consider getting involved with ABIM in a way that works for you:
Participating in ABIM governance provides a meaningful and rewarding opportunity to join outstanding professional colleagues in service to patients. Governance members help define the breadth of knowledge of the Board certified internists or subspecialist, provide perspective on trends and scope of their discipline and collaborate with peers to develop the fairest and most up-to-date assessments possible.
If you have a genuine interest in professional development and standard setting for internal medicine and its subspecialties, please consider sharing openings with a colleague or applying yourself to be appointed to an ABIM board or committee. Keep an eye out for new opportunities posted later this summer.
Join the Community Insights Network to share feedback with ABIM through surveys, usability testing and more. Participation is flexible and we will tailor engagement opportunities to your interests.
Visit us at an upcoming society meeting. All upcoming society meetings also offer CME for MOC, helping to make meeting your MOC program requirements even easier.
You may also be interested in...