Letitia Browne-James, PhD, is a Board Certified Counselor, Licensed Mental Health Counselor (FL) and owns Victorious Living Counseling & Consulting, LLC. She serves as a member of the Internal Medicine Board of the American Board of Internal Medicine (ABIM).
In addition to her clinical practice, Dr. Browne-James is a Counselor Educator and Supervisor, serving as a Core Faculty Member at Adler Graduate School and Adjunct Faculty at Stetson University. She is also a consultant and trainer to individuals, organizations, and businesses.
Drawing on her own personal experience, Dr. Browne-James uses her role with ABIM's Internal Medicine Board and as a mental health professional to give voice to the needs of patients. She is a sought-after speaker on a wide range of health care and social issues.
The following is an edited version of our interview with Dr. Browne-James: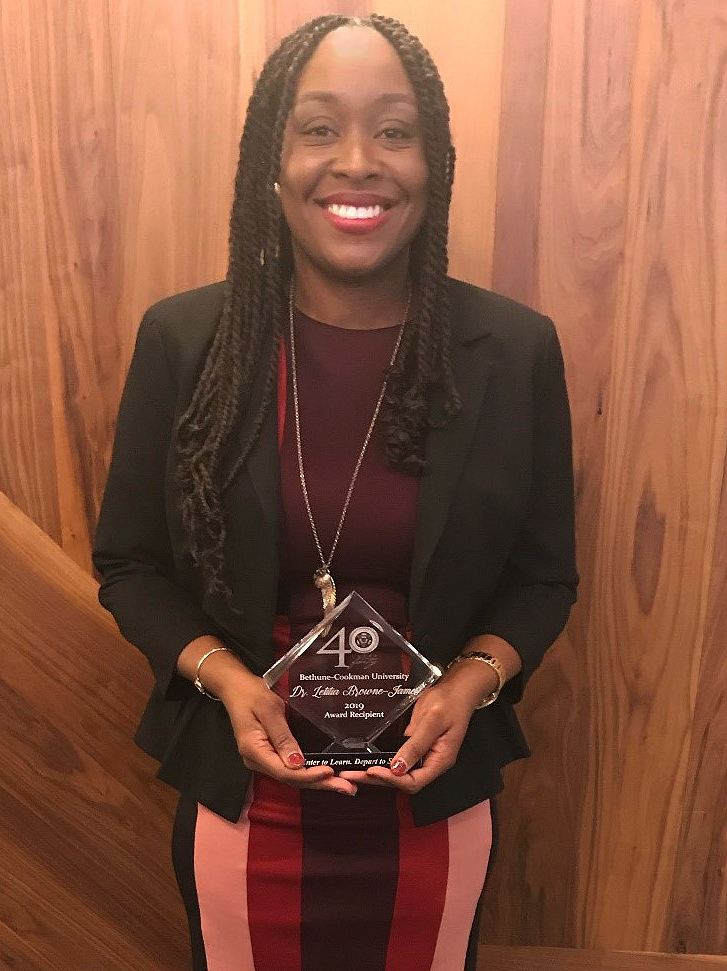 You were recently named by Bethune Cookman University (BCU) as one of 2019's '40 under 40' whose achievements merit recognition. What does this honor mean to you?
Personally and professionally, this honor means so much to me! I have been blessed to attend the prestigious Historically Black College and University (HBCU) Bethune Cookman College (now BCU) to complete my bachelor's in Psychology. As an African-American woman, having the HBCU experience is like no other because of its rich history, musical and sorority/fraternity culture, food, and most importantly, the academic and professional training I received there. It was there that I was introduced to the idea that I really had what it took to become a scholar-practitioner. To be nominated by one of my former professors, Dr. Janice Allen-Kelsey, and be selected by the '40 under 40' team has been a real blessing and honor. The university's mission is "Enter to Learn, Depart to Serve" and in their eyes, I have done that well while making them proud.
How did you become involved as a patient advocate?
My involvement as a patient advocate started with my own advocacy in the health care system.  I got tired of hearing doctors tell me that I had to live with epilepsy for the rest of my life and keep taking anti-epileptic drugs that were not controlling the epilepsy. I lived with it for over 30 years. I understood the importance of advocacy, being an informed patient, and had the academic knowledge and resources to advocate for myself. I did my own research that started me on a life-changing path that led me to have epilepsy surgery (brain surgery). I had a successful left temporal resection in 2012 and have been seizure-free ever since!
How has your personal experience with epilepsy shaped your role as a patient advocate?
After going through my medical journey with epilepsy, I made it one of my life's passions to help as many patients as I can understand the importance of being an informed patient and seeking patient-centered care when possible. I recognize that not all patients have equal and equitable access to quality health care. I also recognize that my economic, educational, and professional privilege led to this outcome for me. So, I pay it forward by helping others get similar outcomes. The health care system needs an integrative overhaul so that healthcare professionals can understand how mental and physical health intersect in order to help patients get holistic care. I believe Internists play a critical role in creating this holistic model of care.
Can you tell us about your experience as a member of the Internal Medicine Board?
My experience on the board has been nothing short of amazing! I have gained some skilled and dedicated colleagues who are physicians and public professional members like myself. I have been learning so much and feel like my voice is valued and needed as we tackle pressing issues in medicine, health care, and the future of maintenance of certification. I also see my role as doctoral-level mental health professional as critical in helping to bridge the gap between mental and physical health care.
What led you to get involved with governance at ABIM and what do you hope to accomplish?
Geoffrey Hill, one of my patient advocate colleagues who was also a public professional member on the ABIM Board, nominated me for this position when his term ended, and the board unanimously accepted me.
As a sought-after speaker, what topics resonate the most with you and your audience?
I love to talk with people about the importance of taking care of their mental, physical, and spiritual health, being an informed patient/caregiver, the importance of multicultural and social justice issues, specifically the mental health implications of racism and oppression and human trafficking.
These are important topics, because they are directly tied to some people's mental health problems and health-seeking behaviors. I mostly provide training to counselors and counselors-in-training in these areas as a full-time professor of counseling and leader within my field. I also believe that social justice and multiculturalism are related to medical care, because, unfortunately, power, privilege, economics, ability/disability, religion, race, nationality, region, etc. factors into the health care that people receive or don't receive. It may be the "elephant in the room" that some people are pretending isn't there, but it is.
When I attended the ABIM Foundation's Forum: [Re]Building Trust: a Path Forward  over the summer and heard Dr. Toyin Ajayi's talk about the important work she and her team are doing to bring accessible health care to people in underserved communities in New York, I felt that we are moving in the right direction to improve people's access to medical care. I know there are other clinics and grant-funded programs like Cityblock out there, but not enough. So we need to be more intentional about creating access to quality healthcare for all.
What do you think are the key issues facing medicine and health care?
One of the key issues facing medicine relates to access for all patients. Funding red tape and other political issues create crucial roadblocks in health care. We need more diverse representation–gender, religion, sexual orientation, race, ethnicity, etc.,–in medicine to create a more welcoming and safe milieu for all. The lack of representation creates fear, hesitation, and resistance in some patients that hinders quality healthcare outcomes.