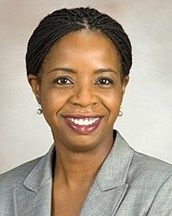 Dr. Simbo Chiadika is an Associate Professor of Medicine at McGovern Medical School/University of Texas (UT) Health Science Center, Houston. She is the Director of Cardiovascular Services at the UT Health community clinic and serves as co-Director of Quality Initiatives in Cardiology.
Dr. Chiadika is ABIM Board Certified in Internal Medicine and Cardiovascular Disease. Dr. Chiadika currently serves as a member of the American Board of Internal Medicine Cardiovascular Board. She is a fellow of the American College of Cardiology and board certified in nuclear cardiology and echocardiography. She is a member of the Association of Black Cardiologists.
Dr. Chiadika is passionate about engaging and educating communities regarding cardiovascular disease. She is an active speaker for the American Heart Association (AHA) and serves as a member of the AHA Houston Health Equity Collective (formerly Greater Houston Coalition for Social Determinants of Health).
Dr. Chiadika earned a bachelor's degree in biochemistry at City University of New York and medical degree at Columbia University School of Physicians & Surgeons in New York. She completed an internal medicine residency and nuclear cardiology fellowship at the New York Presbyterian Hospital – Columbia University and general cardiology fellowship at St. Luke's Roosevelt Hospital – Columbia University in New York.
What made you decide to specialize in cardiology?
I was attracted to cardiology due to the acuity of the field and my fascination with physiology of the heart as a medical student. I loved the variety of options within cardiology – critical care, imaging and patient contact.
You are passionate about engaging and educating communities regarding cardiovascular disease. Can you tell us a little about how you work to educate communities and why this is so important to you?
Other than clinical work of caring for patients, I believe an important part of my job is in engaging and educating communities about cardiovascular health. I have been involved with the American Heart Association for a while, giving talks and educating different communities – either churches or organizations. I have found it is impactful for people to have someone who looks like them or who is from their communities to talk to them about health issues. I am also a member of the Houston Medical Forum through which I have engaged in educational programs, COVID outreach, etc. I work in the Center of Healthy Aging at McGovern Medical School which has allowed involvement with the UT Consortium on Aging.  This has allowed me to give presentations at the annual meetings regarding cardiovascular health for older persons. I served as a local host and organizer of community health fair for the Association of Black Cardiologists. I give lectures to Nigerian fellows and cardiologists at the annual Nigerian Cardiovascular Symposium.
What made you decide to join ABIM Governance?
Educating the next generation of physicians has always been one of my top priorities. This is the reason I have stayed in academic medicine through my career. The ABIM goals to ensure adequate accreditation and good standard of practice of practicing physicians is essential to maintaining the highest quality of care for patients. I am honored to be part of an organization that represents integrity, standardization and consistency. Medicine had changed a lot since I started practicing; it is important to hold ourselves accountable to some form of objective and consistent standard regardless of the new evaluation measures we face in the 21st century.
You're active in AHA Houston Health Equity Collective. Can you tell us about some initiatives that you are particularly proud of?
The Health Equity Collective is a multi-sector effort focused on creating a more equitable health ecosystem in Greater Houston. The mission is to use this data-sharing ecosystem to implement a comprehensive population-level approach to address the social determinants of health (SDOH) across our region. The current main focus is in the area of food insecurity. I look forward to engaging more fully in the Health Equity Collective's efforts to support a data-driven approach not just to measuring disparities in SDOH but to intervene successfully.  This data-driven approach will provide measurable interventions to assist in driving resources to low-performing areas.
You attended medical school in New York City and are now living in Houston, Texas — a big change. What do you like about Houston? What's your favorite thing to do in the city?
Houston is a large and diverse city with many opportunities to grow professionally. Texas Medical Center in Houston is the largest medical center in the world, hence it is a very exciting place to practice, allowing for many career opportunities and collaboration.
Do you have any hobbies or special activities that you enjoy outside of work?
I love dance aerobics! I do it almost every day. It allows me to dance and get my much-needed exercise. I have always said if I couldn't be a physician I wanted to be a dancer. Jazzercise has been a great substitute for that dream. I also enjoy playing tennis, traveling and spending time with my boys.
What band, musician or type of music do you listen to most often?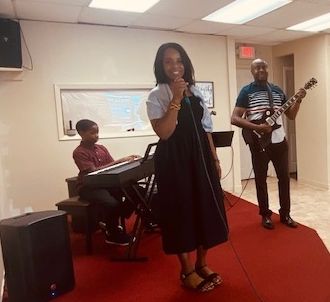 I love gospel music – my favorite artists are : Donnie McClurkin and CeCe Winans.
What would some of your colleagues be surprised to learn about you?
I think they may be surprised I am a Pastor's wife and I sing in a church choir, which my whole family is involved in. My husband plays the guitar, and my sons play piano and drums.
You may also be interested in...