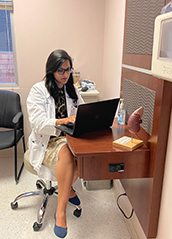 Dr. Sana Waheed, a member of the ABIM Nephrology Board, is certified in both Internal Medicine and Nephrology. She is a clinical nephrologist at Piedmont Nephrology and Internal Medicine in Atlanta, Georgia, where she takes care of patients across a wide spectrum of kidney diseases. Dr. Waheed has served as the Medical Director of the Home Dialysis Program at Wisconsin Dialysis Institute. In addition, she has been involved in improving the clinical care delivered to patients by serving on the medical review committee for the end-stage renal disease networks. She is actively involved in developing material and initiatives to decrease infection risks in dialysis units through her work with Nephrologists Transforming Dialysis. Dr. Waheed has also been actively involved in education, both locally and nationally. She was the Director of the Medical School Renal Pathophysiology course and Associate Fellowship Director at University of Wisconsin in Madison, Wisconsin. Through her involvement with ASN, she has been actively involved in shaping the future of the nephrology workforce as a part of the ASN Workforce and Training Committee. In addition, she developed questions for the nephrology in training exams and kidney self-assessment program.
Her research interests include kidney disease in HIV patients, peritoneal dialysis and issues involving nephrology education for trainees.
Dr. Waheed received her medical degree from the Aga Khan University in Pakistan and then completed her internal medicine residency at University of Cincinnati and fellowship at the Johns Hopkins Hospital.
When did you first know that you wanted to be a physician?
To this day, I am not entirely sure if I ever consciously made the decision or if my parents, who were both physicians, made it for me. Though I think it was the experience of watching my mother's interaction with her patients that first attracted me to the field. I used to go to my mother's OB clinic after school and do my homework in her reception area. There were always patients waiting to see her and I saw how grateful they were of the care that they received. That's the first thing that drew me to medicine — this ability to make a difference in people's lives. I know it sounds like a cliché but this is really what sets medicine apart from other professions.
What drew you to nephrology?
My first exposure to nephrology was near the end of my intern year. I was blown away by how nice and smart the nephrology faculty was. They knew everything about their dialysis patients and patients really looked at them as their "doctors" and approached them for every problem. I also have an analytical mind and I love numbers, so looking at electrolytes and doing various calculations was something I loved. The objectivity of nephrology as a field along with the long-term relationships you make with your patients make it the most attractive of medical subspecialties in my opinion.
You received your medical degree in Pakistan and completed your fellowship in the US. What was the most surprising difference in the way medicine is taught or administered in the two countries?
Pakistan is a country of limited resources without a robust national funded health system or concept of private insurance, so patients are often paying out of pocket for medical expenses. That makes getting extensive investigations for patients quite challenging, if not impossible. Therefore, the concept of getting daily labs or imaging studies like CT scans or MRIs was very new for me and required some adjustment in the beginning.
In addition, one of the things that is most enjoyable in training in the US is how trainees are encouraged to look up the latest evidence and analyze it. That was not always the case in Pakistan, but the emphasis on evidence-based practice has been improving there.
Do you have a female role model or mentor who helped or guided you on your path as a physician?
So many women physicians have supported me during my career. The one person who really stands out is Dr. Laura Maursetter, Chief of Nephrology at the William S. Middleton Memorial Veterans Hospital in Madison, WI. One of the key things that I learned from her is to be selfless with your time and always be available for colleagues, trainees and patients. In addition, her creativity and enthusiasm for medicine is contagious.
Why did you want to serve on ABIM Governance?
ABIM has done an exceptional job in ensuring that physicians demonstrate a basic level of competence in order to practice independently. However, like everything else in the world, I think there is room for improvement in the whole process and the best way to work on that is to be a part of that change. I would like to focus on making the exam questions be more reflective of the daily patient care scenarios that we encounter.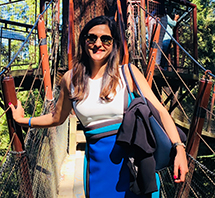 How has COVID-19 affected your practice? Do you think any of the changes made in health care during COVID-19, like more access to home dialysis, will become permanent?
I have done a lot more telehealth visits during COVID times and that is definitely going to be a permanent shift where both providers and patents will consider telehealth visits as viable alternatives to in-person visits. Moreover, there has been a concentrated effort to increase access to home dialysis over the last few years, and the importance of keeping patients home and avoiding congregating in dialysis units has been highlighted more by the COVID pandemic. In the next few years, I expect an even larger push towards making the training curriculum and patient education material more focused on home dialysis.
What do you do in your free time for fun?
I love to travel. I am on a mission to see the world.
You may also be interested in...