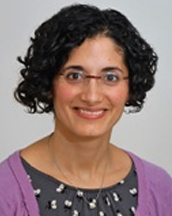 Rachel Simmons, MD, became the Program Director for the Internal Medicine Residency at Brown University in July. Previously, she was Associate Program Director for the Boston University Internal Medicine Residency Program. She is interested in resident evaluation and assessment. Dr. Simmons is co-Chair of the ABIM Internal Medicine Approval Committee, which makes sure assessment questions are appropriate and fair.
What led you to a career in medical education?
For me, one of the seminal experiences was being a chief resident. Being both embedded in day-to-day operations and thinking globally was impactful — how are we preparing folks to go from being a student in their fourth year to being an independent practitioner in three short years? I find great joy in working with residents and watching them put it all together. The alchemy of taking their medical knowledge and then packaging it with great communication skills, factoring in the person's cultural background and values, and creating a great plan. This has been very rewarding.
What is the hardest part of your job?
The last few years have been particularly challenging. Our residents did so much work on the front lines of COVID — I am in awe of their contributions — but it was really a lot to do in the midst of a what is already a very busy time in their career. The residents were flexible; they gave up electives and their free time to rise to the occasion. I think that has honestly been one of the most difficult things during the pandemic.
How did you become involved with ABIM? How do you see your role at ABIM intersecting with the work you do with residents?
I was fortunate to become involved with ABIM years ago. It's been a wonderful community and place to think about those bigger questions of what knowledge and skills do practicing internists need in their toolkit. Board certification and ongoing board certification is a mix of knowledge, skills, attitude, and expertise. Writing questions for the exam has been a huge education for me as far as exploring what knowledge is important to make sure people have, what the best ways to go about assessing that knowledge are, and how to measure it in a test-based format.
On the residency education side, we think a lot about what skills and expertise people need when they are wrapping up residency and preparing to go out and be that independent practitioner. I think medicine is in a lot of ways a self-regulating profession.
ABIM is a community where we think about what that means and what we want to do to make sure people have the skills and knowledge necessary to be a successful physician. We also want to make sure people keep updating their knowledge. Medicine changes often, and it's important to know that physicians are keeping up with the latest treatments. That's why certification is an ongoing process.
Those are some of the ways my work intersects. I think Residency Program Directors and people in medical education in general think a lot about which important skills physicians need to have to serve the public and their patients. I think the ABIM has the same type of lens as they're considering certification.
Do you find that your experience is as a resident director is valued at ABIM and are you are able to help shape the exams?
I feel very respected as someone involved in residency education, but I think a strength of ABIM is they always make sure to include voices from a range of people who are practicing in different areas. ABIM gets a lot of strength from that multitude of voices. It's great to have folks who are involved in residency who think about the education piece. But we would really do a disservice to the profession if we didn't also make sure that we had voices from a lot of different parts of practice, in various types of communities, and in various types of settings.
As a program director, I spend a lot of my time working directly with residents or doing administrative work; we must also make sure to include voices of people who are heavily embedded in patient care. I think ABIM pays close attention to that.
What do you tell your residents about the Internal Medicine Exam and Maintenance of Certification (MOC)?
On a practical level, the ABIM Blueprint is a great tool to help direct their studying. If they look at the Blueprint, they'll see that uncommon diseases aren't the focus of the exam. The focus is on conditions that are very common in the US like hypertension. That's the kind of thing that is emphasized on the assessment and what they should spend their time studying.
The point of certification or maintenance of certification is to test knowledge on the things that internists encounter often on a day-to-day basis. I think that is one of the most eye-opening things for residents. I point them to the Blueprint because it shows how much of the exam is focused on a specific topic and it can help guide their thinking as they prepare for the exam.
You mentioned earlier that it's been a difficult few years. Have you seen a change in the type of people who are applying to medical school or in your residency program?
Medicine broadly, and internal medicine specifically, is still very fortunate to attract bright, thoughtful people who want that intersection of science and humanism that they can use to take care of patients, serve populations, and innovate.
What I've noticed in recent years is that it is more common to take some time between undergraduate and medical school. We are seeing people with more varied experiences that they're bringing to medical school and residency.
The demographics have evolved as well. It has only been in the last few years that the number of women matriculating students outnumbered men. Unfortunately, the proportion of students and residents who are underrepresented in medicine has not changed significantly, and that's something we need to work on.
It's interesting you mention underrepresentation in medicine. As you prepare to move into your Program Director role, do you have any thoughts about how you can increase that number?
This is something that is very important to our profession. Thinking about diversity, equity, inclusion, and medicine, and the lack of folks who are underrepresented in medicine is important to me personally. There are multiple aspects to this.
As a program director, I think about how do we approach equity in assessment? That's something we need to consider in both undergraduate and graduate medical education. We have a strong stake in that, and I think it will take all of us working together to make it better.
I also think about the atmosphere in medicine for practicing physicians, for faculty, for trainees and students, and throughout. We need to make medicine a comfortable place for everyone, and I don't think that's the case right now.
We need to work on the problem from multiple angles. I think constantly reflecting about the environment and culture that we are building and perpetuating and whether it is welcoming and equitable is important.
ABIM is looking to include health equity questions on its assessments. How do you feel about that? Do you think it's something that medical students need to know?
Yes! I think the topics you include on assessments serve a dual purpose — they ensure that students learn about it and emphasize its importance. Including questions about diversity and equity signals that those are things are valued, important, and something practicing internists need to know about, to think about.
Writing good questions is an art and a group process. It sometimes takes time to figure out how to write questions that work well on a variety of topics. I am excited to work through the process to develop these types of questions.
What is the best advice you've ever received?
It's been a couple of things. One is to practice gratitude. There's so much going on, and I think many of us really like trying to solve problems. It is important to make sure you pause and be grateful for the things that are going well and to remember that problem you solved yesterday.
The other advice that I have found helpful is figuring out which things require your best efforts and which things can be good enough. We all have a lot of balls in the air–the only ball that is glass, that you don't want to drop, is your family.
Do you have any book recommendations that you'd like to share?
I love to read. My favorite set of books is the Broken Earth Trilogy by N.K. Jemisin; it's a fantastic fantasy trilogy. She is an incredible world builder and has very interesting perspectives that she takes throughout the story. It's one of my favorites, and apparently, they're making a movie and I'm excited for that. I'm in the middle of reading Caste by Isabel Wilkerson, which I'm enjoying. I just finished listening to The Great Circle by Maggie Shipstead, which is a story told about a pilot who was a woman in the twenties and to the forties; it's amazing.
You may also be interested in...