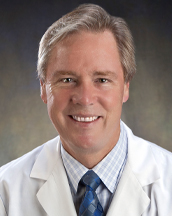 David E. Haines is a Professor of Cardiovascular Medicine at the Oakland University William Beaumont School of Medicine, and the Director of the Heart Rhythm Center at Beaumont Health in Royal Oak, Michigan. He is the chair of ABIM's Clinical Cardiac Electrophysiology Approval Committee for the traditional, 10-year Maintenance of Certification (MOC) exam. He took some time out to discuss Cardiology, COVID and why he decided to join ABIM Governance.
What made you decide to specialize in cardiology?
As a medical student I was very interested in physiology and pathophysiology. Of all of the specialties and medical subspecialties, cardiology is the one that's most firmly based in the understanding of physiology. I love cardiology in general and electrophysiology in particular, because you can look at a patient and analyze what's going on with them clinically and explain it by the specific processes going on at a tissular, cellular, subcellular and even genetic level. You can understand really what's going on and why. That is very appealing to me.
What's the most challenging part of your job?
We deal with a wide range of patients with heart rhythm disorders. Atrial fibrillation, which is the most common rhythm disorder requiring treatment, is still a bit of a mystery. Unbelievably, 30 years into my research in this area, there is still disagreement among experts as to what the exact mechanism is that causes persistence of atrial fibrillation. In addition, we deal with some of the sickest patients with life-threatening arrhythmias. But we've had tremendous developments in terms of lifesaving device therapy and advanced catheter ablation techniques and technologies. We now have a lot to offer these people in terms of improving their longevity and quality of life.
How has COVID-19 affected cardiology patients? Have you seen any long COVID that has impacted the heart?
In the early phase of the outbreak, we didn't know what to expect and we were gearing up for all potential outcomes of the illness. Myocarditis is something that can afflict COVID patients. Those patients have a full range of adverse outcomes related to reduced cardiac function and heart failure.
We examined our population of patients in detail early on in terms of the prevalence of arrhythmias. What was surprising to me is that we did not see a big surge in atrial fibrillation in the midst of this ravaging inflammatory process. We examined their response to hydroxychloroquine and azithromycin to see if there was measurable QT prolongation, which is a known effect of these drugs.
We did not see a big increase in life-threatening arrhythmias, but we did certainly see substantial QT prolongation in many of those patients. So, we were very early among practitioners to eliminate that therapy from the acute treatment of our COVID patients.
Did patients come to you with the misconception that available drugs could alleviate COVID, and did they specifically ask for them? Did misinformation about COVID, the vaccine and medication play a role in how your patients approached you during COVID?
Well, I think that the biggest impact of misinformation was a result of the politicization of the disease. And I think people who decided not to take the vaccine were very much influenced by their political views, which had some really profound and damaging effects. I saw a number of patients hospitalized with severe COVID who had elected not to take the vaccine for, in my mind, nonsensical reasons.
And I had a number of debates with friends about the importance and safety of the vaccine. I did use my role as a physician, even if the patient did not come to me to ask about COVID, to discuss the benefits of vaccination. When a patient came into my office with a heart rhythm problem, I used that opportunity to ask if they had gotten vaccinated. If they were not inclined to vaccination, I tried to present some of the scientific facts about the disease and the risks versus benefits of vaccination.
There was a long period of time when there was a wide range of opinions in the community. But I think people are more on track now in terms of understanding how this disease works.
What do you say to the people who are concerned about myocarditis as a COVID side effect? Is this something that people should be concerned about?
Myocarditis is an extraordinarily concerning and potentially dangerous, even life-threatening problem. It can be an acute myocarditis or it can be a late manifestation. And there are multiple pathological mechanisms underlying this condition. It is a diagnosis that I've not dealt with in high numbers in my practice, but it is a risk that anyone who contracts COVID can face. This is another reason why, in my opinion, appropriate vaccination is critically important for everybody.
I think some people believe that myocarditis can be contracted through the vaccine. Is this true?
Myocarditis and pericarditis have been reported as rare events in patients (more commonly adolescents) receiving the mRNA vaccine booster. With this vaccine, as with all medical treatments, you need to weigh the slight potential adverse risk of the vaccine against the substantial lifesaving benefit that it offers. And there's nothing that we do in medicine that is risk-free. So, exposing yourself to a small risk to avoid a big risk is a worthwhile tradeoff.
Let's talk about ABIM. Why did you decide to join AIBM governance and what surprised you when you did?
Initially, I was very happy to be selected for the Item-Writing Task Force. My mentor, John DiMarco, was one of the first test committee writers in our field, and I heard stories about the sessions he had with colleagues who are brilliant people, and how very stimulating and fun the sessions were. In the present day, I always learn a tremendous amount during these meetings, and they've been a real source of professional satisfaction for me.
When I had the opportunity to move into more of a leadership role, I thought that I could help steer our subspecialty section in a positive direction. Initially we committee members were receiving significant negative feedback from our constituents that the MOC process was not relevant to their professional lives. I have witnessed a strong positive response by ABIM's leadership to those critiques. They listened to us and initiated a major overhaul of the MOC process. Their goal was to transition it to a lifelong learning process. I believe that they are achieving that goal. We're still in that transition phase right now, but much of the dissatisfaction that I was hearing at the start of my tenure has dissipated.
What do you think is most important about MOC?
I believe that a single exam for credentialing at the onset of one's career is a good thing for entry into the field. But a lot of changes happen in medicine over the years of practice, and practitioners have varying access and varying motivation to participate in continuing medical education. So MOC is a way for people to stay engaged and keep up with our complex field. The credential also serves to assure patients that their practitioner is knowledgeable, up to date, and has passed a uniform standard certifying them as an expert in the field.
What do you do for fun in your spare time?
I live in Michigan and Michigan is a very special place. We have lots and lots of lakes. I live on a lake and we're just finishing the summer season where we enjoy wake surfing. I don't know if you're familiar with that sport, but you use a specialized boat that generates a large wave powerful enough to push you on a surfboard without a rope. You surf on the wave, just like an ocean wave, except it's a continual wave behind the boat. On the ocean you get a 10- or maybe 15-second ride if you're lucky. Behind a surf boat, you can go for as long as you want if you have gas in the boat. It's really fun and a great way to exercise.
You may also be interested in...