Dr. Atulya A. Deodhar, MD, a board certified internist and rheumatologist, is Professor of Medicine and Medical Director of rheumatology clinics at the Division of Arthritis & Rheumatic Diseases in Oregon Health & Science University, Portland. He was a member of the ABIM Rheumatology Board and is a fellow of the American College of Rheumatology (ACR) and the American College of Physicians (ACP).
He is a reviewer for the New England Journal of Medicine, Lancet, Arthritis & Rheumatology, Annals of the Rheumatic Diseases and Annals of Internal Medicine, among several other journals. His research interests are axial spondyloarthritis and psoriatic arthritis. He has authored three books, more than 250 peer-reviewed articles, several book chapters, and editorials. He was principal or co-investigator in more than 100 clinical trials, mainly focused on therapies for ankylosing spondylitis, psoriatic arthritis and rheumatoid arthritis.
Dr. Deodhar received his bachelor's degree in medicine and surgery and his post-graduate medical degree from the University of Pune, India. He completed his fellowship in rheumatology at Oregon Health & Science University, and before that, a research fellowship in rheumatology at the Royal Cornwall Hospital, Truro, England. He completed his residency in internal medicine and geriatrics at the Royal Cornwall Hospital, Truro, as well as in the Sassoon General Hospital and King Edward Memorial Hospital, Pune, India. He holds a membership of the Royal College of Physicians, London, England.
 Why did you decide to become a doctor?
I grew up in Pune, India and both my parents were dentists. My brother, who is nine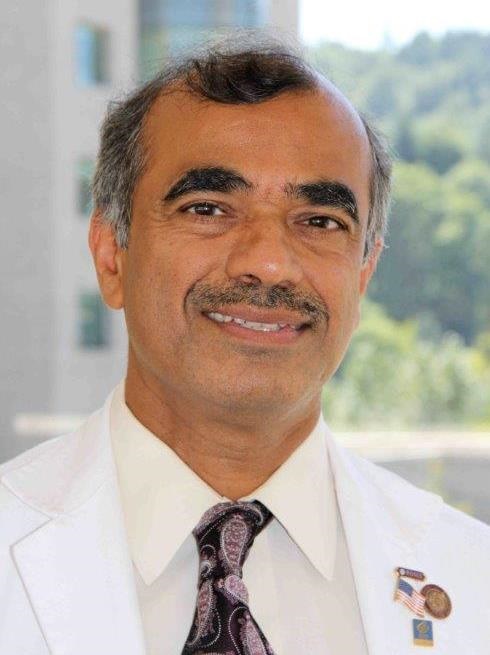 years older, also went into dentistry. So, I grew up in a household where they were all taking care of people. After school I would go to my parents' dental offices and I liked watching them take care of patients. And, my best friend's father was a well-known doctor in the city so I was around a lot of people who were caring for patients. It may sound funny, but when I was growing up in India, it appeared as if there were two career choices for kids who were good at their studies – becoming a doctor or becoming an engineer. I thought I would do something a little different and become a doctor in a family of dentists.
What made you choose rheumatology as a specialty?
I did a three-year residency in internal medicine in India, and was lucky to have a lot of good mentors. When I completed my residency, I felt I had received good training in a lot of sub-specialties of internal medicine: cardiology, neurology, pulmonary medicine, gastroenterology – but there was no training available in rheumatology in our program. I realized I had a big gap in my training, namely, rheumatology. After I went to see the chief of medicine, he told me that our city needed a rheumatologist and we needed that specialty developed in that hospital. So, that was the start of my quest. There was only one place in India where I could have gone to do rheumatology training. I wrote to the professor there and expressed my interest and he sent a letter back saying he did not have a position for me. And so, I left India to go to England to learn rheumatology. I trained in Truro, in Cornwall, and also in the 800-year-old Royal Mineral Water Hospital in Bath. Bath was the epicenter of research in ankylosing spondylitis at that time. I ended up getting my MD in Bath, which is equivalent to a PhD in the US. I had left India because there weren't any opportunities to train in rheumatology, but during the six years I studied in England, places opened in India where training in rheumatology became available. By then, I had experienced the opportunities outside of India and had a taste of working in different countries and didn't want to go back.
What is your favorite aspect of the work you do? And what is your least favorite aspect?
There are four things that I do in my professional life. I'm a medical director, I teach residents and fellows, I do clinical research and I spend half my time seeing patients. Administration is my least favorite thing to do. Sitting in meetings and doing administration is not what I enjoy. Seeing patients, teaching, and clinical research are all my favorite aspects of work.
You have a very international background and have studied and worked in India, England and the US. How have your experiences working in different countries affected how you approach medicine?
It has fundamentally shaped the way I practice medicine, manage my patients and how I teach residents and fellows. The rest of the world practices medicine in a very different way, with fewer resources. There is much less waste and fewer investigations than what we do in the US. In India even doing an X-ray was a luxury. As residents, we were given a certain number of X-ray cards a month to order X-rays and that was it. We would guard them and would think, 'do I really need to do the X-ray for this patient, or should I hold on to this card for my next patient who might need an X-ray to determine if they have heart failure.' In England, too, clinical skills, clinical judgement was stressed, and investigations were generally discouraged. We were taught – use your clinical judgement, don't send patients for procedures that are not absolutely essential – and I teach my students that.
Also, the number of patients we see per day, or per clinic, outside of US is much higher than here. Time management and efficiency is different. In the UK, the Board Certification examination (Member of the Royal College of Physicians, or MRCP) had a segment called "short cases" where in 30 minutes you had to examine as many patients as you could with two examiners by your side. If you didn't see at least four patients, you failed the exam. How to get into the gist of the problem very quickly was part of the training. That has shaped how I practice and teach.
You have done a lot of work surrounding axial spondyloarthritis (an inflammatory arthritis of the spine that affects joints that connect the lower spine to the pelvis, resulting in pain in the lower back). Tell us about how you became interested in this.
I became interested in axial spondyloarthritis when I was training in Bath. Bath was the center of research on ankylosing spondylitis, which got me interested in studying this disease.  It was one of the conditions for which we had no real treatments then. In the 1990s, newer drugs – the biologics – were being studied for rheumatoid arthritis. There were other 'disease modifying' drugs available for the treatment of rheumatoid arthritis, but none of those drugs worked in axial spondyloarthritis. Nothing worked – it was one of the most difficult conditions to treat and one of the most harrowing conditions for patients. It was so difficult to manage these patients, the stiffness, the fatigue, the pain, and the damage to spine that always progressed. And then suddenly everything changed – we found the biologics that changed the whole scenario and that was so exciting. There were so many new opportunities, and so many things that we couldn't do before that I kept working in that field and came to Portland to continue.
How did you become involved in ABIM Governance? What has surprised you the most during your time as a member of ABIM Governance?
The US is the only country where doctors actually have to take exams periodically throughout their entire career to make sure they stay current, and that is a fantastic thing. In India and the UK you have to collect 'continued medical education' points every year, but there isn't an exam to show you are up to date with your knowledge. The US has an unbelievably good system to ensure that doctors stay current. When you have to take an exam you really study and retain much more, and I was fascinated by this system when I came to this country. You don't just sit in on a lecture and say 'ok, that's good enough.' I guess I am one of those rare people who don't mind taking exams because I understand the value. I am board certified in the US, in the UK and in India.
I thought ABIM is a wonderful organization 'by the doctors' and 'for the doctors' that actually holds you responsible for learning and I really believe in this principle. I applied for a place on the Rheumatology Board and was delighted when I got a call saying they wanted to interview me.
When I got on the ABIM Rheumatology Board what surprised me most was the amount of work that went into developing these exams and the science behind it. That was an eye-opener. Rebecca Lipner is amazing, I learned so much from her about the process. I thought wow, this is a science in itself.
It really was amazing to learn how they develop these tests, how they write the questions, test them, make sure they are valid, determine whether they are discriminatory and how they decide the passing standard. That was probably the most interesting thing for me.
Also, when I served on the Specialty Board there was a rift between ABIM and ACR (American College of Rheumatology) – many ACR members at that time were pushing to eliminate the recertification exams and ABIM was standing by them. I had seen the problems with medical systems in the rest of the world with no testing after initial certification. If you graduated in 1995, and you didn't have to recertify, you probably wouldn't change how you practice, and you probably wouldn't keep up your knowledge as well as you could. I do understand the contrary argument and the fear of failing the test. It is difficult to take a consequential test, when you are so busy practicing medicine. But ABIM has done so many things to make things less stressful and it is so important to make sure people stay current in their knowledge.
And now, with the Longitudinal Knowledge Assessment (LKA) coming out next year where you can answer questions at your convenience, I think we are at a place where there is a good compromise about making one learn –  study, stay up to date and "pass" but not have to sit for a long exam.
What is the proudest moment in your career so far?
I am proud of my research and the published articles, and anytime I am asked to present at the ACR meeting is a proud moment for me. To be asked to teach your own peers who are all rheumatologists is really a very proud moment for me. Between 2018-2020 I have had seven pubs in the Lancet, and that is also something I am very proud of.
Aside from medicine, what are your other interests?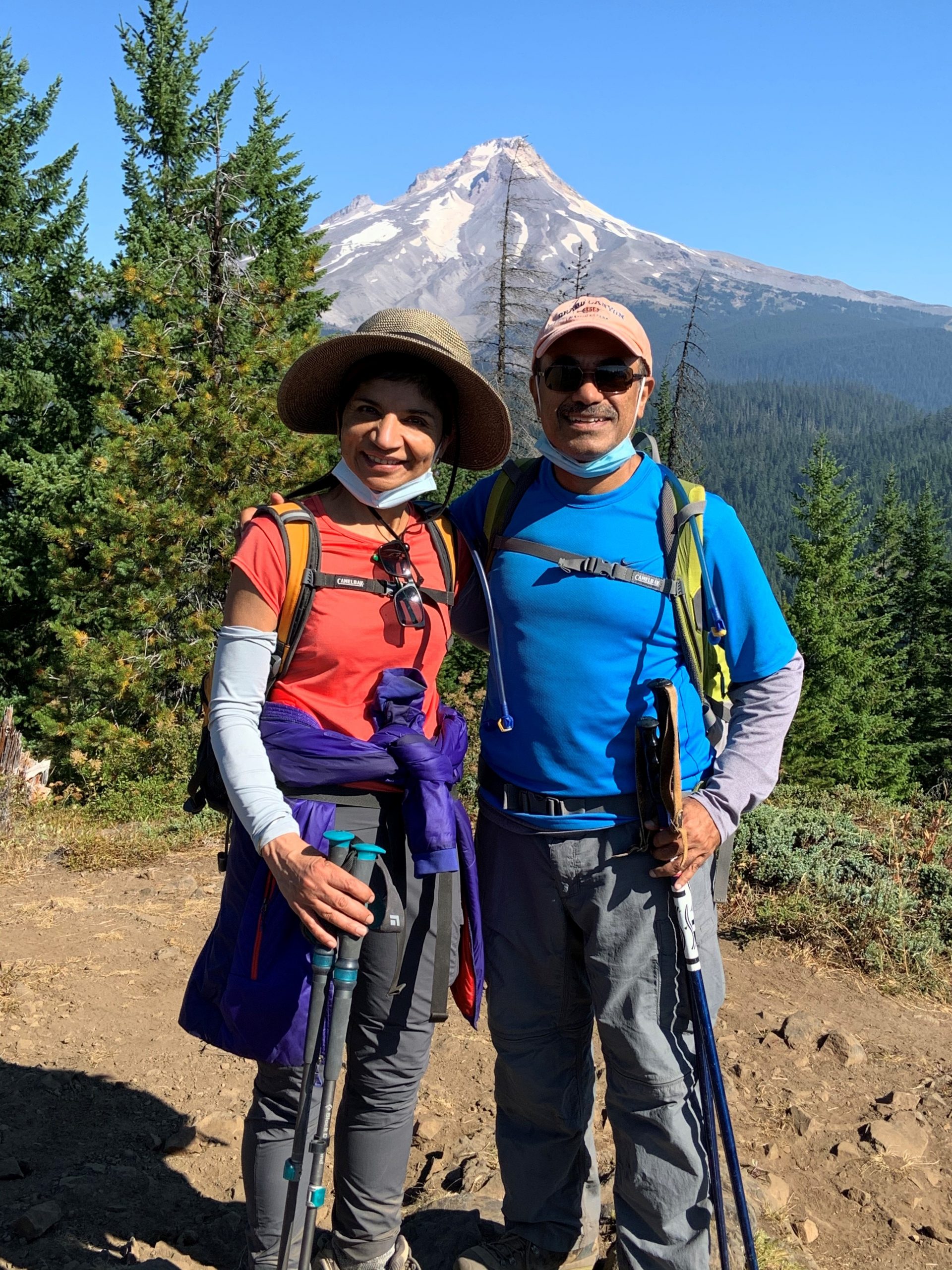 I love hiking.  Every weekend I try to go on hiking trips. Luckily my wife (who also is a board certified nephrologist) loves hiking, too. There are two or three different hiking groups we belong to, and go on hikes with locally.  We spend our holidays hiking. We hiked the Grand Canyon many times – from rim to rim and down and up. This summer we are going to Glacier National Park in Montana. During the pandemic we stayed closer to home and did some fantastic hikes in Mount Rainier National Park and Olympic National Park in Washington.
Do you visit India often?
My mother is 93 years old, and is doing very well. I visit her twice a year. I was there in April and things were not good. I was with some of my friends, all of whom are doctors, and I asked them how many people they knew who died of COVID. Each of them could name 20 people outside of their patients who had died. Imagine that?  It's a terrible thing.  But things are becoming more stable and I am thinking of visiting in September again.
You may also be interested in...