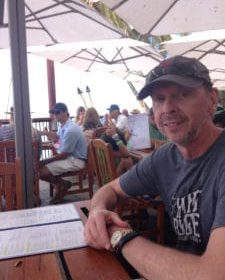 Larry S. Dean, MD is a member of the American Board of Internal Medicine (ABIM) Cardiovascular Disease Exam Committee. He is also a man of many passions—food, wine, travel, long distance bicycling, mountaineering and photography.
In the midst of his very full professional and private life, Dr. Dean finds time to maintain a popular food blog, The Eating Places, where he writes about different cuisines he's experienced. His light, enthusiastic commentaries are accompanied by photos of the restaurants and eateries he's visited. In his own words, "I have been very fortunate to travel extensively and combined with my passion for all things food, I've had the opportunity to sample many examples of the food we all love. So you will see foods from the US, Europe, South America and Asia or wherever I happen to be."
Dr. Dean is currently a Professor of Medicine and Surgery at the University of Washington (UW) School of Medicine and Medical Director of Outreach and Clinical Integration of the Heart Institute at UW Medicine in Seattle, Washington. He is board certified in Internal Medicine, Cardiovascular Disease and Interventional Cardiology. Dr. Dean specializes in interventional cardiology and is widely published in that field.
Previously, Dr. Dean was a Professor of Medicine at the University of Alabama (UAB) School of Medicine where he also served as an Assistant Medical Director of UAB Hospital. While there, he was involved in the early development of intracoronary stents.
He is a fellow of the American College of Cardiology, the American Heart Association, is a Master Interventionalist and past president of the Society for Cardiovascular Angiography and Interventions (SCAI) and a member of the American Association for Physician Leadership.
Below is a lightly edited interview with Dr. Dean:
When did you first know that you wanted to be a physician?
Probably when I was a young child. The conversation with a parent (my mother) about "what do you want to be when you grow up" was my first recollection. Not sure why I ultimately chose to become a physician since I had no role models in my family, first physician ever. I guess I had to do something since I wasn't good at basketball!
Why did you choose this field?
When I was in medical school, the notion of more aggressive management of patients with myocardial infarction was just beginning, which was an exciting time in cardiology. Pair that with the beginnings of balloon angioplasty (Sept 1977) it was a perfect storm so to speak. I also had been leaning toward surgery and cardiology, and what became known as interventional cardiology, was a place I could use those skills and interest to become what I have always called a "closet surgeon."
What sparked your interest in food and travel?
I've been in academic medicine my entire career, so I've had the opportunity to travel extensively because of that and my early work in structural heart disease and coronary stenting. Food, in my case, became part of that as a natural to some degree. I've always been one to want to try different things, including food. I've only met a couple of foods I could do without; fried worms and sea cucumbers come to mind.
What led you to get involved with governance at ABIM?
A friend, who was on the CV test writing committee, asked if I would be interested. I've always been one to want to try new things so, it was a natural that I'd be interested.
What has been your experience with ABIM's Cardiovascular Committee?
It's been wonderful. I have made great new friends in the different areas of cardiology. It's also been very interesting to learn all the nuance of writing questions, or "items" in ABIM speak. Now when I take a non-ABIM test, I immediately pick out bad questions! It's also been interesting to see both sides of the discussion about certification.
Can you comment on your areas of interest in cardiology and your role in the development of intracoronary stents while at the University of Alabama (UAB) School of Medicine and as Assistant Medical Director of UAB Hospital?
As mentioned, I like new experiences, so the Assistant Medical Director opportunity came along at a time that resonated with me. It was an opportunity to understand the business side of medicine which you aren't taught in medical school. That experience is what bought me back to Seattle 20 years ago with the opportunity to help build and be the founding director of the CV service line at UW, now called the UW Medicine Heart Institute. The stenting piece made my academic career and was really happenstance. Andreas Gruentzig (the father of balloon angioplasty) arrived at Emory University from Zurich in 1980 and attracted many people to Emory to learn his techniques. One of them would become my future partner at UAB, Dr. Garry Roubin. Gruentzig tragically died in 1985 in a private plane accident and Gary moved from Emory to UAB in 1989. He was doing the early animal and human work at Emory while Gruentzig was alive and brought that experience to UAB, allowing us to do very early work with coronary stenting. Ultimately, that led to FDA approval in 1993, the first stent approved in the US.
What would you say are the most important lessons you look to impart to your medical students?
I've been asked how I planned my journey through medicine by students and others and it was simple: take the opportunities afforded and don't be afraid to try something out of your comfort zone.
What other hobbies or interests do you pursue?
As part of my passion for food, I also have a passion for good wine. This is made easier by living in a state that is the 2nd largest producer of wine grapes in the US behind California and has over 1,000 wineries. I have also been making my own wine for over a decade and have several friends in the commercial wine making business in the Seattle metro area. So, I get good fruit and when I didn't, I proved the old saying, "you can't make good wine out of bad grapes." Outside of food and wine, my passion is road cycling. I usually ride about 2,500 miles a season with around 100k of vertical feet. I just completed my 10th year doing the ride from Vancouver to Whistler in British Columbia. Seventy-five miles and about 7,000 vertical feet. I have also dabbled in photography for many years (helps with the food blog), and I've climbed several mountains, including Rainier.
What do you foresee for the future of medicine and health care?
It's an interesting time in medicine and I think most people realize that the system in the US isn't what it should be although it's not clear where the majority opinion lies about how to fix it. I believe we spend too much for health care, exclude too many people in the vulnerable population and have a system that is state-based which makes no logical sense. I think, if we can get those in DC to tone down the rhetoric and misinformation and really work at what is needed, we can fix the problems. I'm also asked the question: "if you had it to do all over again would you chose medicine and, closely related, would you encourage your children to pursue medicine?" The answer to both is unequivocally yes. There is no other life experience like medicine.
You may also be interested in...