On March 8, we observed International Women's Day, which recognizes the social, economic and political labor that women contribute to society. During Women's History Month, we would like to continue to recognize these contributions through the lens of women physicians. Read about Dr. Vineet Arora a board certified internist and a member of the American Board of Internal Medicine's (ABIM) Board of Directors.
Dr. Arora is an academic hospitalist, Assistant Dean of Scholarship & Discovery, and Director of Graduate Medical Education Clinical Learning Environment and Innovation at University of Chicago. Through the Agency for Healthcare Research & Quality, National Institutes of Health and ABIM Foundation funding, she has developed and evaluated novel interventions that combine systems change with adult learning theory to improve care and learning in teaching hospitals. She has authored more than 100 peer-reviewed publications, with coverage in The New York Times, NPR and the Associated Press.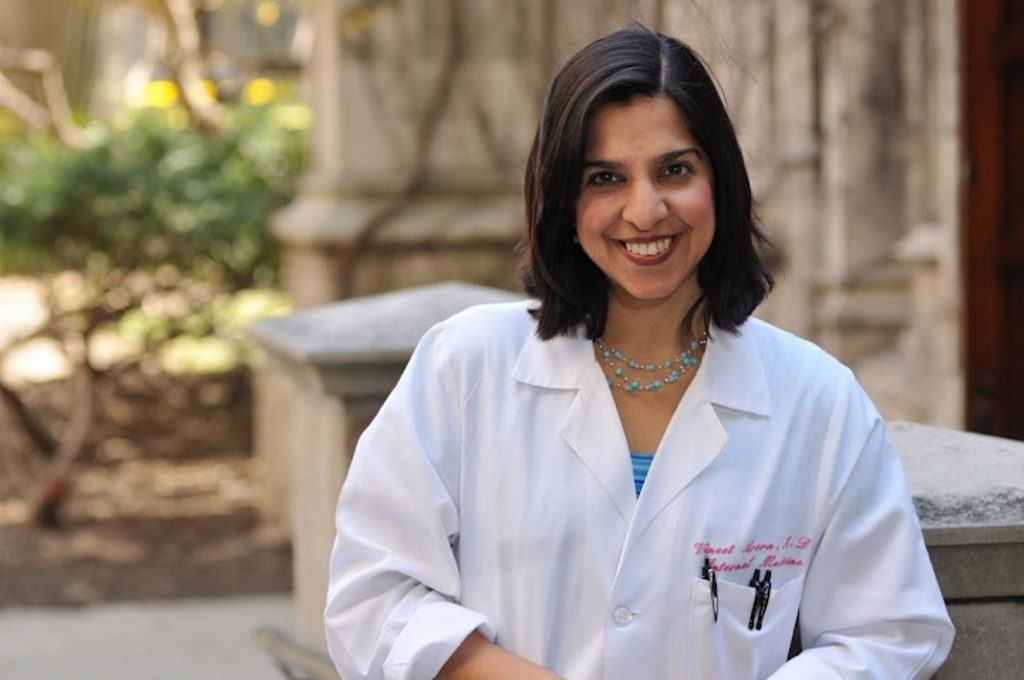 As the Director of Educational Initiatives at Costs of Care, she co-chaired the Teaching Value and Choosing Wisely® Challenge and co-authored Understanding Value-Based Healthcare. For her work, she has received the American College of Physicians Walter J. McDonald Young Physician Award, the Society of Hospital Medicine's Excellence in Hospital Medicine Research Award and the Society of General Internal Medicine's Fred Brancati Leadership and Mentorship Award. In 2011, she was named to 20 People Who Make American Healthcare Better by HealthLeaders Magazine.
Dr. Arora earned her medical degree at the Washington University in St. Louis and completed her residency, chief residency and master's degree in public policy at the University of Chicago. Dr. Arora regularly tweets about medical education, technology and health policy at @futuredocs.
ABIM is proud that our specialty boards and exam committees consist of practicing doctors from various backgrounds, regions, practice settings and age ranges. As a medical community, there is still work to be done to fully represent the communities we serve. Together, let's commit to continuing to promote diversity in our institutions.
When did you first know that you wanted to be a physician?
I think I was motivated to become a physician by watching my brother, who is disabled, receive a lot of care growing up. I did not have access to any physicians in my family, but felt that it was a career that blended my interest in science with the personal impact doctors have had in my family's life.
What drew you to be a hospitalist?
When I was a graduating medical student 20 years ago, I read Bob Wachter and Lee Goldman's landmark New England Journal of Medicine piece about a new specialty of hospital medicine and chose to do my health administration final paper on the pros and cons of the hospitalist movement. I was surprised that there was little data at the time.  I ended up going to University of Chicago where they were formally "testing" the hospitalist model and worked with one of the hospitalists who was literally one of the best teachers I had in residency. I graduated training in 2001 when the landmark Institute of Medicine report, "To Err is Human" was issued, highlighting the epidemic of medical error and the need to improve patient safety and quality. I decided to get a degree in public policy and study healthcare safety and quality formally. In thinking about a specialty, I was  attracted to how hospitalists were really out in front in embracing quality and safety, especially as we were struggling to implement residency duty hours in academic teaching hospitals. It felt like a natural fit for my interests.
What made you decide to get involved in ABIM governance?
One of my first experiences with ABIM governance was actually when I went to a planning meeting for the new Focused Practice in Hospital Medicine certification area as a junior faculty member. It was a great example of how ABIM leaders were working with a specialty society to meet the needs of its members. When it came time to become involved, I did so because I felt that I have a unique perspective to offer, not only as a mid-career (relatively younger) female physician who works closely with those in training and junior faculty, but also because of my deep interest in the future of learning and how technology is changing medical practice and medical education. Given my interests at the intersection of public policy, physician education, and quality and safety of care, I am personally invested in what the future of Maintenance of Certification (MOC) looks like.
Why is it important that women physicians are represented in the leadership of organizations like ABIM?
Diverse representation, in a variety of aspects, is important in all organizations, but that diversity guards against groupthink and enables organizations to "see" a path forward that will not hurt any one group. That is especially true for women physicians, who we know face a variety of challenges in daily practice, ranging from gender equity to frank discrimination and harassment. This is despite the fact that recent studies show that women physicians have better outcomes of care.
How can women physicians uniquely advocate for patients today?
I think women physicians are likely to have personal bonds with patients and get the "story." I have found that it is those stories that are especially powerful as an advocate for our patients. This is true no matter what the issue you may be advocating for, whether it is access to care or considering gun violence as a public health issue. While research and numbers are part of the story, anyone can listen to a patient story and feel the pain of what our patients are facing and feel compelled to stand up and say, "That is wrong." It is hard to do that with research statistics alone.
What has been the most encouraging response to your recent articles about physician advocacy?
I would say that one of the most encouraging responses to my work in advocacy is when a former trainee, friend or colleague reaches out and says, "thank you for saying that." It's even better when that friend tells me they are also advocating in their own way, whether it be signing a petition, giving money, volunteering or joining social media. I'm in awe of one of my recent fellowship trainees, an African American female internist, who is now running for Cook County Commissioner and received the endorsement from the Chicago Tribune! There are a myriad of ways to get involved and the key is to do what you are comfortable with and lead from where you stand.
What is one thing that any physician can do to promote gender equality in medicine?
It's hard to think of "one thing" when it's really an overall strategy that is needed to tackle multiple barriers. But, if I had to say one thing, it would be to cultivate an open dialogue about this issue. It is hard for men to talk openly about gender inequity since they may feel like they have been responsible. It is also hard for women to talk about it for fear of being labeled as "difficult." However, if everyone just routinely asked, "Do you think this is fair?" "Do you think you are being treated fairly?" and we got to a place where we listened openly to these answers, we could lay down the groundwork to support some of the other strategies. This could include transparency and equity in salary structure by gender and greater sponsorship of women into leadership positions; these strategies can help but require the necessary culture change to support them.
Anything else you would like the internal medicine community to know?
I am proud to be able to be a female voice at ABIM. As a mother to a young child and a member of the Physician Moms Group on Facebook, I feel that I can provide a voice to the unique challenges physician mothers are facing in trying to balance their career and family as we make changes to the MOC program to make it easier to stay current given the ever-changing practice of medicine.
You may also be interested in...