In February, we observed American Heart Month and Black History Month. As the month comes to a close, read about the incredible accomplishments of Dr. Olakunle Akinboboye, member of the American Board of Internal Medicine's (ABIM) Council and Chair of the Cardiovascular Disease Board.
Dr. Akinboboye is board certified in Cardiovascular Disease and Sleep Medicine. He is an Associate Professor of Clinical Medicine at the Weill Medical College of Cornell University, New York. He is also the Medical Director of Queens Heart Institute/Laurelton Heart Specialist P.C. in Rosedale, Queens, New York.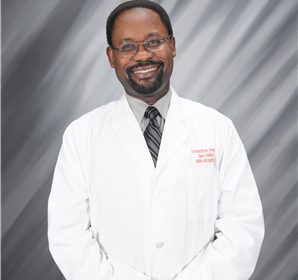 Dr. Akinboboye is a member of the Association of Black Cardiologists (ABC), where he serves as Chair of the Clinical Trials Committee. He served as the President of the ABC from 2012 to 2014. He also serves on the International Board of Governors of the American College of Cardiology (Liaison for Africa).
He received a humanitarian award from the College of Medicine at University of Ibadan in Nigeria in 2005 for his ongoing efforts to spread expertise in the techniques of cardiopulmonary resuscitation in Nigeria. He also received an award from ABC for his dedicated service as a board member from 1999 to 2005.
Dr. Akinboboye received his medical degree from the College of Medicine at the University of Ibadan. He completed his internal medicine residency and part of his cardiology fellowship at the Nassau County Medical Center, State University of New York at Stony Brook. He subsequently moved to Columbia University, where he completed his fellowship in cardiology with one year of dedicated training in nuclear cardiology and another year of training in advanced echocardiography. Dr. Akinboboye obtained a master's degree in public health from Columbia University. He also received a master's degree in business administration from Columbia Business School.
ABIM is proud that our specialty boards and exam committees consist of practicing doctors from various backgrounds, regions, practice settings and age ranges. As a medical community, there is still work to be done to fully represent the communities we serve. Together, let's commit to continuing to promote diversity in our institutions.
When did you first know that you wanted to be a physician?
I knew I wanted to be a physician as early as 8th or 9th grade. I was influenced by the doctors in my family. My uncle was a gynecologist, and I have an older brother and a cousin who are physicians.
Did you face any particular difficulties being an immigrant/black man in America?
Of course there are many challenges that immigrants/black people contend with. A particular challenge that I would like to highlight is the dearth of committed mentorship.
It is often very difficult for black physicians to find mentors who are committed to their careers.
This is why I dedicate a good chunk of my time to mentoring younger colleagues.
How did it feel when you became President of the Association of Black Cardiologists?
I was honored to have the opportunity to lead the organization. It gave me a national platform to work more vigorously on improving cardiovascular care in general and achieving equity in outcomes.
What was the proudest moment of your career?
I am most proud of the opportunity to serve as Chair of ABIM's Cardiovascular Disease board. 
Why did you decide to get involved with governance at ABIM?
The mission of ABIM is one that is near and dear to my heart. One of the main reasons that we continue to have modest outcomes in health care, despite the huge chunk of our GDP that we expend on it, is the wide variations in our delivery systems. The importance of establishing uniform standards, through physician assessments, to minimize variations in practice patterns cannot be overemphasized. I felt very proud and honored to be selected to chair the Board that drives this initiative from the cardiovascular disease standpoint
Why is it important to have diverse representation within the governance of medical institutions?
ABIM is accountable to the diplomates and the public. Consequently, ABIM needs to be structured in a way that enables us to hear and address the concerns of all stakeholders. This community of stakeholders is very diverse and will become increasingly so in the future.
The governance of medical institutions, like ABIM, need to be diverse. 
You were once quoted as saying, "in the greatest country in the world, people should not be forced to choose between paying for food and paying for their medicines. I strongly believe that we have an obligation to make health care affordable to our less privileged fellow citizens." How can cardiologists help address these issues?
We need to become strong advocates for our patients. Unfortunately, many of us doctors believe that lawmakers don't care about what we think, but that is not true. When I was President of the ABC, we were called upon on multiple occasions to weigh in on healthcare debates on Capitol Hill. It was then that I realized that legislators are very interested in getting the perspectives of doctors. 
We should seize every opportunity to advocate for better health care for our patients.