In the spring of 2018, ABIM received a certificate from 1937, just a year after the creation of this board. It belonged to Dr. Neuton Stern, grandfather of current diplomate Dr. David Stern. The younger Dr. Stern shared more about his grandfather's life and influential medical career, which was nothing short of remarkable.
Born in 1890 to a salesman in Memphis Tennessee, he studied at Harvard College and Harvard Medical School (graduating at the top of his class in 1917).
Following his internship at Massachusetts General Hospital, Dr. Stern enlisted in the U.S. Army Medical Corps, where he earned the Medal of Honor from the French government for helping prevent an epidemic during World War I. He arranged to be mustered out so he could study cardiology in England with Sir Thomas Lewis, the world's leading cardiologist at the time.
 After the war ended, Dr. Stern was invited to return to Mass General, but instead he decided "he owed a personal debt to his family, so he chose to come back and serve" his hometown and UT Memphis, his son Thomas Stern, MD recalled.
His career was characterized by his leadership. He was Tennessee's first diplomat of the National Board of Medical Examiners. He was a founding member of the American Heart Association and established the Memphis chapter of the AHA, also serving as the group's president. Author of numerous publications, he wrote four textbooks: Clinical Examination and Physical Diagnosis, Bases of Treatment, Rare Diseases, and Understanding Sexual Behavior. He and his son established a thriving Cardiology practice in Memphis (The Stern Cardiovascular Center) associated with the University of Tennessee Medical School.
Below is a short interview of Dr. David Stern, recounting how his grandfather's incredible career influenced generations of board certified physicians.
David T. Stern, MD, PhD is Vice Chair for Education and Faculty Affairs and Professor of Internal Medicine in the Department of Internal Medicine at New York University School of Medicine as well as Chief of Medical Service at the VA New York Harbor Healthcare System.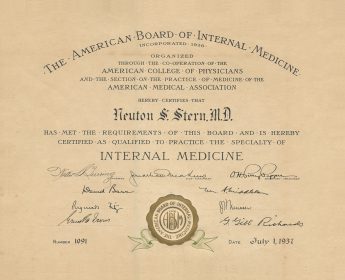 When/why did you first decide to contact ABIM about your grandfather's certificate?
When my father passed away in 2006, I collected all the various certificates from the office he and my grandfather started in Memphis. I had heard over the years that my grandfather was among the first examinees, but couldn't find him in the ABIM electronic database. I reached out to ABIM CEO Richard Baron to confirm my grandfather's status, and Dr. Baron not only confirmed but also offered to include Neuton in the display of early graduates.
Did your grandfather ever talk about why he became certified as he was among the first to do so?
When the ABIM offered re-certification for the first time in the late 1970s as an "optional" activity, my father was among the first group to re-certify. I believe it was because, like my grandfather, he believed that no physician could certify his own competence. Only external validation provides a verifiable indication of approval (now, perhaps I'm mixing in my own feelings). Certification is the only way we can demonstrate our competence in a valid way to the public, and thus ensure their trust in our profession. I'm fairly confident that coming back from outstanding training in Boston, and from working in World War I and with Sir Thomas Lewis, my grandfather found himself in Tennessee surrounded by physicians with a wide variety of competence. He may have been looking for ways to distinguish those who were well-trained from those who were less so.
Did your grandfather's life influence your decision to become a physician? 
Both my father (Thomas Neuton Stern – named for Sir Thomas Lewis) and my grandfather were cardiologists in Memphis. It was difficult for me to escape the legacy of being a physician. The combination of service and science provided in the profession was the ultimate draw for me. The bigger challenge was becoming a general internist – and NOT a cardiologist. I decided to focus my career on medical education, of which my mother, father, and grandfather were a big part.
How did you feel when you first learned that you were officially board certified? 
Well that was a very anxious time – as most of us can remember.  I was fortunate to be in a fellowship at Stanford where the clinical load in fellowship early on was light, and I was able to take the time to study. Of course, since 1992, I've had to re-certify in 2002 and 2012. Coming up in 2022, I can't say I'm looking forward to it, but I see it as part of my professional responsibility.
What has been the proudest moment of your career thus far? 
Helping to build a community of medical educators and seeing them thrive!
Any message you'd like to share with other ABIM diplomates or the Internal Medicine community?
Board certification is an arduous activity – both intellectually and emotionally. And yet there is no other process that exposes us to external scrutiny and provides a reliable and valid evidence of competence. Without it, our patients have no way to know who to trust. Getting board certified isn't just about proving your own competence – it's about assuring the public that as a profession, we're open to external scrutiny to earn their trust.