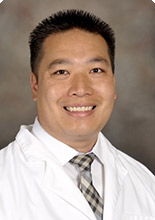 Eric Wei, MD, MBA, Senior Vice President and Chief Quality Officer of NYC Health + Hospitals, is one of the heroes you heard about during the COVID-19 pandemic. As an emergency medicine physician, Dr. Wei experienced the pandemic on the front line as he worked shifts in the New York City public hospital system emergency departments. But he also played a critical role in how the city's hospitals responded to the emergency.
Dr. Wei helped to quadruple ICU capacity during the height of the pandemic, and was responsible for the patient level-loading system that moved more than 850 COVID-19 patients in the first NYC wave to various hospitals to ensure none were managing more patients than they could handle. Dr. Wei also managed more than $35 million in donations that went toward employee accommodations, and the expansion of the Helping Healers Heal program, which supported employees' emotional and psychological well-being.
Dr. Wei spoke to ABIM about managing during that tumultuous period.
Thank you for speaking with us today, Dr. Wei.
What it was like for you in the early days of the pandemic?
I still remember the last Saturday that felt like a pretty normal day for me. It was early March and every Saturday we take our daughters to ballet class and then we hit our favorite pizza spot afterward. Later on, they have a swimming class. But while it all felt normal to them, I knew that it would be the last time that I got to hug them or hold their hands for a while because my wife and I had been having late night conversations about my next Emergency Department shift. We knew it was only a matter of time before COVID was going to spread to New York City and we had a newborn at home. We didn't know anything about COVID, or how it affects children, and so we had decided that after I worked my shift in the Emergency Department on Monday, I would isolate away from my wife, Lili, and our three children.
After that shift, it felt like everything took off in terms of me being gone before they were awake, getting home after they were asleep, working sixteen-hour days, going across the entire system trying to figure out where we could help the most, what we could do for our hospitals that were seeing rising cases.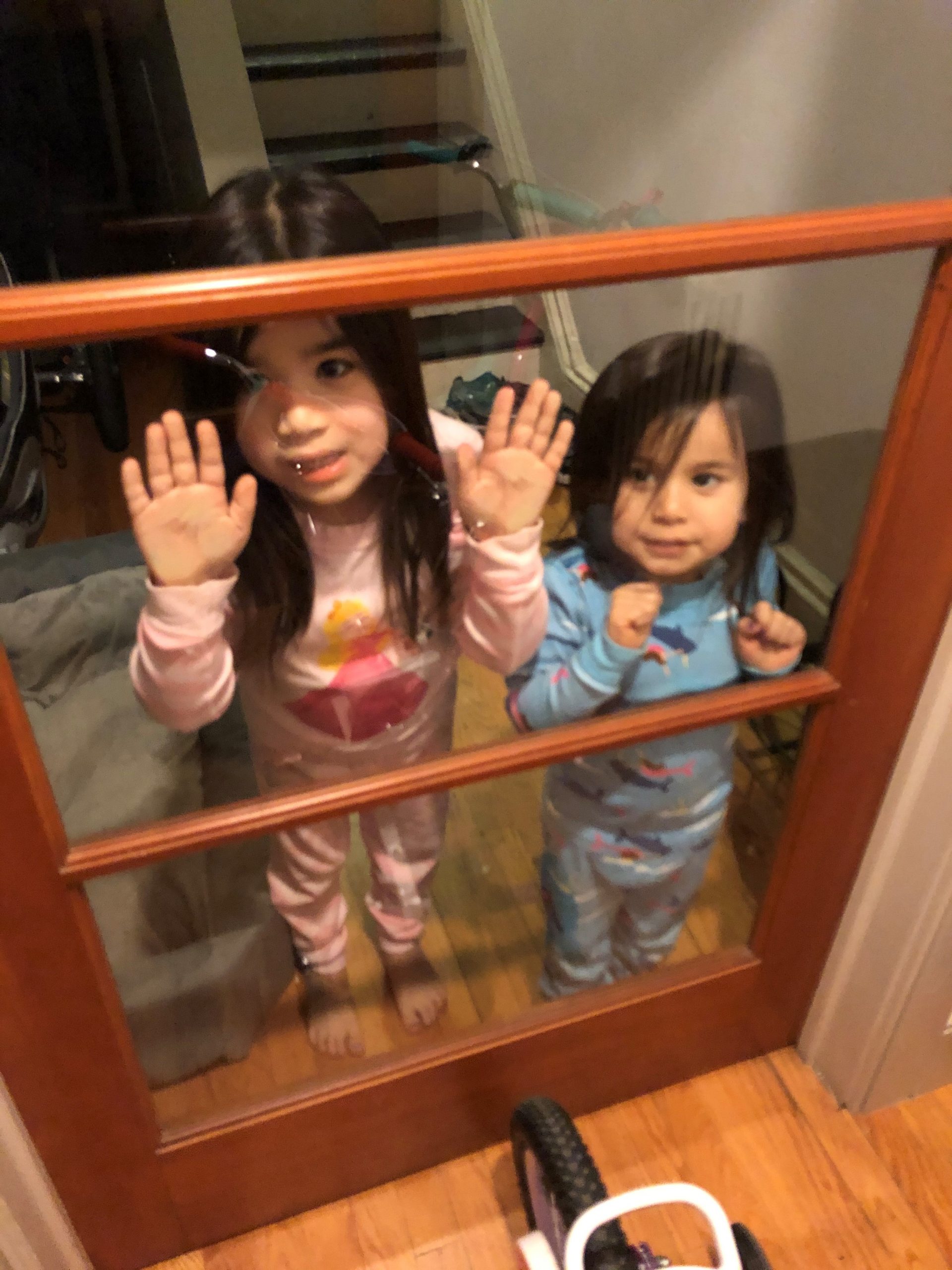 I isolated on the bottom floor apartment while they were upstairs in the rest of our townhouse. I still remember the visits through a glass door with my daughters. I'd have meals with our girls next to the door so we could see each other and talk to each other. It ended up being about six weeks of isolating from the family before my wife's maternity leave ended and she was going to go back to work. She's a maternal-fetal medicine physician. At that point, antibody tests were just coming out and I got an antibody test and it was negative.
I think that was probably the hardest part of the pandemic for me, not having that support system there of my wife and my children.
In terms of working, it just felt like there was so much to do and everything was such an emergency — such a crisis that it was just purely adrenaline driven. You just went a hundred miles per hour until you fell asleep. On last call, you woke up and were at 100 miles per hour again, immediately doing everything you could from level loading patients across our system, to helping in the ED and then in the ICU, then there was the med surge and then the shift into post-acute and alternate care spaces, working on the surge plans within our hospitals, PPE, ventilators – it never stopped. But it was all just kind of adrenaline driven, you'd just go wherever the system needed you.
I remember at one point, one of the charge nurses said to me, "you have to don and doff PPE to see that patient in the hallway." I was like, "but I'm walking by that patient a million times to go see my other patients and I'm not donning and doffing full PPE every time I pass the patient." That was when I realized this is not like Ebola or anything that we've prepared for or seen. This is not going to be able to be contained within our isolation rooms — anyone could have COVID.
That was driven home when we started seeing signs of COVID in our trauma patients. Someone would come in who was hit by a car, we'd put them through the CT scanner and realized woah, that looks like COVID lungs — this person has COVID. And we realized that it wasn't just people with respiratory distress who might have COVID, but literally anyone who came through the doors could have it. And then it quickly escalated in days to weeks.
I worked a shift in the critical care area of the Kings County ED, where the best way to describe it is if the world were to end, this is what it would look like. I went to school in L.A., I have friends who work in Hollywood, my sister works in Hollywood. I just thought even they could not dramatize this any more than what I'm seeing unfold in front of me .
Every bay had multiple patients in it. Single patient spaces were tripled up with people on ventilators the Pediatric ED was a comfort care area. These are the patients where the family said no more aggressive treatment – it was basically a hospice/palliative care area that was right next to the resuscitation pod.
And it was just intubation, code, intubation, code, all day long. Then there were the patients that were in the main ED we were most worried about when they would need to be intubated and where we were going to fit them in.
There was a patient who was struck by a car, who was in a hallway bed. She had minor injuries, but she was also having a mental health crisis. As the alarms beeped all around her and we were doing CPR on other patients, she was singing church hymns at the top of her lungs. It really just felt like the how the world would end. I remember calling my boss on the drive home that night and telling him "I don't know if we're going to be able to hold up," it was that bad.
And then New York City went into lockdown and just as quickly as it came, it went away. One week from that shift where I felt like the world was ending, I walked into the ED mentally prepared for the same thing, and there were more doctors than patients. That's how quickly the fire hose got turned off. People didn't go out, they stayed in their homes. And that literally turned transmission off – it went away almost as quickly as it came.
But then I knew also that we as health care professionals were then at our most vulnerable. It was that moment to finally catch your breath. And when the adrenaline starts wearing off, you get that rush of emotion and start processing. You start thinking about what we went through the last two months. That emotional and psychological trauma is hit staff incredibly hard.
You were responsible for the largest public hospital system in New York City, while being isolated from your family and under a lot of stress. How did you manage, and how did you help the staff manage all of what they were seeing and when they began processing their emotions?
I felt like I got through it purely on adrenaline. That combined with the support of those who were shoulder to shoulder with me in the emergency department and working on the system response every day got me through. The feeling was do whatever you need to do to save as many lives as possible. Having that shared experience and having that unspoken peer support, I didn't feel alone. Obviously, I was separated from my normal home supports, but I knew I would be able to reconnect with my family eventually.
To be honest, I was shocked that I didn't get sick, that I didn't have antibodies when I tested six weeks after starting isolation because I was in every hot zone in the NYC public system. It really shows that PPE does work when used correctly. And we're much more vulnerable to catching COVID outside of the hospital than we are when wearing PPE.
In terms of the emotional psychological support of staff we had we felt very fortunate that we had the Helping Healers Heal program in place.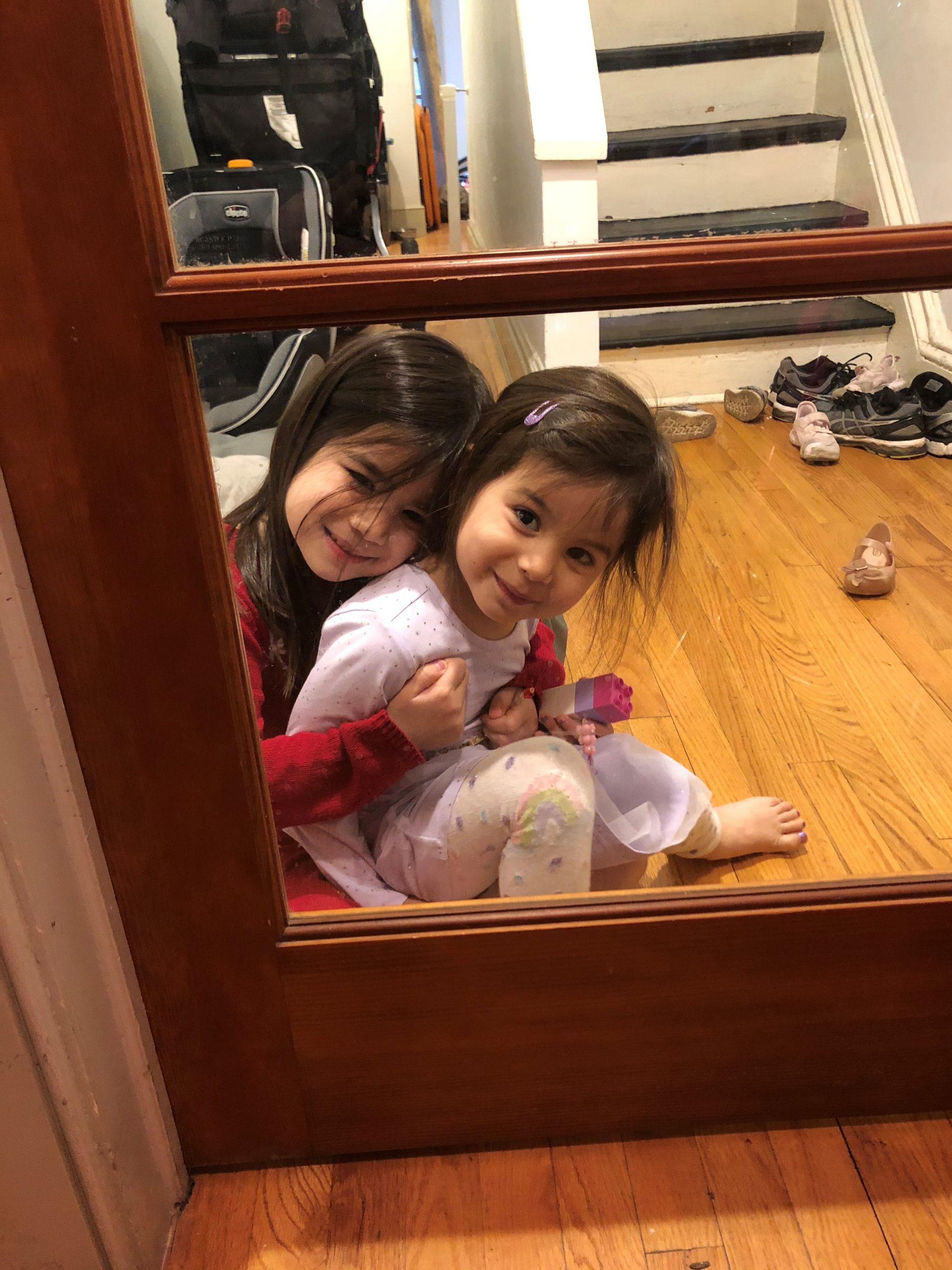 What is the Helping Healers Heal Program?
Helping Healers Heal is a program that Dr. Katz and I started in Los Angeles County, it focuses on changing the culture and helping health care professionals get the help they need when they need it.
Tier one is changing the culture of medicine from one of feeling you have to hide how things affect you and keep a stiff upper lip — don't talk about vulnerability, don't talk about how certain cases affect you to a more empathetic, humane, and supportive culture.
And then there's tier two, which is where the trained peer support champions come in. We train individuals to be able to manage one on one debriefs with their peers to help make sure everyone is receiving the level of support they need. They can also facilitate group debriefs where teams can process their feelings together in a safe environment.
Tier three is the expedited referral network where we connect those that we identify as needing additional help to what they need within 24 hours, whether that be with a chaplain or a social worker or domestic violence counselor, or a psychiatrist. We have people who are vetted and that we can connect to very quickly.
We had created 18 teams across NYC Health + Hospitals. Every hospital, post-acute facility and service line had a Helping Healers Heal team with its own steering committee and three tiers. We had done over 600 documented one on one and group debriefs. So going into the pandemic, we had this robust H3 program plus our behavioral health services.
We quickly brought together H3 and BH services into an emotional and psychological support team and a COVID-19 steering committee that looked at what else was needed. That team was implementing something new it seemed like every other day, whether that be a behavioral health hotline for staff or a noon-time webinar series on topics like learning healthy coping mechanisms, or how managers can better support their frontline staff and teams. It was very well-received and helped people learn how to keep moving forward in the middle of all the chaos.
We also created 30 or so wellness respite rooms for staff to escape the beeping of the alarms and go to a quiet area to refresh and recharge. We had snacks, water, art for them to enjoy or a place for them to create art or leave encouraging messages for their colleagues who might visit later on. There was music and the peer support champions if anybody wanted to talk about anything. While these respite rooms were well received, there was also an understanding that not everyone could afford to leave the ED or the ICU whenever they needed a minute to regroup. We started proactive wellness rounds where peer support champions, BH staff would bring carts of snacks and water directly to the front lines.
At one point, a Department of Defense staff told their general this is the closest that they've ever seen to combat in a civilian setting and thought maybe about the DoD could share what they've learned about combat stress management and resilience techniques.
So, we partnered with the DoD, and created HERO-NY, where we took what they've learned in 20 plus years of consecutive war about what combat does to the minds of soldiers, and apply it to what frontline workers were seeing during the pandemic. What our health care workers were being put through felt like battle, it was nonstop and relentless.
What did you learn from the DoD in terms of stress management or emergency situations like the one you saw?
The primary idea was "Battle Buddy." It is very similar to our peer support champions, but with "Battle Buddy" you're actually paired up with one individual. We started doing Battle Buddies across NYC Health + Hospitals as well as developing surveys that showed us what staff needed and allowed us to be able to respond at the individual and community levels. We also learned in a lot about debriefing afterwards that the greatest vulnerability is actually after the waves, not during the waves.
I've heard a lot of physicians say that just that — they are now feeling everything they've gone through during the pandemic — they're fatigued, burnt out and want to leave medicine. What advice do you have for them?
I empathize with them. I think we're just scratching the surface of what this has done to each of us as individuals, to those of us working in health care, as a society, as communities and we're certainly not out of it. There seems to be a new variant every other week. And it is incredibly frustrating seeing how much has become politicized. Many of us just wish other people could have seen what we saw. And there's a lot of fear that people are going to forget what we all went through and how much we lost and what everyone sacrificed to get through this.
I think the best advice I have is to talk about it, as hard as it is, because that's the first step towards processing it. You'll find a lot of your colleagues and a lot of your peers are having the same range of emotions, and I think that knowing that you're not suffering alone certainly helps.
I think taking time to recharge, especially when hospitalizations and community transmission is low, is important. I was sent away for two weeks by my boss when I had been in the red zone for multiple months straight and I did not even realize I needed the break until one week into it, when I then realized how bad of a place I was in.
I think also finding some way to reconnect and remember the joy in this work is important. Think back to what you put on your personal statement for medical school or for nursing school, and figure out what would it take to find that love again, that joy again. Those are all steps I personally have taken to help process and get through this.
I am incredibly proud of everyone in health care, of the entire field and I am amazed at just how much of a difference everyone made. I think taking some pride in that, even if it didn't feel that way at certain times helps. I hope people don't leave the profession, because it really is a special privilege to take care of people when they're the most vulnerable.
When you mentioned that you were discouraged that things became so politicized, two questions came to mind. One is about misinformation and how that affected what you were doing and seeing. And the other was I know that during that period, there was an increase in hate crimes against Asians. Did you or any of your colleagues experience any of that and if so did it impact your ability to provide care for your patients.
Yes, the anti AAPI hate is incredibly maddening. The scapegoating of Asian-Americans was sad and frustrating. Many of our AAPI nurses, many of our doctors, our respiratory therapists and other staff were risking their own health, their own lives and those of their families to save their fellow community members and it was hard to see the anti-Asian sentiments.
I was incredibly scared for my family members, for my colleagues, for my team members who were shaking just thinking about going to the subway station to commute home. My parents like to take walks and there was one older Filipino lady who was kicked to the ground and stomped on in front of a Manhattan residential building. Instead of running out to help her, the doorman closed the door. She was my mom's age and it was very hard to watch the video. And there was a younger Asian mom, one year older than my sister, who was walking with her child from one of the anti-AAPI hate protests who was assaulted in front of her child. And it was just like this could be my family — this is my family.
So, that was certainly very hard. But seeing how the AAPI community came together, seeing how other New Yorkers embraced us and supported us helped.
In terms of the misinformation, especially around the vaccines, during my interim CEO stint at Elmhurst Hospital, I went through every inch of that hospital speaking to everyone who was willing to have a conversation with me to convince them to get the vaccine. There were so many small group and one-on-one meetings where I was fighting against what people were reading on Twitter and Facebook about microchips, magnets, paralyzation and fertility issues.
I realized between then and the time I went to Harlem as the interim CEO there, that I personally was no longer the best messenger due to my own rising frustration. I just didn't have the same patience to listen to all the same conspiracy theories anymore. I think it was good for me to recognize that in myself. And actually, I was able to hand off to somebody on my team, who developed a new strategy to empower people through knowledge. How can we boil down immunology to a level where everybody can understand it, even school-age children? How can we really help them to understand how the virus works, how a vaccine works?
That was around the time of our vaccine mandate in New York State for health care workers. And Harlem Hospital was at around 60% of staff vaccinated and at risk of losing 40% of the staff. We finished with 97% vaccinated. Some of it certainly was the mandate, the threat of losing your job is powerful. But I believe a lot of it was because of my team member's efforts to educate people and I think even those who ended up getting vaccinated because of the mandate felt better about it because of the knowledge that they gained through the seminar.
But we all have our limits. And for me, I just I couldn't have those conversations anymore without getting too emotional and frustrated.