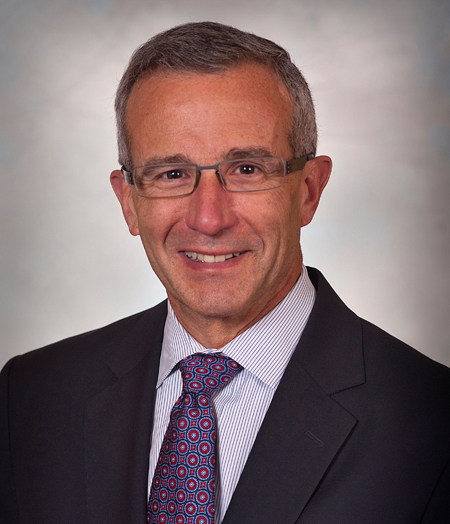 As Chair of ABIM Council, the ABIM governance body that oversees the various discipline-specific Specialty Boards, I am very pleased to share with you a summary of the discussions that took place in spring 2019 at the ABIM Specialty Board meetings. The Council and Specialty Boards are comprised primarily of physician leaders from around the country and all forms of practice in internal medicine and its subspecialties, working on your behalf to make ABIM programs more relevant and valuable to ABIM diplomates and patients. 
It has been a very busy year at ABIM. With the continued rollout of the Knowledge Check-In assessment option in 2019, and other new assessment options in Cardiology and Medical Oncology being developed with our society partners, we remain committed to assessment innovations as a means to improve the Maintenance of Certification (MOC) program. We have also been digesting external developments in the ABMS Member Board community such as the Vision for the Future Commission's report on continuing certification. This report from the Commission, an entity sponsored by the American Board of Medical Specialties (ABMS), has caused us to reflect on how its recommendations have validated many of our recent changes while also highlighting the need to further evolve our MOC program. As you will notice when reading the subsequent report, some overarching topics were discussed at all Specialty Board meetings, while others were specific to individual disciplines.
Engaging with our community of diplomates is a top priority at ABIM, and that includes both sharing updates and receiving feedback. We hope you will find this report to be valuable as our goal is increasing transparency and communications between the Specialty Boards and the diplomates we serve.
ABIM's governance structure consists of more than 350 volunteer members on more than 50 boards and committees and includes physicians, allied professionals and public members. These governance groups include the Board of Directors, ABIM Council, Specialty Boards and Exam Committees.
The twelve Specialty Boards are where the frontline, discipline-specific work occurs. Specialty Boards are responsible for the broad definition of the discipline across Certification and MOC. ABIM currently has a Specialty Board for most disciplines in which it certifies physicians. Some, like the Cardiovascular Board, include physician members certified in different specialized areas within the field. Specialty Boards have oversight of the Exam Committees and are responsible for making sure Certification and MOC are relevant to their discipline.
The role of the Specialty Boards is to:
Define, refine and set standards in Certification and MOC in the discipline.
Perform oversight/review of performance assessments in the discipline.
Build partnerships with societies and other organizational stakeholders in support of ABIM's mission.
Each of the twelve Specialty Boards meets once in the fall and once in the spring with conference calls as needed throughout the year. This report summarizes the general discussions that cut across all spring Specialty Board meetings and also provides insight into discipline-specific topics that were discussed at individual meetings.
GENERAL SPECIALTY BOARD UPDATES
HIGHLIGHTS FROM THE SPECIALTY BOARDS BY DISCIPLINE
All of the topics cited above were reviewed by each Specialty Board. The following are summaries of discipline-specific discussions.
Do you have any questions? Are you interested in how to get involved?
If you have questions after reading this report, please connect with us through the following channels:
You may also be interested in...