Colleagues,
The last two years have been a time of extraordinary heroism and sacrifice by so many of our colleagues. It has stressed us personally and the systems we work in. One of the special torments of the pandemic has been caring for patients who don't believe COVID is a serious threat to their health, or who choose to forego a safe and effective vaccine.
In many instances their decisions can be attributed to a pandemic of a different sort: the intentional spreading of misinformation. All of us have seen statements related to COVID-19 made by physicians on social media and elsewhere that are simply not medically true and are not supported by any scientific evidence at all.
At its core, the ABIM credential is about enhancing the quality of health care by publicly recognizing internists and subspecialists for their considerable expertise and certifying those who demonstrate the knowledge, skills, and attitudes essential for excellent patient care.
Patients rely on board certification to know in whom they can place their trust – whether in the exam room, or on social media platforms. When some physicians share demonstrably false medical information, it doesn't just harm those who receive it. It harms all of us – our entire profession – and erodes the trust we've worked so hard to earn with our patients.
At ABIM we stand behind every physician who is out there providing the best, evidence-based care available every day and sharing accurate information online. But we're doing more than just that. We are actively working on ways to amplify your voice and more clearly use the ABIM credential to distinguish you and the work that you are doing from those who are intentionally sharing medical misinformation.
Board certification means something special, and we know how proud you are to have earned it. We commit to doing all we can to ensure the credential continues to be held in high esteem by you, your colleagues, and the profession.
One of the other ways we've been ensuring our programs continue to meet your needs has been through the Longitudinal Knowledge Assessment (LKA™), which launched in January. It has been really gratifying to see how many of us are signing up for the LKA – those who are in their "due year" for completing an assessment are choosing it 4 to 1 over the traditional, 10-year Maintenance of Certification (MOC) exam.
With the LKA, folks choose when and where to answer questions, find out if they were right or wrong in real time, and receive a rationale and references to provide necessary context. So far, we've found physicians are averaging between 1 and 2 minutes per question and have told us they've had enough time to reference external resources if and as needed. If you're due for an assessment and the LKA is available in your specialty this year, you can sign up until June 30. Thanks for providing feedback and guidance for how we could improve!
As always, thank you for all you do for your patients as an expert board certified physician. Stay safe.
Richard J. Baron, MD

The Longitudinal Knowledge Assessment (LKA™) is now available in 12 specialties, and provides flexibility and immediate feedback for most questions with references and rationales so you can learn as you go.
If you're due for a Maintenance of Certification (MOC) assessment this year and the LKA is available in your specialty, there's good news: you can still enroll until 6/30/22. There are some good reasons to enroll in the LKA:
For those who are currently Certified, as long as you're meeting the LKA Participation Requirement and any other MOC requirements, you'll continue to be publicly reported as Certified for your entire 5-year LKA cycle.

You can answer questions almost any place or any time. No need to go to a test center, though it is a good idea to find a quiet space where you can focus.

It may fit better in your busy life. Early participation data shows on average physicians spent about 75 minutes completing the full set of 30 questions from the first quarter.

You can answer questions one at a time, in batches, or all at once. Whatever works best for you.

Because "life happens", you can choose to not open up to 100 questions over the 5-year cycle and still meet the LKA Participation Requirement. Although the first quarter's 30 questions have now expired, enrolling in the second quarter means you'll begin your cycle still having 70 questions remaining that you can choose not to open over your 5-year cycle.

It's included at no extra charge with your annual MOC fee.
More than 25,000 physicians have enrolled so far, and the feedback has been overwhelmingly positive.
"I really like that I can look things up while I'm taking questions. Usually I'll have the LKA questions up on my laptop, and have my iPhone with UpToDate open next to me. It's a good process since I'll find out if I got most questions right or wrong immediately – and for those I got wrong, I remember them when I see patients in clinic."


Ishmael Jaiyesimi, DO

"The LKA is such a refreshing way of learning while maintaining my ABIM Board Certification. It will help us know what we know, and know what we don't, so we can focus our educational efforts and immediately put that learning into practice."


Tulika Singh, MD, MHA, AAHIVS, FACP

"I just had my first day with the LKA. Eureka! ABIM found the right way for its diplomates to learn internal medicine and become knowledgeable physicians with ongoing day to day learning. The admirable thing is that one has time after attempting the question to learn more about the topic using their preferred personal resources. I think you've got it! My full support for the LKA!"


A board certified internist
The LKA is an option for those in the following specialties; enrollment ends on June 30, 2022:

ABIM has paused launching the Hospital Medicine LKA in 2023, allowing time to survey physicians in the Focused Practice Hospital Medicine (FPHM) program – as well as the hospitalist community at large – to better understand the kind of assessment offerings that would best align with their practice. ABIM is collaborating with the Society of Hospital Medicine (SHM) to conduct the survey, which was disseminated beginning in April.
During the COVID pandemic ABIM extended deadlines for all MOC requirements to 12/31/22 (and 12/31/23 for those certified in Critical Care Medicine, Hospital Medicine, Infectious Disease and Pulmonary Disease).
This means you may have requirements to complete by the end of this year. Not sure? Sign in to your Physician Portal where you can check if you have any points, attestations or assessments that need to be completed by the end of the year.
ABIM's new user-friendly app will allow you to track your MOC program requirements easily. If you have already downloaded the app, make sure you have the latest version, with enhancements that make the experience even better. The Physician Portal App allows you to:
Track your MOC assessment deadlines

Track your MOC points requirement progress

Customize your reminders for assessments, points and payments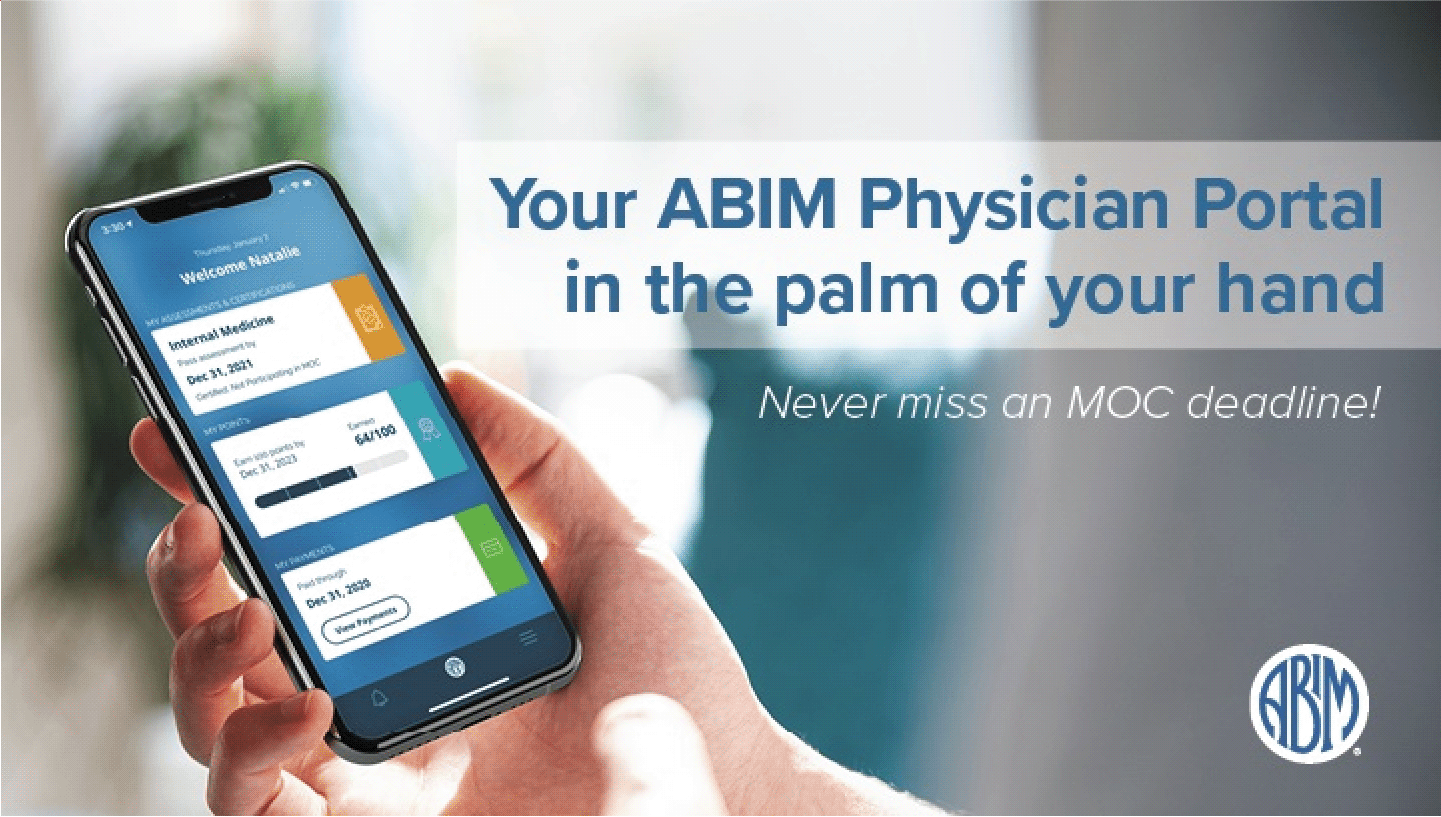 ABIM is looking for practicing physicians to help write questions for assessments. With the launch of the Longitudinal Knowledge Assessment (LKATM) and creation of more focused assessments in select disciplines, ABIM is actively seeking physicians to join several of its Item-Writing Task Forces.
If you're interested in joining an Item-Writing Task Force, we invite you to check out the openings and apply. Physicians have said they enjoyed the experience of being an item writer because it led to networking opportunities, it enhanced their own knowledge and allowed them to shape internal medicine. Your contributions help ABIM create questions relevant to you and your peers so they align with what you see in practice. Thank you for considering this opportunity.
May is Asian American and Pacific Islander Heritage Month, a time to celebrate the contributions of the Asian and Pacific Islander physician community. The Asian American and Pacific Islander community is vast and diverse and includes people with heritage from Central Asia, East Asia, South Asia, Southeast Asia, the Middle East, Native Hawaiians and Pacific Islanders. Physicians from the AAPI community make up almost 20% of the physician workforce dedicated to serving patients.  
We also recognize the challenges that the community faces. For the month of May on ABIM's Twitter account, we will be featuring quotes and facts about the Asian and Pacific Islander community and we would like to invite you to participate by writing a tweet in response to one of the framing questions below! Please send your draft tweet to Kelly Rand at KRand@abim.org and include your Twitter handle and a headshot in your response if you'd like to be highlighted and tagged! Remember, tweets cannot be more than 280 characters long.
How can all clinicians be better allies for their Asian American colleagues?
While the pandemic has been difficult for all clinicians, what impact has the pandemic had specifically on healthcare for Asian Americans?

How have you seen healthcare disparities impact the Asian American community?

What can ABIM do to help educate physicians about healthcare disparities?
In addition to celebrating Asian American and Pacific Islander Heritage Month, ABIM's Diversity, Equity and Inclusion initiative includes a number of programs that bring as many voices to the table as possible.
In March, several prominent women in health care met to talk about women in medicine. Moderated by Rebecca Lipner, PhD, ABIM's Senior Vice President for Assessment and Research, the panel included:
The lively conversation is available to view on YouTube.
We will continue to provide you with opportunities to participate in ABIM's DEI panels and campaigns and welcome feedback and ideas. Contact Kelly Rand at KRand@abim.org if you have an idea you would like to share.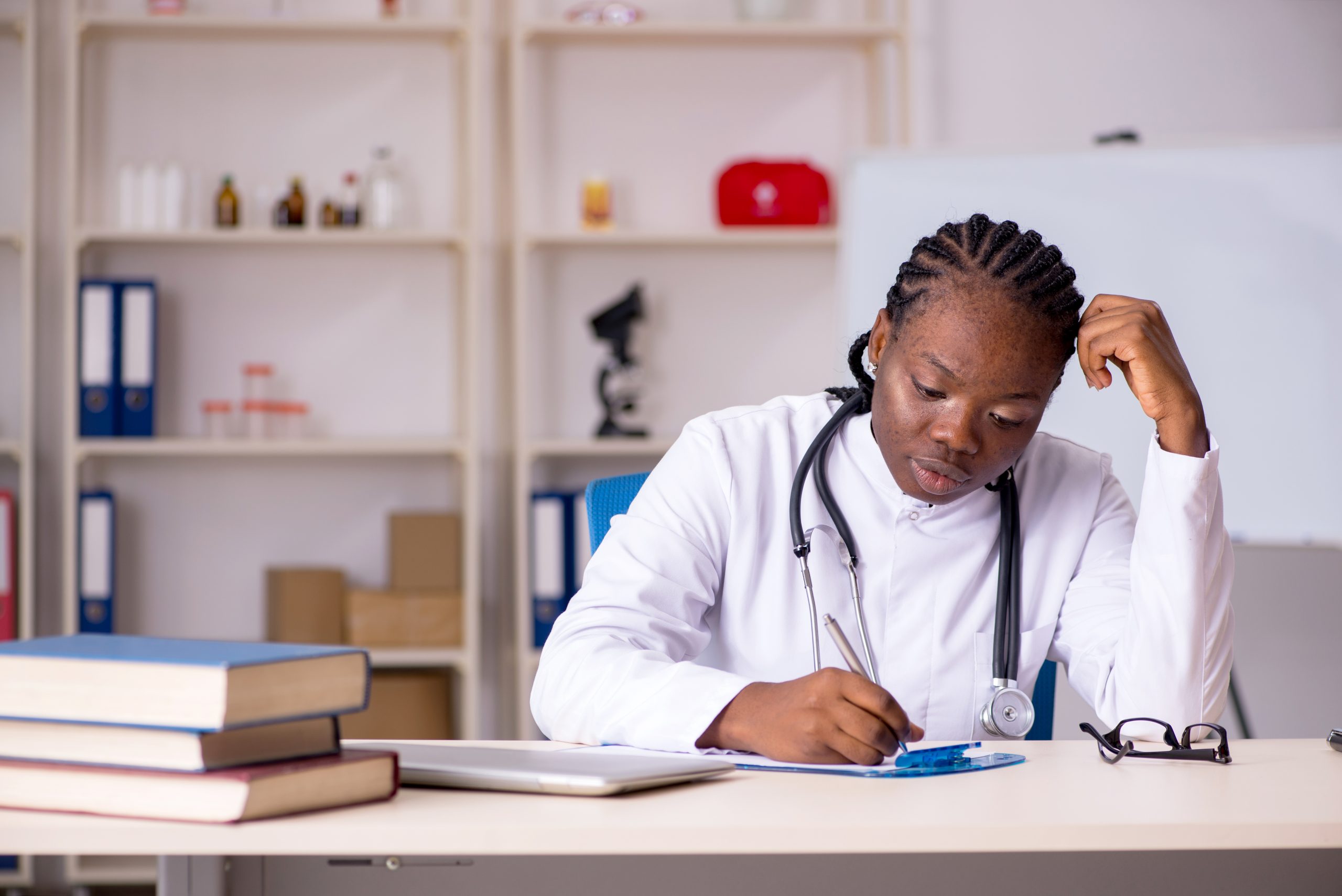 The ABIM Foundation and American Medical Student Association are asking medical students to share an experience where they built, lost, or restored trust in a health care setting. Submissions must be an original, unpublished essay of 750 words or less. Select essays will be published in the Sept/Oct edition of The New Physician, and published on the AMSA website, social media, and in a monthly newsletter(s). Essays will also be published on the ABIM Foundation's website, promoted on social media, and in newsletter(s).​ Learn more and submit.
You may also be interested in...