by Ishmael A. Jaiyesimi, DO
Ishmael A. Jaiyesimi, DO, is ABIM Board Certified in Internal Medicine,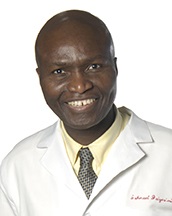 Hematology and Medical Oncology. He serves on ABIM's Hematology Board, and is currently participating in the Longitudinal Knowledge Assessment (LKA™) in Internal Medicine.
I'm a board certified hematologist, medical oncologist and internist, and my practice is focused on caring for patients with cancer. But to my patients, they see me as "their doctor." It's not unusual during a visit for them to ask me about their other health concerns, like managing their weight or blood sugar. They think I know everything, but of course I don't. Medicine is so complex, so I need to know where to start to find the answers they are looking for. I really love that challenge.
That's why I decided to enroll in the Longitudinal Knowledge Assessment (LKA) to maintain my certification in internal medicine. It's important to me to keep that certification, and I'm very proud of it.
The LKA helps me know what I know, and know what I don't. Just the other day I took an LKA question about something I hadn't seen in a while, and I couldn't believe it, but the very next day I saw a patient who asked me the same thing and I was able to quickly recall the information and use it during the visit.
I like the LKA's flexibility, especially given how busy I am. The other day I woke up, and opened a few LKA questions to start my day. I've found that's a good time for me as my house is quiet and I'm in a good mindset. Sometimes, after I've done my journal reading in the evening, I'll answer a few questions. Sunday mornings are a good time for me as well. Spreading out the questions, and doing them when I have some time, makes the LKA very manageable for me.
I really like that I can look things up while I'm taking questions. Usually I'll have the LKA questions up on my laptop, and have my iPhone with UpToDate open next to me. It's a good process since I'll find out if I got most questions right or wrong immediately – and for those I got wrong, I remember them when I see patients in clinic.
For my colleagues with subspecialty certifications, if you're still maintaining your internal medicine certification the LKA might be a good option to consider to help you keep your knowledge up to date. I haven't found it to be overwhelming, and it's been incredibly helpful in responding to the questions my patients ask. Even though I focus on hematology and medical oncology, to my patients, I'll always be "their doctor" and I want to be able to provide them the best possible care I can.  
If you're interested in participating in the LKA and due for an assessment in 2022, there's still time as the first quarter is open until March 31, at which time those questions will expire. Please note you can only start LKA in your assessment due year, and you should start it early in that calendar year so you do not inadvertently miss any questions.
And remember, because a pass/fail decision isn't made until the end of 5 years, as long as you are already certified and continue to meet the LKA Participation Requirement and any other MOC requirements, you'll continue to be reported as certified the entire time. Even better, the LKA is included at no extra charge as part of your MOC fees.
You may also be interested in...