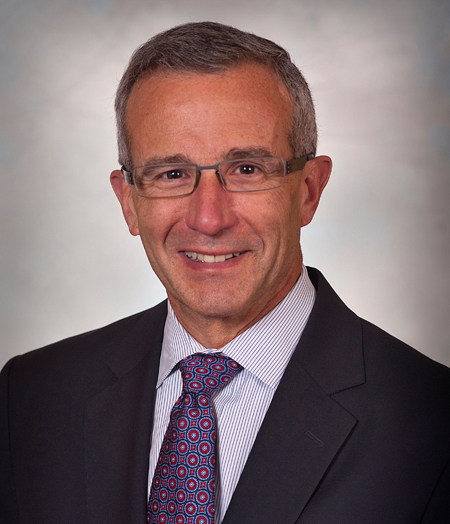 As Chair of ABIM Council, the governing body that oversees ABIM's Specialty Boards, I am very proud of what each of the twelve discipline-specific groups has accomplished this fall. Physician leaders from around the country along with patients and members of the health care team serve on the Council and the Specialty Boards, and their collective efforts and dedication ensure that ABIM programs are relevant and valuable to Board Certified physicians and the patients they serve. 
Each Specialty Board meets once in the fall and once in the spring, with calls, webinars, and emails exchanged throughout the year. This report summarizes the general discussions that occurred at all of the fall 2019 Specialty Board meetings and provides insight into discipline-specific topics that were discussed at each individual meeting.
"During this important period of transformation in health care development and practice, we at ABIM place a high priority on engaging with our community of diplomates, society partners, medical educators and our fellow health care professionals. By sharing updates on our Specialty Board meeting deliberations and actions, we look to offer greater transparency and hope to foster a greater exchange of ideas in our common mission to improve the quality of care for all."
GENERAL SPECIALTY BOARD UPDATES
Plans for the development of a longitudinal assessment option, slated to launch in 2022, were a primary focus of the discussions at our fall meetings. Each Specialty Board had rich conversations on the topic and members strived to represent the numerous perspectives of the diplomates in their discipline. ABIM staff also reported on the feedback and reactions of diplomates, society partners and the internal medicine community to the news of the longitudinal pathway.  
Specialty Boards received updates on the recent meetings of the ABIM Board of Directors and ABIM Council. Many of the groups discussed pre-fellowship procedures, exam committee updates and plans for a revised "diplomate professional profile" that will allow diplomates to tell ABIM what they are doing in practice. Another common theme at the meetings was the importance of collaborating with society partners, some of whom joined the discussions as guests.
As you will notice when reading the subsequent reports, some topics were discussed at all twelve of the Specialty Board meetings, while others were specific to individual disciplines. ABIM's Governance structure provides opportunities for each Specialty Board to focus on pressing issues facing its discipline and how they may be affecting diplomates. Along those lines, the Specialty Boards are where the frontline work at the discipline-specific level is done, including oversight of the exam committees. The four major domains the Specialty Boards oversee in their discipline are assessments, training, society relations, and medical knowledge/practice assessment.
HIGHLIGHTS FROM THE SPECIALTY BOARDS BY DISCIPLINE
The following are summaries from each Specialty Board meeting:
Endocrinology, Diabetes, and Metabolism Board
Note the information in each summary was current as of the original publication date for each discipline.
Do you have any questions? Would you like to get involved?
Please connect with us through the following channels: