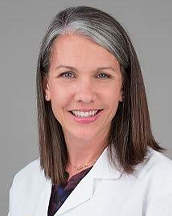 Kelly Davidson, MD, is an Assistant Professor of Medicine in the Division of Hematology and Oncology at the University of Virginia (UVA), where she practices hematology at the Emily Couric Clinical Cancer Center. She was initially certified in Internal Medicine, Medical Oncology and Hematology, and maintains her certification in Hematology. She is a member of the ABIM Hematology Approval Committee for the traditional, 10-year MOC exam.
Dr. Davidson specializes in a variety of benign and malignant hematologic diseases, with a focus on cellular hematology. She sees patients with red cell disorders including sickle cell disease (SCD).
SCD is believed to be a protective response to malaria. It is a genetic disease that is incredibly painful and difficult to manage. Dr. Davidson provides some insight about the disease, available treatments and where physicians and patients can go for information on SCD.
How did you become interested in sickle cell disease (SCD)?
I was very fortunate to begin my medical training at Washington University School of Medicine in St. Louis. Washington University has a large number of patients with sickle cell disease and it was here that I witnessed firsthand the potentially devastating effects of this disease.
What has changed in the field of research and treatment since you began treating SCD? What challenges do you continue to face?
Over the last several decades, much has been described regarding the pathophysiology of SCD. Unfortunately, translating this research into effective therapies has been disappointingly slow. Since the FDA approval of hydroxyurea in 1998, nearly two decades passed before additional drugs were approved. Since 2017, three more disease-modifying therapies were granted FDA approval: L-glutamine, voxelotor and crizanlizumab. There has been increased awareness and support from funding bodies such as the National Institutes of Health, which recently launched the Cure Sickle Cell Initiative to accelerate development of genetic therapies aimed at curing SCD. I am hopeful that in the coming years we will continue to see advances in the therapeutic landscape, including a potential cure with gene therapy.
Due to advances in pediatric care (e.g., newborn screening, infection prophylaxis, primary stroke prevention), more than 90% of children with SCD in the U.S. survive to adulthood. However, adults with SCD still live 20 years less on average than their peers without SCD, with no significant change over the last 50 years. Poor awareness of SCD among providers, and barriers to accessing comprehensive care due to a lack of treatment centers (particularly for adults) and specialists dedicated to the treatment of SCD remain a significant challenge.
Is there a resource you recommend for physicians looking to learn how to treat an individual with SCD? Is there a resource you use to help your patients or caregivers manage their disease?
For physicians:
The 2014 National Heart Lung and Blood Institute's evidence-based guideline on the management of SCD is an excellent resource. The guideline includes information regarding routine SCD-related health maintenance, recognizing and treating SCD-related complications, and providing the indications for and monitoring of hydroxyurea and blood transfusion therapy.
The American Society of Hematology (ASH) also recently published five Clinical Practice Guidelines on SCD. These are available online, as a mobile app, and as a free printed pocket guide.
For patients and caregivers:
Can you talk more about the barriers to care faced by sickle cell patients?
Many patients do not have access to a comprehensive SCD center in their area. They often end up seeking care in the ER and do not receive routine, preventive care. Chronic pain and the perception of addiction along with stigma about the disease and implicit bias all lead to lower quality care. Systemic racism and health care inequity continue to have detrimental consequences at both the national and global level.
Many internists have said they do not have a great deal of knowledge about SCD. What are the most important things physicians should know about the disease and treating patients?
It is important for internists to understand the underlying pathophysiology of SCD, potential acute and chronic complications, and available therapies. Comprehensive care requires a multidisciplinary approach, and primary care physicians are important partners in providing optimal care to adults with SCD. There are a number of evidence-based recommendations for health maintenance as well as education about and monitoring of hydroxyurea which can be performed in a primary care setting.
What is the best advice a physician can give a patient with SCD?
I really love the often-used quotation, "The secret of the care of the patient is in caring for the patient." This applies to any patient but particularly to someone with sickle cell disease.
What is the biggest misperception about SCD?
The biggest misperception is that it is all about pain and giving pain medications. Certainly, pain is a big part of SCD, but it is truly a multisystem disease that requires comprehensive multidisciplinary care for optimal outcomes.
You may also be interested in...