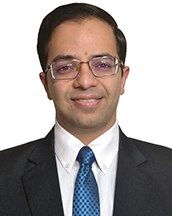 Dr. Divyanshoo Kohli is an interventional endoscopist working at Providence Digestive Health Institute's Sacred Heart Medical Center in Spokane, Washington. Before his current position, he was the Director of Endoscopy at the Kansas City VA Medical Center in Missouri and Adjunct Faculty for the Gastroenterology and Hepatology Fellowship Program at Kansas University School of Medicine in Kansas. He is a member of the ABIM Gastroenterology Board.
March is Colorectal Cancer Month, a good moment to reflect on the importance of screening for colorectal cancer, as well as to promote healthy lifestyle habits that can decrease a person's risk of developing cancer.
Why is it important to screen for colorectal cancer and when should one begin screening?
Colorectal cancer is one of the most common and preventable types of cancer. It's the third most common cancer in men and women. It's estimated there are 150,000 new cases every year and more than 50,000 deaths each year from colorectal cancer. It is important to emphasize that colorectal cancer is preventable—it is one of the few cancers we can avoid if we screen for it early.
Everyone between the ages of 45 and 75 years should get screened. Above the age of 75, patients should discuss the risks and benefits of screening with their physician.
Does it matter whether someone takes a stool-based test or a colonoscopy?
Stool based tests, imaging tests, and colonoscopy are all excellent tests to screen for colorectal cancer. So, patients can choose whatever works best for them. There are some significant differences that patients should keep in mind.
A colonoscopy is a "one-step" test which does not need to be repeated for 10 years if it is normal. Also, it is also the only test that allows for the immediate removal of pre-cancerous polyps.
In contrast, stool-based tests or imaging tests are "two-step" tests in which the patient first undergoes a stool test or an imaging study. If the test is negative, then a colonoscopy is not needed, and the patient continues to undergo screening tests at various intervals. If the test is positive, however, the patient must get a colonoscopy.
So, which test do you typically recommend for your patients?
I tell my patients that it is entirely their choice. Any of these tests is good—whatever is most comfortable for the patient is the correct choice.
A stool-based test can be done in the privacy of a patient's home at a time of their choosing. It is also easy and does not require taking time off or getting anesthesia. However, if a stool-based test result is positive, then a colonoscopy must be performed.
A colonoscopy is an invasive test which requires undergoing a prep. The benefit is that it allows removal of precancerous polyps. Stool based tests or imaging studies can only detect polyps but cannot remove them.
How has modern technology changed the way you screen for colorectal cancer?
There are a lot of modern technologies, including artificial intelligence and machine learning, that are being used to detect colon cancer early. Artificial intelligence software is being used to help find small polyps during a colonoscopy. Electronic health records are being used to provide reminders to doctors and their patients to get screened.
Having said that, the basic intervention still is unchanged. Doctors still need to educate our patients, work with them, and counsel them on the importance of screening. That's where societies and organizations like ABIM have a critical role to play in promoting screening and spreading the word.
The death of Chadwick Boseman, a seemingly healthy actor best known for his portrayal of the Black Panther, at the age of 43 from colorectal cancer was surprising to many of us. How common is it to get colorectal cancer under the age of 50?
That was a very unfortunate death.
The incidence of colon cancer among younger people is on the rise. That's a big reason that the age to start screening was lowered from 50 to 45 years. While the numbers may seem low, the rising trend is a cause for alarm. This is why it's important for even seemingly healthy people to get screening done.
Why do you think colorectal cancer is increasing in younger people?
We are not quite sure what the exact reason is. There are certain risk factors which are increasing among younger people, including obesity, diabetes, smoking and excessive alcohol use. Current evidence suggests an association with these factors, but more research should be forthcoming. In the interim, we should encourage our patients to incorporate a healthy lifestyle, regular exercise and a nutritious diet.
Colorectal cancer also disproportionately affects the Black community, where the rates are among the highest of any racial/ethnic group in the U.S. African Americans are about 20% more likely to get colorectal cancer and about 40% more likely to die from it than most other groups. Is this because of genetics, or are there other factors involved, such as diet or access to screening?
This is something the GI community has always been aware of. It is for this reason that previously, screening for colon cancer in African Americans used to begin at 45 years.
It's important to note that in addition to African Americans, Native Americans and Alaskan Natives are also at a higher risk for developing colon cancer.
The exact reasons are not clear, but it would likely be an interplay of genetics, diet, lifestyle, awareness, and access to prompt medical care. This is one area where the medical community, physicians, civil society leaders, policy makers—everyone—needs to work together to improve access and educate people on the importance of early and continuous screening.
What can be done to reduce the chance of contracting colorectal cancer?
The advice for all patients is that they speak to their doctor about colon cancer screening. Don't wait for symptoms to develop before reaching out to your doctor. Physicians need to remind patients that there are a lot of options available. If patients can't take time to take off from work or have difficulties getting a ride to get a colonoscopy, stool-based tests can be done from the safety and privacy of one's home at any time.
In addition to getting age-appropriate screening done on time, patients should avoid smoking and alcohol, get exercise, and eat a healthy diet with vegetables, fiber and fruits.
You may also be interested in...