We know how busy you are. That's why we've created this quarterly newsletter to keep you informed about ABIM news, share insights from your fellow doctors and let you know about opportunities to get involved with ABIM. We hope you find it helpful, and thank you for all you do as a member of the ABIM physician community.
In 2019, the Knowledge Check-In (KCI) will be available in eight specialties, with nine others rolling out in 2020: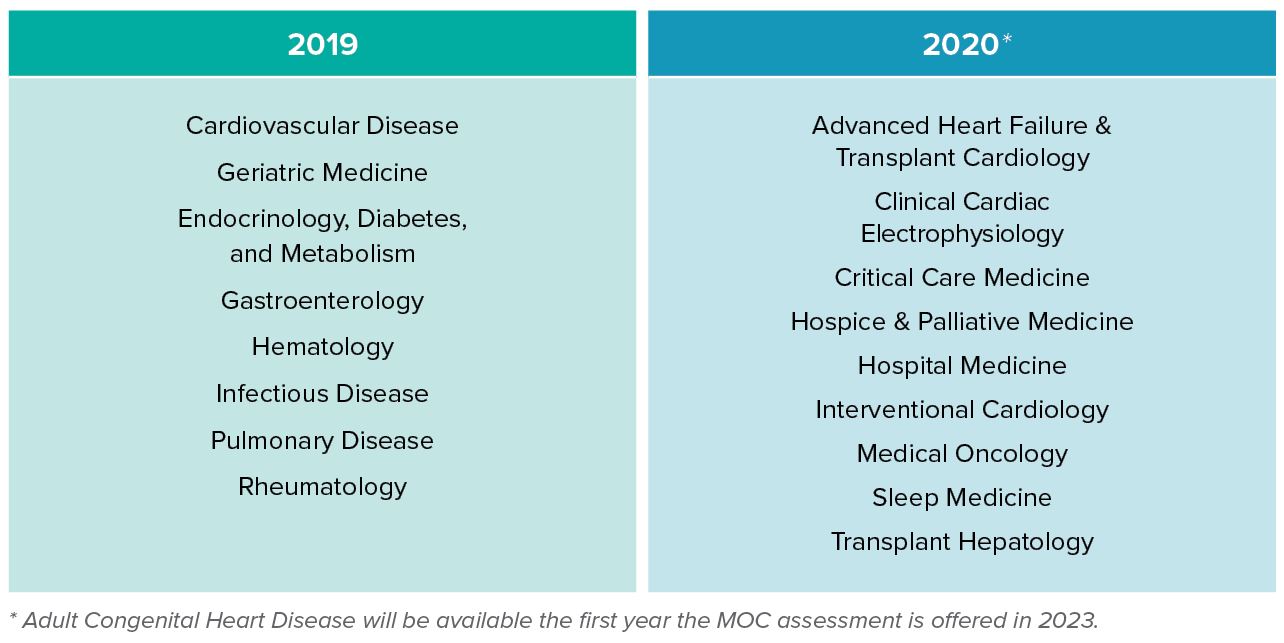 The KCI represents a new, lower-stakes option for physicians to meet their assessment requirement, and in 2018 about 7,500 internists and nephrologists tried it for the first time. The exam takes about three hours, and can be taken at a testing center or in the convenience of a physician's home or office.
The first year a KCI is offered in a specialty, it is considered "no consequence," meaning that if a physician is unsuccessful on one or more KCI attempts, they will get another opportunity to take and pass the KCI two years later. They will continue to be publically reported as certified, as long as they are meeting all other MOC requirements.
In late 2018 ABIM announced that beginning in 2019, physicians with a lapsed certificate will be able to meet their assessment requirement by passing two consecutive KCIs within two years. Physicians could also pass two KCIs within the same calendar year – by taking it during the Spring and Fall administrations – to regain certification even sooner, as long as they are meeting all other MOC requirements. Scheduling deadlines for each exam are available on the ABIM website.
Both the KCI and traditional Maintenance of Certification (MOC) assessment include access to UpToDate® without the need for a personal subscription. Registration is currently open for all ABIM MOC assessments.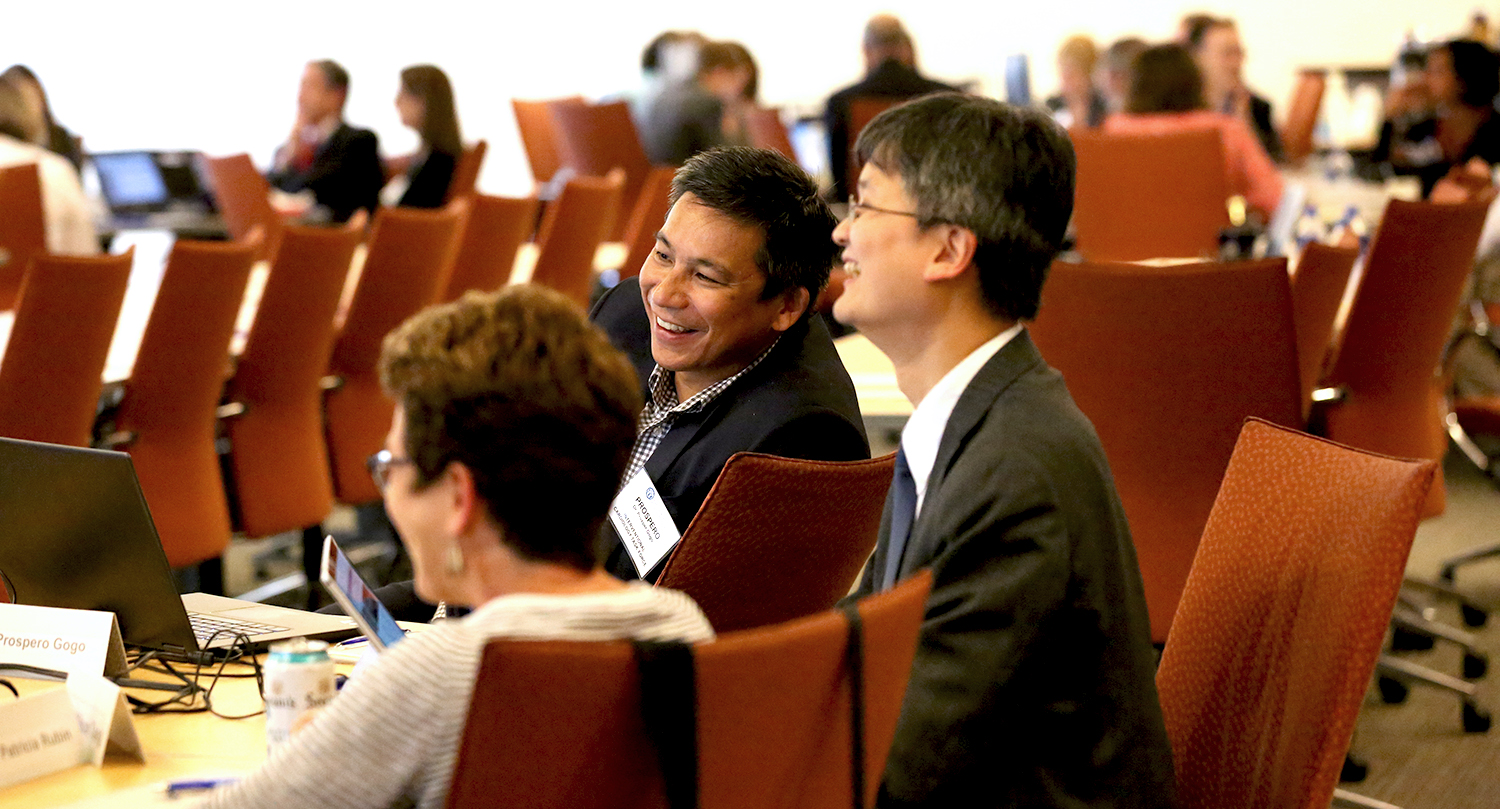 The American Board of Internal Medicine (ABIM) established the Item-Writing Task Forces to help Exam Committees keep up with the increased demand for content associated with the new Knowledge Check-Ins.
There are Task Forces for all 20 disciplines, each of which is focused exclusively on using an innovative, model-based approach to the development of exam content. This approach –grounded in cognitive psychology, education and psychometrics/test development research – is known for helping to scale up content development while maintaining high content quality.
Item-Writing Task Force members each spend 4-6 hours of work per month remotely developing exam content through a model-based approach. Each quarter, they then join a two-hour call to review the exam content in collaboration with other Task Force members.
Applications are now being accepted for physicians to serve on an Item-Writing Task Force in their specialty, and in this short video current members share what the experience has meant to them: 
Item-Writing Task Force members serve renewable one-year terms and the deadline to apply is March 1, 2019.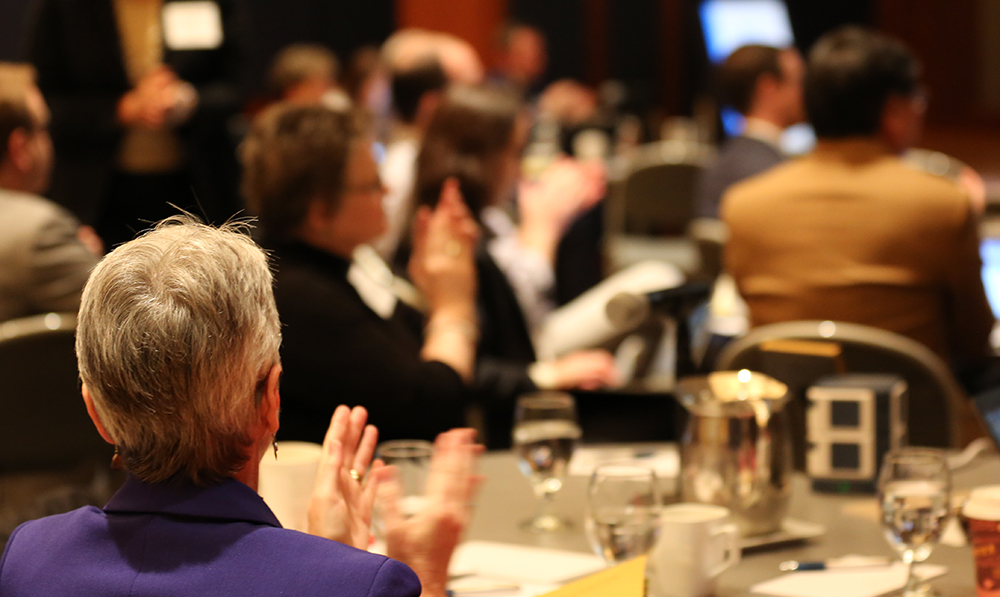 ABIM had previously announced agreements with the American College of Cardiology (ACC), American College of Physicians (ACP) and American Society of Clinical Oncology (ASCO) to explore new assessment options for physicians to maintain their certification.
Today, the American Association for the Study of Liver Diseases (AASLD), the American College of Gastroenterology (ACG), the American Gastroenterological Association (AGA) and the American Society for Gastrointestinal Endoscopy (ASGE) announced an agreement to collaborate with ABIM to explore the development of a new assessment pathway through which gastroenterologists and hepatologists can maintain board certification. 
The goals for this innovative approach would be to enhance the range of options for Maintenance of Certification (MOC) available to gastroenterologists and hepatologists.
Given the complexity of developing a new option, the societies and ABIM do not yet know when it will be available for use by diplomates. However, work will begin in February and we will share updates as soon as they become available. As this work continues, ABIM's current MOC program requirements will remain in place, including the launch of the new, shorter Knowledge Check-In assessment option, which will be available this year in gastroenterology. 
A leadership group comprising representatives from each of the four GI societies and ABIM will serve as a Steering Committee to oversee the collaborative effort.
This new development demonstrates continued progress within the internal medicine community to collaboratively improve the MOC program. While the organizations engage in the work needed to realize a potential new pathway, gastroenterologists will continue to have two options for meeting their assessment requirement: the traditional 10-year MOC assessment, and the Knowledge Check-In being introduced this year.  
Additional updates include:
Cardiology
The American College of Cardiology is working with ABIM to make a version of ACCSAP available as an alternate MOC assessment option for certified cardiologists. The traditional 10-year MOC exam and every-two year Knowledge Check-In are currently available to diplomates and will remain options in the future. More details on this new pathway will be announced in spring 2019.  
Oncology
A new assessment option for oncologists – called the ABIM/ASCO Medical Oncology: Learning & Assessment will become available in 2020 and will take the place of ABIM's Knowledge Check-In in Medical Oncology.
The Learning & Assessment is a flexible, lower stakes MOC program that offers physicians the choice of medical oncology assessments – a general medical oncology assessment, or disease-specific medical oncology assessments (i.e. Breast Cancer, Hematologic Malignancies). Whichever module one chooses, this path assures that a physician will continue to receive a valid and fair assessment that recognizes them as an ABIM Board-certified Medical Oncologist who is staying current in their field. To support continuous learning, the Learning & Assessment will help oncologists identify knowledge gaps and strengths and will link them to relevant educational resources before and after the exam. Physicians will also be able to access support tools during the assessment, a process that better resembles day-to-day practice.
ABIM's traditional 10-year MOC exam will also remain an option for medical oncologists to maintain certification. More information about the Learning & Assessment will be available on ABIM and ASCO's websites throughout 2019.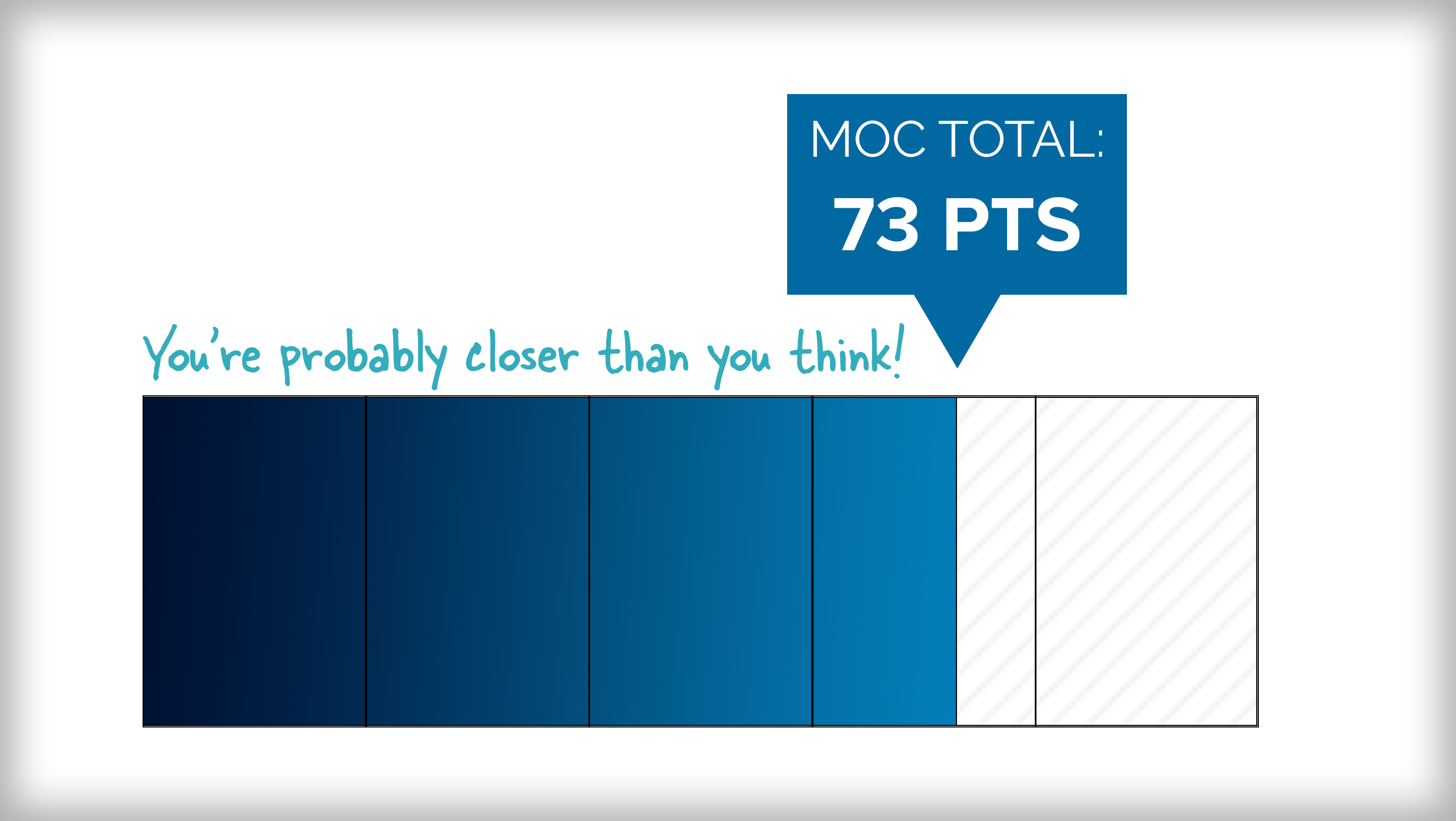 At ABIM, not only do we want to provide ways for you to help focus your professional development activities, but we also want to make sure that you're getting credit for the things you already do as part of your commitment to lifelong learning and quality improvement. Check out the list below to see the many ways you can earn MOC points.
If you complete one of ABIM's Medical Knowledge modules, you can earn 10 MOC points.
Earn CME credits and MOC points for thousands of activities in ACCME's CME Finder. Most ABIM products also earn CME credit. 
When you complete a QI/PI activity through the ABMS Multi-Specialty Portfolio Program or the Approved Quality Improvement Program, you can earn up to 30 MOC points.
Earn MOC points for the searching you do to support your clinical decisions at the point of care, including a variety of internet search tools such as UpToDate®.
If you're a fellow, you'll earn 20 MOC points for each year of eligible fellowship training.
When you take an MOC assessment, you earn 20 MOC points.
If you're certified by another ABMS board, our ABIM MOC point requirement can be waived if you are currently certified by and meeting the MOC requirements of that board. 
If you earn a new subspecialty certificate, your current 100 point requirement will be met as a result of passing your initial subspecialty exam.
Physicians participating in ABIM's MOC program need to earn 100 MOC points every five years to stay certified. Starting now means you can avoid an end-of the-year rush to get your activities completed.
Learn more about your points requirements by going to abim.org/points or signing into your Physician Portal.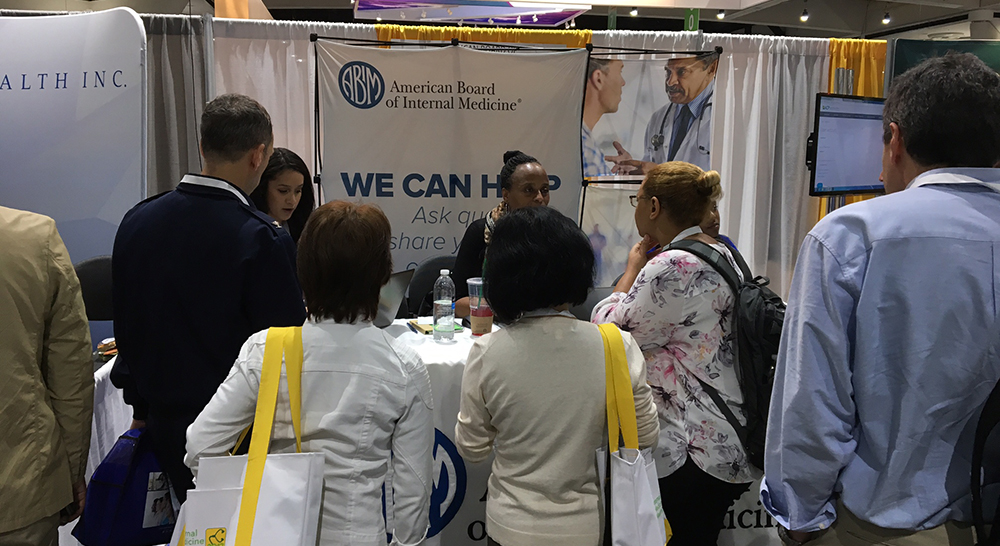 Staff and leadership from ABIM will be present at a number of annual society meetings, answering questions in exhibition halls and gathering physician input on the future of the Maintenance of Certification (MOC) program. All upcoming society meetings also offer CME for MOC, helping to make meeting your MOC program requirements even easier. 
Connect with us at upcoming society meetings:
You may also be interested in...