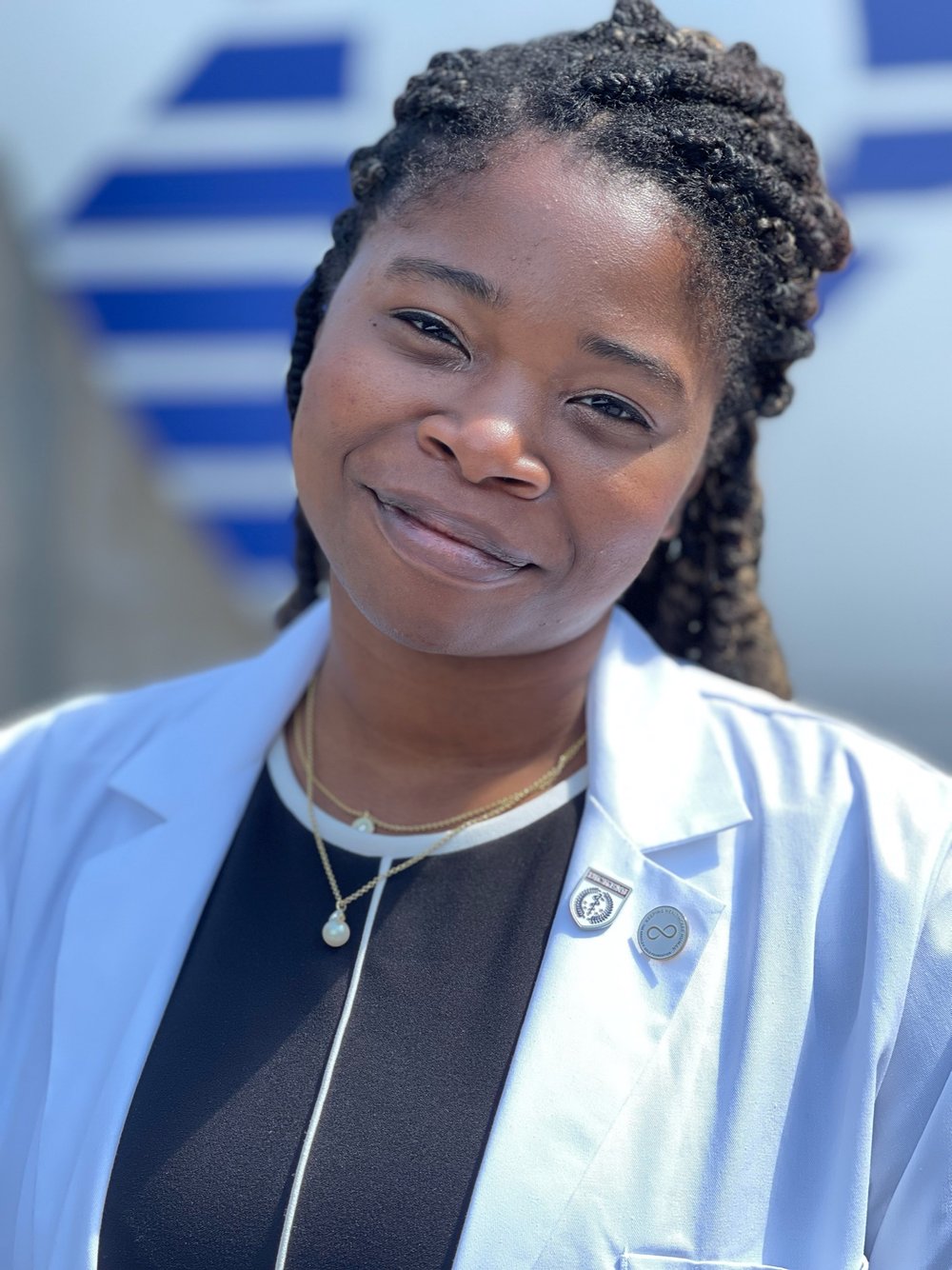 On International Women's Day we are highlighting Jasmine Brown, a third-year medical student at the Perelman School of Medicine at the University of Pennsylvania. Ms. Brown is a Rhodes Scholar and author of the book Twice as Hard: The Stories of Black Women who Fought to Become Physicians, From the Civil War to the 21st Century. She spoke with ABIM about her book and her experiences as a medical student.
Twice as Hard presents fascinating stories of Black women who overcame incredible barriers to become physicians, with your personal story interspersed throughout, bridging their history and your experiences as a medical student today. Why was it important for you to write this book?
It was really important to me because these stories need to be told, not only the ones that I was able to highlight in my book, but the stories of Black women physicians and the stories of Black physicians in general. They're not taught in many high schools or in many colleges, and I think that does a disservice not only to Black students, but all students who are trying to learn about medicine and how we've gotten to where we are now. I felt like it was really important that I contributed this history with a goal of inspiring more young people to pursue medicine. Also, I wanted the book to be a call to action for leaders in medicine to show that these issues are still here in 2023. We need to keep working to make things better.
In the prologue, you tell a story about how as an undergraduate at Washington University in Saint Louis you experienced a microaggression that deeply affected you and led you to create the Minority Association of Rising Scientists. Can you tell us a little about what happened and how it led you to where you are now?
I was working in a lab over the summer and my card reader to enter the lab was finicky so I worked with IT to make sure my card would work when I started the semester. It was a pretty big lab, we all knew that sometimes the cards were finicky and in the culture as I knew it we just let people in if they had a card. On my first day back, I went to the lab door and somebody I didn't recognize came up behind me. My key card wasn't working and after a few tries I asked the man behind me to open the door. He got a bit defensive and seemed concerned. He asked me a lot of questions about who I was and what was wrong with my key card and if I worked in the lab. I told him I was a student and showed him my card, which was a student ID from Washington University and he still seemed really uncomfortable and unsure. He asked more questions including why my student ID looked different than his faculty ID. He finally let me in.
That experience was really uncomfortable for me because it brought up memories of people telling me that I didn't belong in different spaces. I wondered why he was asking me all these questions—why he seemed so uncomfortable—and that was when I realized that I was the only Black person in that lab. And, when I attended different seminars in the building, I was the only Black person in the room. I felt really out of place and that I wasn't really welcome in the lab after that.
Initially it made me feel isolated, it really affected my energy going into the lab until I felt really uncomfortable. I saw him multiple times after that in the lab—he was a PI and his office was near my PCR station—but he would never acknowledge me or look at me. I didn't feel comfortable bringing it up again, especially after realizing the power dynamic of our difference in position within the lab space.
A few months later, after meeting with some friends who were also Black students with similar experiences, I decided to make this group, MARS (Minority Association of Rising Scientists), to try to alleviate the isolation a lot of us were experiencing and address the implicit bias that seemed really prevalent not only on Wash's campus, but on a lot of other campuses. That was really a meaningful experience for me. It really felt fulfilling working towards increasing diversity in these spaces.
When I got the Rhodes Scholarship and found out about the history of medicine program, I decided to do something similar. At that point, I was starting to think more about medicine, and so decided to look at it from the perspective of being a physician. I realized that the literature on the experience of Black physicians tended to focus on Black men, and the literature that focused on the experiences of women physicians focused on white women. So, I felt like this was an important perspective to bring into that space. Up to that point, I had actually never met a Black physician, so I felt like if I shared their stories it would be really impactful for younger people who were looking for role models or sources of inspiration while they were going through their own personal challenges.
In your book you mention that in 2022, Black women accounted for about two percent of the physician work force, and at the University of Pennsylvania, there are around 170 Black medical students, only 10 of whom are women. As you did your research for this book, what did you learn about the factors that contribute to the continued low number of Black women in medicine?
The Flexner report of 1910 changed the way that medicine was taught. It integrated more research and scientific knowledge into medical practice, but Abraham Flexor, who created the report, also recommended the closing of almost every Black medical school, all except for Howard and Meharry Medical College. Up to that point there were increasing numbers of Black physicians, but after that shift the number of Black physicians essentially plateaued. In 1910, 2.5% of all physicians were Black, and in 2006, almost 100 years later, that number was 2.2%. And still today there are four black medical schools and those four schools still train the majority of Black physicians, despite there being over 100 medical schools in the country.
I think a commitment to increase the numbers should be done. But another really important thing is ensuring that the spaces are safe and supportive for those students of color. I've heard of multiple institutions and medical schools where students have said vocally that Black students are taking spots for more deserving applicants. These are their classmates, saying they don't deserve to be there. Just think about the impact that that has on the students of color. It's really important to be honest that these issues still persist, and then to have an infrastructure where people can report these issues without worrying about being retaliated against. And then the school needs to actually takes active efforts to address situations where there are microaggressions. I think sometimes people shy away from doing anything because they think, "well, maybe they didn't mean it that way". But that prioritizes the feelings of the perpetrator of the actions without thinking about the person who is really impacted. These messages happen repeatedly, and they build on each other. When an institution's leadership is silent, it can feel like they are complacent and not a real ally.
Do you think that there's anything an organization like ABIM can do to help reverse this cycle and open the pipeline for African American students in this country?
I feel like one of the first things is just sharing the stories of successful Black physicians from various backgrounds because when we don't learn about them and we don't see them, it can be easier to perpetuate that narrative instead of addressing it. In terms of representation, maybe just be more supportive and visible earlier on in the pipeline, at the elementary or middle school levels because there are not as many African Americans who have other family members who are physicians. Or even just to support that African Americans can be in medicine because we're getting these messages at a young age that we can't succeed in these spaces and we don't belong.
Is there anything that you would like to add?
Something interesting that I found in my research, and in these few years in medical school is how important not just diversity the numbers is, but also address the question of how many Black and women physicians are being promoted to different levels and whether there is pay equity. Are we treating all of our physicians fairly and allowing advancement opportunities for Black women? That's something that I saw with some of the women in my book and it's not surprising, but it's really unfortunate to know that persists even now. As I actually enter the workforce, particularly at the level of an attending, I wonder how I can be sure that I'm paid equitably when we're all doing the same hard work to care for patients.
You may also be interested in...