"You can't be what you can't see." —Marian Wright Edelman, American activist for children's rights, lifelong advocate for disadvantaged Americans, and founder of the Children's Defense Fund.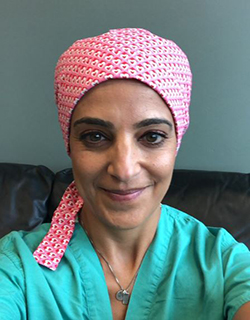 Dr. Feigofsky, an Electrophysiologist at the Iowa Heart Center in Carroll, Iowa is one of the newest members of the American Board of Internal Medicine Cardiovascular Disease Specialty Board. Her career and life encompasses three distinct aspects—she is an active leader and advocate for women in cardiology, a much in-demand public speaker on women's roles in medicine and life/balance issues, and is also one of the few Latinx practicing medicine.
Women remain underrepresented in cardiology despite a growing pipeline of female medical students and internal medicine resident physicians, according to a Sept. 11, 2019 report in JAMA Cardiology, there was a modest increase in members of underrepresented minorities, but representation remained low in adult and pediatric cardiology.
---
By the Numbers
Women comprise 42.6% of internal medicine resident physicians.

Only 21.5% of adult general cardiology fellowships are held by women.

Women are underrepresented in procedural subspecialty fellowships, including interventional cardiology (9.8%) and electrophysiology (13.7%).

The percentage of female adult cardiologists increased just slightly between 2006 and 2016—from 9% to 12.6%.
Trends showed an increase in female pediatric cardiology fellows throughout the decade (from 4% in 2006 to 50.5% in 2016), and women physicians actually made up a disproportionately higher number of pediatric residency positions (72.9%).
Source: Current Demographic Status of Cardiologists in the United States, JAMA Cardiology, September 11, 2019.
---
Prior to joining the Iowa Heart Center, Dr. Feigofsky spent a decade in Orange County, CA in private practice. She is board certified in cardiology and electrophysiology and currently serves as a member of the Heart Rhythm Society (HRS) communications committee and was recently appointed to the American College of Cardiology (ACC) Women in Cardiology Leadership Council.
Dr. Feigofsky completed medical school at the University of Florida in Gainesville, FL and stayed on in Gainesville for internship, residency and fellowship training. Her clinical interests include syncope, POTS, as well as heart failure and cardio-oncology. In her free time, she enjoys the practice of yoga, cycling and is a beginning runner. To balance those activities, she enjoys baking homemade bread and cookies.
The following is a lightly edited interview with Dr. Feigofsky:
Why did you want to become a physician? What were your early influences?
​I remember being sick as a child and a physician came to my home to take care of me. That left an early impression of what I thought a doctor was, as there were none in my family. I went into medicine because I thought it was my calling. A way for me to serve others and help them heal.
What do you like best about your practice and area of specialization?
​I enjoy that every day is unique, and I have the opportunity to impact someone's life for the better. In electrophysiology, we have the ability to improve a patient's quality of life in a short period of time. That is so gratifying. What I really enjoy the most, is the time I get to spend with my patients. I think that is why I am good at syncope, I really love a good story. 
Could you share more about your role on ABIM's Governance? What has been surprising to you, or what would you like others to know? Why did you want to serve and what do you hope to achieve personally? 
​I am new to the governing board, and have only been to one meeting. I was surprised by the passion of the physicians present, and the commitment to setting a standard of excellence for medical care. I chose to join the board as I was unhappy with the current MOC process. I wanted to have a seat at the table, and be actively involved.
You have been an active leader in HRS and were recently appointed to the Women in Cardiology Leadership Council at ACC. Can you talk about these roles? What do you consider to be the current issues facing women in medicine in general and cardiology in particular? ​
There is a paucity of women in cardiology. Part of that problem is the perception that cardiology is not conducive to having children or a family life. There is a gender pay gap and promotion gap, as well as a pregnancy penalty. There is a lot of work to do, and we need our male champions to help us normalize women in cardiology.
Has your heritage influenced your career?
That is a tough one for me. My mother is Puerto Rican, as I am. I am not fluent in Spanish, so I often feel like an imposter. There are very few Latinx represented in medicine, and I believe it is important for those who are to be visible and mentor. You can't be what you don't see.
You've spoken and written a great deal about work/life balance issues and the downside of that being physician burnout. Can you tell us your thoughts on these issues?  ​
I have been burned out and have also experienced post-partum depression and have intense impostor phenomenon. I believe the common denominator is perfectionism. The notion of needing to be perfect begins in training. We need to stop using shaming techniques in training. We need to allow physicians to openly grieve over the loss of a patient or an adverse outcome without fear of retaliation or judgement. 
What do you think of the present status of health care and the future of medicine?​ 
I am very, very concerned. Health care has become a business. Physicians have lost their autonomy. Medicine should not be Relative Value Units and health care dollars. It should be about patient wellness, good outcomes and an intentional use of resources.
What achievements in your medical career are you most proud of? 
I am proud that I found the strength to leave a toxic work environment. I have developed a voice later in my career and I believe it is never too late to follow your path and passion.
You've talked about your interests in yoga, cycling and running. What are other interests do you have? 
​Baking. I do this when stressed, and my office reaps the benefits!  I think any exercise is helpful in stress relief. It has been harder to regularly exercise in Iowa due to the weather, so I am learning to love my basement gym.
What book are you reading now? 
Talking to Strangers by Malcom Gladwell. 
What's something your colleagues may not know about you?  
I was scrum-half for our club Rugby team at the University of Florida.
You may also be interested in...