Kirk N. Garratt, MSc, MD, is Medical Director of ChristianaCare's Center for Heart & Vascular Health and is the John H. Ammon Chair of Cardiology within ChristianaCare. Based in Wilmington, Delaware, he is ABIM Board Certified in Internal Medicine, Cardiovascular Disease and Interventional Cardiology. Dr. Garratt is actively involved in professional associations and societies in the US and abroad, as a committee member and leader to advance interventional methods to improve patient care and outcomes. He serves on medical advisory boards, task forces and steering committees, and presents at conferences and symposiums worldwide. He is a member of ABIM's Cardiovascular Board Interventional Cardiology Exam Committee and past President of The Society for Cardiovascular Angiography and Interventions (SCAI).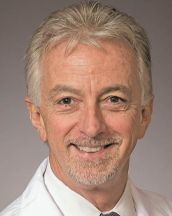 Tell us about your experience with ABIM and ABIM Governance in recent years?
I was completely naïve about ABIM, and certainly knew nothing about its governance, until about 2016 when I was invited as a member of the Society for Cardiovascular Angiography and Intervention (SCAI) Executive Committee to establish a dialogue between ABIM and SCAI. I was invited by ABIM to sit in on a meeting of the Cardiovascular Board. I remember being impressed by the membership when I arrived; the people sitting around the table were some of the best-known general and sub-specialty cardiologists in the country. One of the agenda topics that day was a review of the blueprint used to structure future ABIM cardiovascular medicine examinations. As I recall, that process took several hours. I was struck by the methodical approach rooted in principles of psychometrics (the science of testing and measuring an individual's ability) and the rigor of the discussion. I also remember being asked my opinion on weighty matters and seeing my answers considered carefully. It was clear that this group was really listening to me, an outsider, and eager to do things right. During my presidency at SCAI between 2017 and 2018 I expanded my contact with ABIM. I was invited to join the Cardiovascular Board Interventional Cardiology Exam Committee in 2017 and have enjoyed that work since.
Before I joined the ABIM Exam Committee, I didn't know that developing test questions was such a long, difficult, humbling process. You write questions that are reviewed in group; some are tossed out, others are retained with suggestions for improvement and a few are given back to you with a polite request to try again. Questions that survive are further reviewed individually, in small groups and in large groups; more are rejected. Those that survive are eventually inserted into exams to see how well they discriminate between high and low performers (they don't count toward your score at this point). An embarrassing number of questions perform much worse than you expect and are then thrown out. It's humbling but the process of working with very bright people and learning from them is a lot of fun.
I also didn't know that there's such a thing as a psychometrician, which is someone who practices psychometrics, of course. Their work is so complicated that I think it was Ted Bass who named them "psychomagicians," which seems completely appropriate.
What advice would you share with others who are considering participating in ABIM Governance?
Be prepared to really enjoy yourself while doing something that requires great discipline. The work of ABIM is serious stuff, and everybody takes their job seriously. It's not light and fluffy stuff, and you'll need to commit real time. The reward is seeing the inner workings of a complex machine made up of brilliant people. Right now is an especially fun time to be around ABIM, as it reinvents itself to provide a more effective service to its diplomates.
How has your work with ABIM influenced your practice or enhanced your knowledge?
Globally, the value of MOC is that it drives you to stay informed and current and that translates to better patient care. Beyond that, being part of a test-writing team forces me to study. Let's say I have an idea for an interesting, challenging question on valvular heart disease. I'll craft the question then go to work documenting why one answer is unequivocally right and the others are unequivocally wrong. During this part, facts often come to light that make it harder and harder to assure that one and only one answer is correct. So, you dig in deeper and deeper until you're certain. There's lots of reading and reviewing involved, which makes my knowledge base fresher and makes me better prepared to address clinical problems.
What is your favorite part about being a cardiologist?
Over the years I've divided my time between clinical practice, research and administrative work. When I accepted the position as Director of the Center for Heart and Vascular Health at ChristianaCare three years ago, I had to reduce my clinical commitment to manage the administrative load. I'm having a great time working for a progressive, visionary organization and helping solve problems for teams of physicians and surgeons.
What is the most difficult part of your job?
Decisions that have an impact on many people can be a lot harder to make than I imagined. I've learned that each decision has to be considered in the context of those affected indirectly, not just those affected directly. That might seem obvious, but in practice it's not always so obvious who's impacted indirectly. The parts of a heart and vascular center are as interconnected as parts of a body, and there's interdependence that's not always so clear at first glance. Learning this has been painful at times, but necessary.
How has COVID affected your practice, and interventional cardiology in general?
As we saw places like Seattle and New York City and Milan collapsing under the onslaught of COVID-19 disease, ChristianaCare emptied hospital beds aggressively in the spring of 2020. We reassigned every cardiovascular bed in the Center to handle COVID-19 patients, including the cardiac ICU and the cardiac surgical ICU. By summer, we understood how to manage victims of the pandemic and also continue to provide all other needed services in our community. By the end of 2020, we had co-existed with COVID-19 long enough that we were prepared to handle the much more severe winter surge. I'm proud to say we've managed to care for our neighbors with and without COVID-19 without compromise. The cath lab at ChristianaCare was impacted significantly but I'm proud of our response. Like most cath labs in the US, we quickly decided that PCI for myocardial infarction was best therapy and should continue despite some calls to resort to thrombolytic therapies. We set up safety protocols to keep the team safe and delayed more elective work when appropriate. As everyone knows now, the cath lab volume plummeted for a couple months because people were afraid to go to hospital even when they were having a heart attack. SCAI and others created public awareness campaigns to reassure people that hospitals were safe. Our immediate challenge now is delivering vaccines quickly. That requires coordination between healthcare systems and government agencies, which doesn't always go as smoothly as we'd like despite best intentions on all sides.
What are your thoughts on the longitudinal assessment that is being developed?
It's hard to complain about having options. If you don't like this way of fulfilling MOC requirements, you don't have to use it, but it's terrific that you have the choice. I think lots of cardiovascular providers will use the longitudinal option. It's aligned with what we hear diplomates want, and it delivers content in a manner that might be considered more manageable, especially by younger diplomates.
When you are due for your interventional cardiology assessment, which assessment option do you think you'll choose, and why?
Well, I'm due in just a couple years and I'm feeling a little old-school about it. I haven't made up my mind for sure yet, but I'm leaning toward a comprehensive exam. I kind of like the process of setting a date, studying and preparing for an exam. I'm hoping we're all vaccinated and the pandemic won't be a concern. I know, not very 21st century, but the point is I have options and can take my MOC the way I want it.
Interventional cardiologists must attest that they have done certain procedures for MOC. Why is this included and why is it important?
An Added Qualifications certificate means you're proficient in interventional cardiology procedures, but certifying procedural competency is incredibly challenging. To do that perfectly would require impartial certifiers to observe diplomates performing a large volume of specific procedures and documenting outcomes. That's not practical. Studies of the relationship between procedural exposure and complications aren't conclusive but suggest that competence, defined as the conduct of procedures successfully without complications, will decline unless some minimum number of procedures are performed per unit of time. While the required number to stay competent is an evergreen topic of debate, ABIM has concluded that the fairest approach is to require diplomates to perform a number accepted by procedural societies (like SCAI) and other subject matter experts as sufficient to maintain skills.
Do you have any hobbies outside of work?
I have a lifelong love affair with good books, especially history, and I'm trying to maintain some minimal ability to play piano and bass. I listen to a lot of jazz. I have a longstanding interest in wines and more recently have been trying to develop some level of skill in the kitchen. I can't say I'm any good, but I can say I really enjoy the process of putting together an exciting menu and trying to make an interesting meal. And after many years of finding excuses to avoid regular exercise, I've joined the Peloton cabal. Once you buy in to the fantasy that the person on the screen is really your personal coach talking directly to you, you're hooked. I actually find myself trying to sneak out of work early so I can get in a ride. Madness!
You may also be interested in...