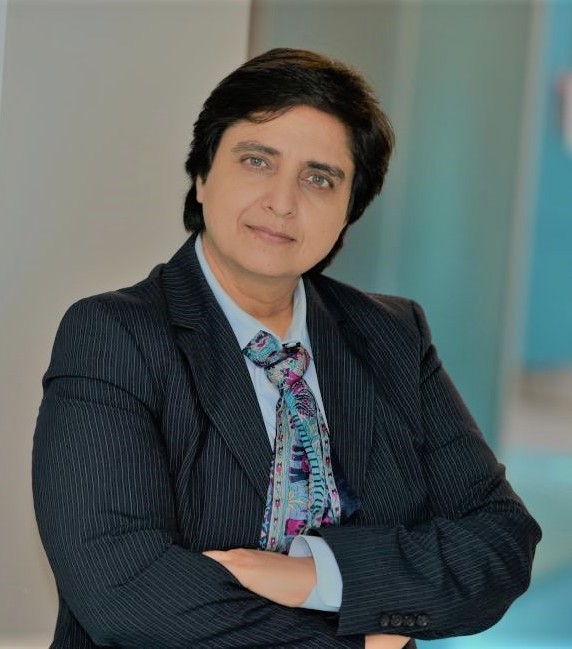 Abha Agrawal, MD, FACP, FACHE, is the Chief Medical Officer of Humboldt Park Health in Chicago and the founder of health start-ups in New York City and India. Among her many accolades, Dr. Agrawal has been recognized with the 2023 Diversity, Equity, Inclusivity Leadership Award from the Chicago Health Executives Forum and the 2019 Top 20 Global Women of Excellence Award, Chicago, from the U.S. Congress. Dr. Agrawal's career has centered around health information technology, patient safety, positive social impact and leading a failing hospital to clinical and financial excellence. She joined the ABIM Board of Directors in 2023.
You've served in many roles and capacities in your professional life—internist, entrepreneur, patient advocate, leader—what do you think of first when you think of yourself?
In my various professional roles—present and future—my goal is to make a positive impact for patients, especially by improving the quality of life and safety of care. As a health care executive, I work to ensure that we build strategies and execute actions that prioritize excellence in quality, safety and equity for patients and communities. At the same time, we must ensure financial stability of the organization to enable our mission to serve. As an entrepreneur and an author, I am first and foremost a patient advocate and I strive to make things better for patients and families.
You've written and edited extensively about patient safety and the role that patients play in their own health care. Is this an underserved issue? What do ABIM diplomates need to know to contribute to meaningful change in this area?
In 1999, the Institute of Medicine (now the National Academy of Medicine) reported that 98,000 people die of medical errors in this country each year and most of them are preventable. The World Health Organization reported that three million people died of medical errors around the world. This created a global movement around patient safety. In the most recent studies that have come out, we have made some gains in patient safety, but still an unacceptably high number of people are being harmed as a result of largely preventable adverse events and medical errors. This is a problem we have known of for 20 years. We've done a lot to address it but there is an implementation gap and we have not been able to save as many lives as possible. What is missing in this equation?
One is the active engagement of patients. We used to think the doctors were the answer to patient safety; then we thought it was the team of caregivers and systems improvement. I'm proposing that the patient and the family are equally important and active partners in the patient's care. Two years ago, Health Affairs called patient engagement the blockbuster drug of the century but we haven't been able to engage patients as successfully as we want. Maybe AI will help us bridge these gaps.
The great thing about patient safety is that we don't need new research and investigations and therefore a lot of waiting time to know what works. We have the cure; we just need to be able to implement those practices and that's where I think AI-enabled tools and patient engagement can be that inflection point to take us to the other end of patient safety. It is a privilege to be a part of this story and contribute to saving lives.
Bringing this viewpoint was one of my motivations to be part of ABIM. ABIM plays an extraordinarily important part in the health care ecosystem by certifying physicians' knowledge and credentials. How does our certification process align with these problems along with knowledge in clinical medicine? This way, we can be part of saving lives as well.
Working on both sides of the globe—in both the U.S. and India—must have many differences. But are there any parallels? How does your work in one country influence or inform how you operate in the other?
I have truly enjoyed doing the health care project, A4 Clinics, in India. The most insightful observation is that human suffering is universal and so is the need to connect with another human being, especially as a physician.
The health care landscape in these two countries is quite different. There's very little penetration of insurance in India. The average annual expenditure on health care in the US is $12,000 per person. India, a country of 1.4 billion people, spends no more than $80 per person annually on health care. There are tremendous differences in health care infrastructure, technology and reimbursement. When I founded A4 Clinics, I wanted to bring affordable and efficient technology to my country of origin because that's what suits the needs of the Indian patient. It's been a privilege for me to be able to see this project succeed in provide affordable, high-quality care to patients.
Why did you want to be part of ABIM Governance?
As the chief medical officer for a community hospital, I realized the critical value of board certification in our credentialing process. I could inform the strategy and the vision of how ABIM can continue to remain the voice of credibility and trust in the health care ecosystem but adapt itself to the evolving needs of health care.
I feel that the foundational idea of "what it means to be a physician" also continues to evolve. Does it mean having a certain amount of clinical knowledge? Or does being a good physician also mean knowing things like equity and bias, technology and patient safety? If those are important to clinical outcomes, how do we as a Board consider them in our certification process?
As much as ABIM's role is to certify physicians and be a voice of trust and credibility, ultimately, we are serving patients. I am unfettered in my belief that all of us are here to serve one consumer—one stakeholder—which is the patient.
What do you want diplomates to know about you?
That I want to be their voice and I want to represent them in their quest to provide the best outcomes and the best service to their patients.
You may also be interested in...