The National Residency Matching Program (NRMP) released the Advanced Data Tables for the 2023 Main Residency Match which was completed the week of March 17, 2023. The NRMP Subspecialty Match occurs in the fall each year and those data are available too.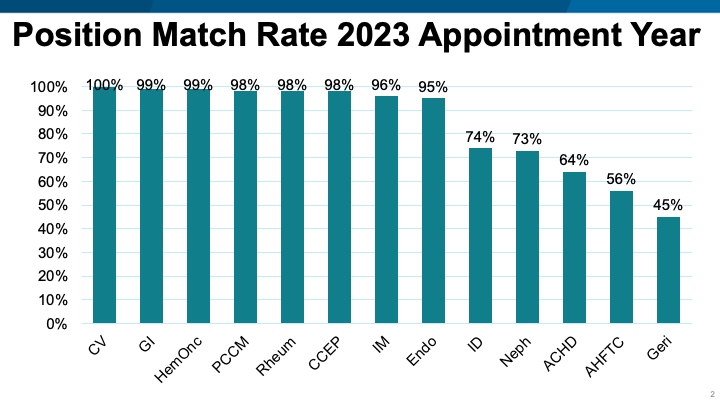 The 2023 National Residency Matching Program had the largest number of certified positions in history, with internal medicine (IM) and its subspecialties doing exceptionally well — 9,345 of 9,725 categorical IM positions filled for a match rate of 96%. Most of ABIM's subspecialties also filled with match rates over 95%; however, there are disciplines that are struggling to fill positions in the match including Infectious Disease, Nephrology, and Geriatrics. In those disciplines, there are fewer applicants than total positions in the match. ABIM's Council and Specialty Boards are monitoring these match rates carefully and looking for ways to enhance these disciplines.
"Overall, it was an excellent year for internal medicine and its subspecialties," said Furman S. McDonald, MD, MPH, Senior Vice President for Academic and Medical Affairs. "There were very few IM spots that were not filled in the match and we anticipate all positions were able to fill through the Supplemental Offer and Acceptance Program (SOAP) if programs participated."
There were some other notable trends in the Main Residency Match this year. Doctors of Osteopathic Medicine are growing in numbers and as a percentage of overall positions filled for internal medicine and family medicine. There was also an increase in placement for International Medical Graduates.
Internal Medicine-Pediatrics (i.e., Med-Peds residencies) also had an exceptional year with a program match rate of 96% and a position match rate of 99%.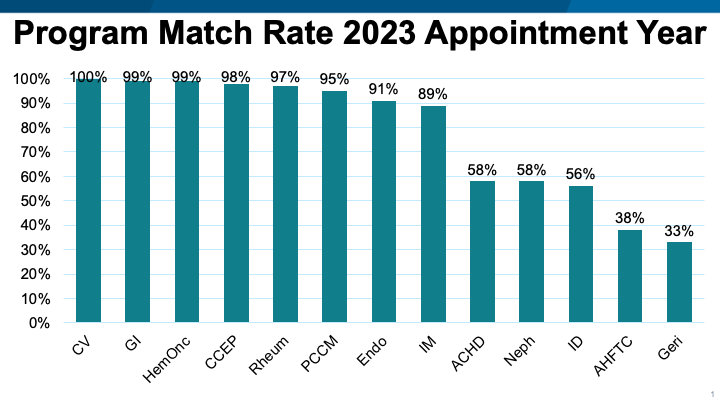 "The growth of the number of physicians and the impressive match rates in IM residency and most IM subspecialties demonstrates the strength of the profession and portends well for the future of Internal Medicine" said Dr. McDonald.
We wish the best for all newly matched residents and fellows as they continue training and we look forward to welcoming them into the community of ABIM diplomates in the future.
You may also be interested in...