We know how busy you are. That's why we've created this new quarterly newsletter to keep you informed about ABIM news, share insights from your fellow doctors and let you know about opportunities to get involved with ABIM. We hope you find it helpful, and thank you for all you do as an important member of the ABIM physician community.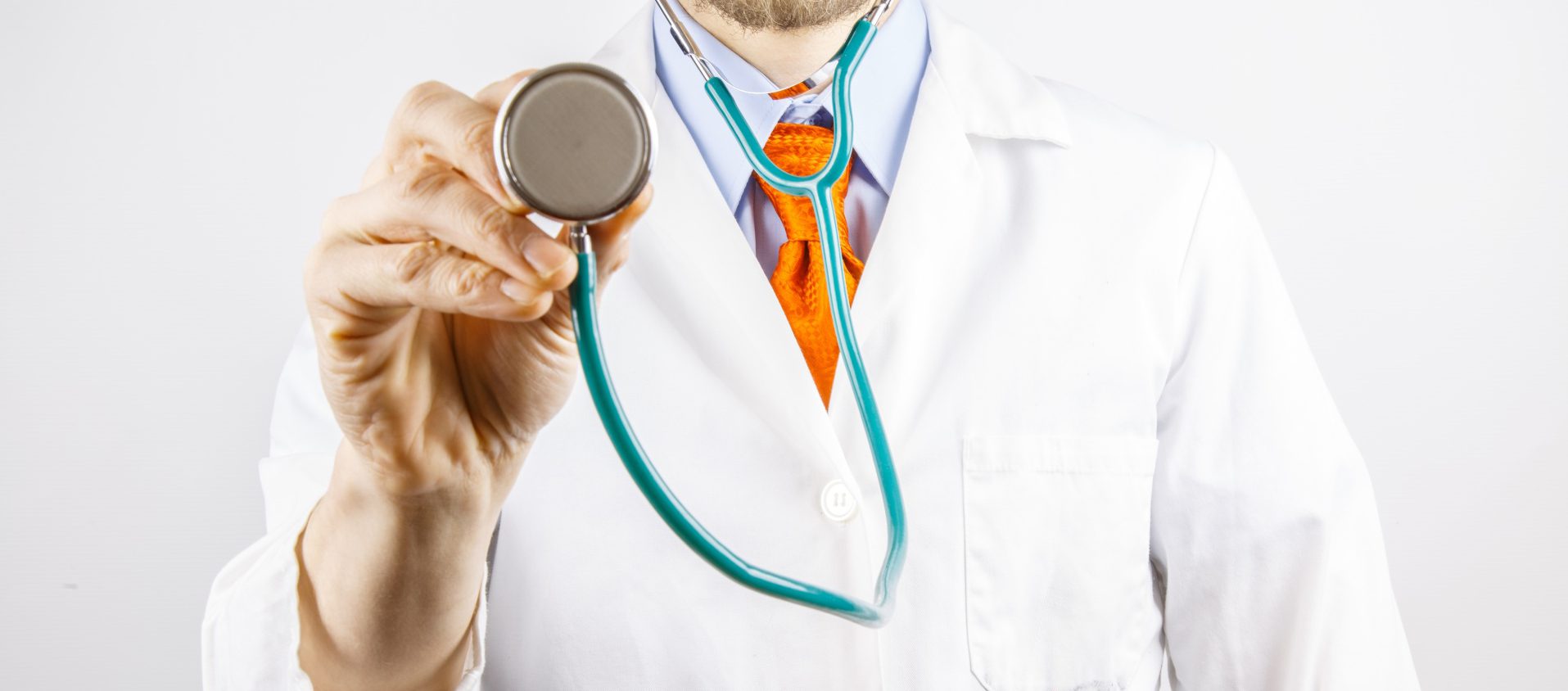 Achieving and maintaining board certification is a testament to the knowledge, talent and dedication physicians bring to their practice every day. We've heard from the community about changes they would like to see in the Maintenance of Certification (MOC) program, and in August, ABIM announced plans to include a lower-stakes longitudinal assessment option that aligns with physicians' efforts to keep up with advances in medical knowledge.
With this new option – anticipated to be available beginning in 2022 in as many specialties as possible – physicians will be able to:
answer a question at any place or time, and receive immediate feedback as to whether it was correct or not;
see the rationale behind the answer, along with links to educational material;
proceed at their preferred pace answering questions during each administration window; and,
access all the resources they use in practice, such as journals or websites.
ABIM invited the internal medicine community to provide suggestions and feedback on this new pathway, and today we'd like to provide a high-level overview of our progress and next steps.
Engaging With the Community
We believe deeply in the value of co-creation and, as we move forward with key design decisions, will continue engaging with the internal medicine community to ensure the longitudinal assessment option will work for today's practicing physician.
Physician feedback has driven many positive changes at ABIM, including the new Physician Portal, exam blueprint review, inclusion of UpToDate® within MOC assessments and efforts to improve the exam experience for women in medicine. The Knowledge Check-In, and physicians' experiences and feedback with it, has laid the foundation for ABIM's continuing evolution as we develop the longitudinal assessment option.
Nearly 1,400 physicians submitted comments about the new option for MOC, providing a rich collection of suggestions, insights and questions that are being used to guide its development.
 Here's what we are doing now:  
Physicians are invited to connect with ABIM through our Community Insights Network and share feedback through surveys, interviews, user tests and our online community "ABIM Engage."
ABIM convened a Physician Advisory Panel from members of the Community Insights Network representing a range of practice settings, specialties and geographies to provide input and feedback throughout the development and implementation of the project.
ABIM staff are attending society meetings throughout fall 2019 and spring 2020 to offer physicians individualized guidance and ask for your feedback.
ABIM will work with interested societies to explore ways of linking ABIM assessment content with society educational materials.
 Timing for Launch
We are working hard to ensure we deliver a high-quality, valid program that you can be proud of and your patients can continue to rely on. ABIM anticipates offering a longitudinal assessment option for MOC for the first time in 2022 in as many specialties as possible. The traditional, point-in-time assessment, taken at a PearsonVUE center, will remain an option, as some physicians have expressed a preference for an exam taken less frequently.
Introducing the longitudinal assessment in 2022 will allow sufficient time for ABIM to:
Work with the community to ensure physician feedback is incorporated into the program design
Develop an assessment delivery platform that provides you with ease and mobility
Create more questions so we can release answers immediately after the assessment
Do you have insights and expertise developing assessment questions? ABIM is still looking for volunteers to serve on some of its Item Writing Task Forces. If you don't see an opening for your specialty, please sign up to be notified when new positions are posted.  
For Physicians with Assessment Requirements due Before 2022
All current ABIM MOC program requirements and policies remain in effect, and we will communicate with you well in advance of any changes to the program. If you have an assessment due in 2020 or 2021, you can choose from the options currently available in your discipline. 
Registration for all 2020 MOC assessments opens December 1, and physicians may have several pathways to choose from, such as:
engagement with the Knowledge Check-In;
the traditional MOC exam; or,
participation in the ABIM/ACC Collaborative Maintenance Pathway or the new ABIM/ASCO Medical Oncology: Learning & Assessment.
You can find all your MOC program details and deadlines by signing into your personalized Physician Portal, and learn more on a special section of ABIM's website. 
Registration for 2020 Assessments Opens December 1, 2019.
Registration for all 2020 ABIM Maintenance of Certification exams opens December 1, 2019, including:
Registration closes on a rolling basis based on the exam administration date, and all dates and deadlines are published on their respective specialty-specific pages. You can check if you have an assessment requirement coming up and complete the registration process by signing in to your Physician Portal.
Check Your End of Year Deadlines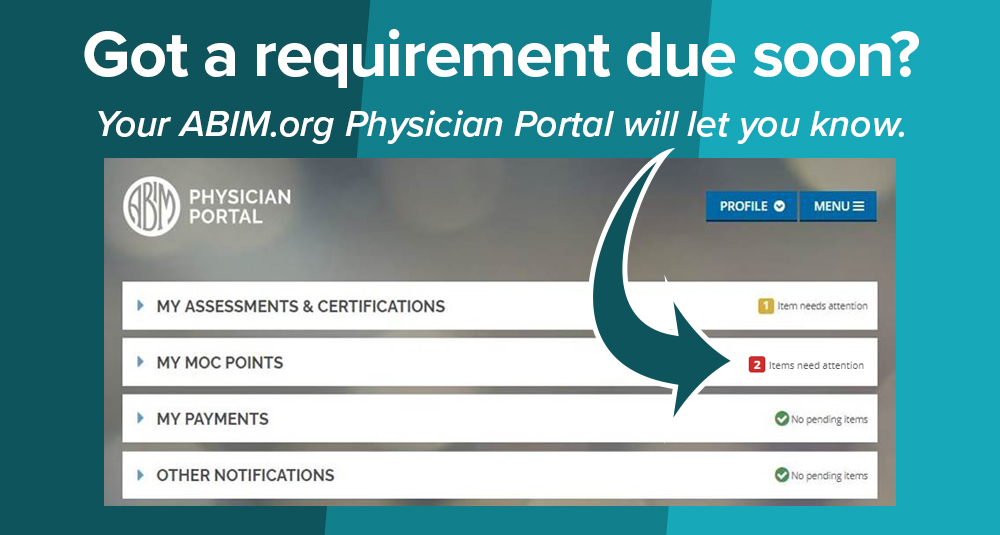 It's important to check your ABIM Physician Portal at least annually to see if you have any MOC program requirements due, and to keep your contact information current to ensure you receive important notices about your certification status.
As part of the MOC program physicians need to earn at least 100 points every five years to stay certified, regardless of the number of certificates they hold.  
Not only do we want to provide ways for you to help focus your professional development activities, but we also want to make sure that you're getting credit for the things you already do as part of your commitment to lifelong learning and practice improvement. Check out the list below to see the many ways you can earn MOC points.
If you complete one of ABIM's Medical Knowledge modules, you can earn 10 MOC points.
When you complete a QI/PI activity through the ABMS Multi-Specialty Portfolio Program or the Approved Quality Improvement Program, you can earn up to 30 MOC points.
Earn CME credits and MOC points for thousands of activities in ACCME's CME Finder.
Earn MOC points for the searching you do to support your clinical decisions at the point-of-care, including a variety of internet search tools such as UpToDate®.
If you're a fellow, you'll earn 20 MOC points for each year of eligible fellowship training.
When you take an MOC assessment, you earn 20 MOC points.
If you're certified by another ABMS board, your ABIM MOC point requirement can be waived if you are currently certified by and meeting the MOC requirements of that board. 
If you earn a new subspecialty certificate, your current 100 point requirement will be met as a result of passing your initial subspecialty exam.
2020 Fee Schedule
Beginning 1/1/20 an updated fee schedule will go into effect:

Physicians will have until 12/31/19 to pay their 2019 annual program fee at the current $160 rate as well as the option to pre-pay future years in advance at a 20% discount on each pre-paid year, in addition to the current one.
An additional $20 will be added to the program fee if it is paid after the year in which it was due. For example, if you pay the 2019 program fee after 12/31/19 it will be $180.
The program fee covers all certifications you hold and supports a number of ABIM services and program enhancements, including:
Access to ABIM MOC activities
Recognizing CME credits for MOC points
Attestation processing
Verification of licensure
Publicly reporting certification status of more than 200,000 physicians
Answering diplomates' questions and providing support through phone calls and emails to help them be successful in the MOC program
Exploring opportunities with professional societies to offer diplomates more options in meeting their assessment requirements 
Development and implementation of the new Knowledge Check-In assessment option across 19 internal medicine disciplines
Many physicians have asked for more flexible ways to demonstrate their board certification status through email, social media, blogs, and websites. That's why ABIM recently introduced a new digital badge so physicians can promote their board certification to their peers and patients.
Sign in to your Physician Portal on abim.org to access the badge that fits your needs. See below for samples:

Add this badge to all your digital properties to help your patients recognize the benefits of seeing a board certified physician.   

Since 2012 ABIM has been working with the American Association for the Study of Liver Diseases (AASLD) on a gastroenterology (GI)/transplant hepatology (TH) competency-based medical education pilot training program that allows eligible GI fellows to spend their third year training in TH. If all GI and TH competencies are achieved by the end of the third year, approved participants are eligible to take both GI and TH certification examinations. Certification in GI must still first be achieved before applying for TH. This program was primarily designed to pilot a new competency-based training and assessment curriculum but has been approved for a published pathway to shorten training from four to three years.
On October 21, ABIM and AASLD were pleased to jointly announce permanent acceptance of the combined training pathway. For more information, please visit the AASLD website or the ABIM website: Transplant Hepatology Policies.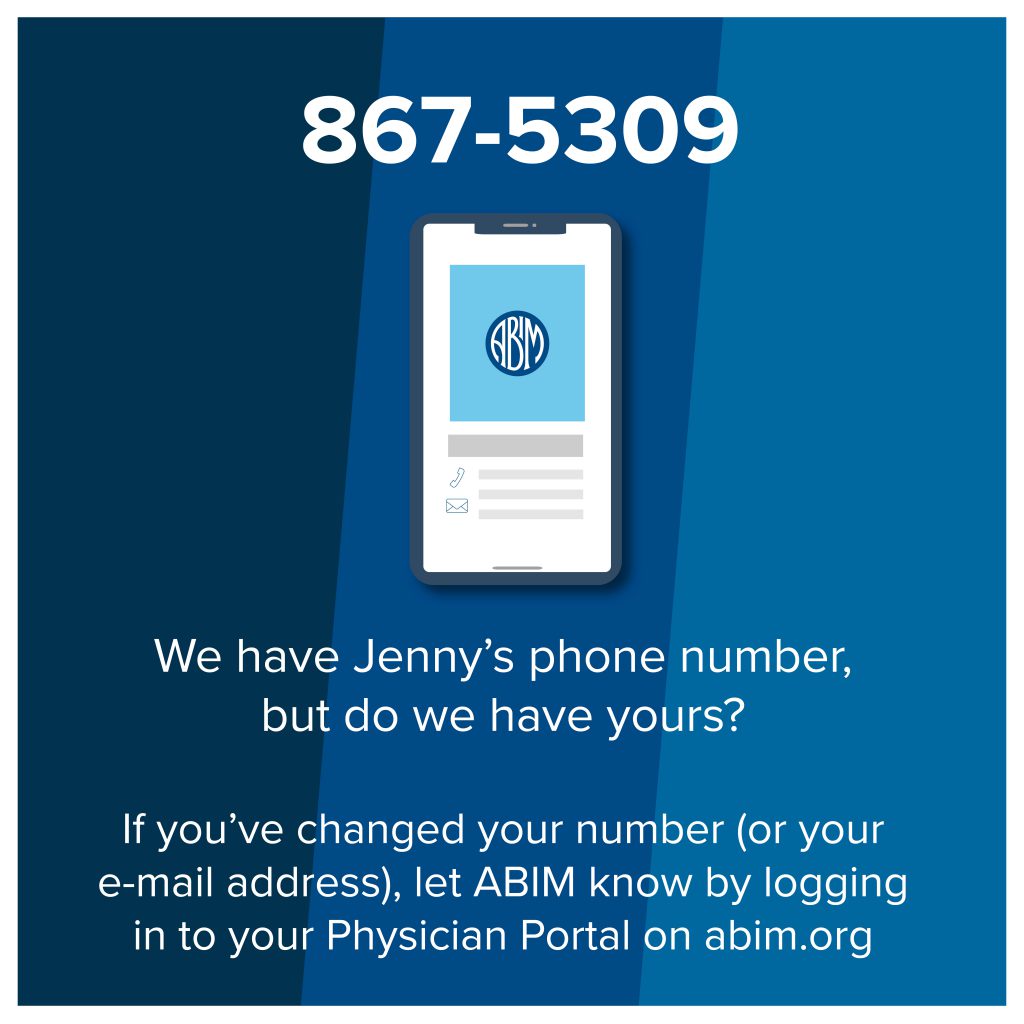 Most people sign in to abim.org for the first time while they're still in residency to register for the initial certification exam.  They pass their boards, and within a year, the email we have for them is out-of-date! Sign in to abim.org and check your PROFILE to make sure your email address and mobile phone number are up-to-date so we can send you reminders about when your MOCrequirements are due.
You may also be interested in...