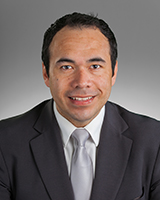 Raul Ruiz Esponda, MD, is an endocrinologist at Sanford Health in Fargo, North Dakota and Assistant Professor of Medicine at the University of North Dakota School of Medical Sciences. He is certified in Internal Medicine and Endocrinology, Diabetes and Metabolism. He has a clinical practice in general endocrinology with a particular focus on thyroid diseases and thyroid malignancies. He holds multiple leadership roles including serving as Chair of the Endocrinology Department, Chair of the Care Monitoring Committee, Vice-Chair of the Physician Executive Council and Council of Governors at Sanford Health. He is also the current president of the Midwest Endocrinology Society.
What made you decide to specialize in endocrinology and specifically thyroid diseases?
Endocrinology is a fascinating field in many aspects. The complexity of the endocrine system and the physiology associated with the function of our multiple glands were the first things that attracted me to this field. The different hormones in the human body influence practically every cell in our bodies. In the medical field, understanding the complex relationships of the different hormones, interpreting test results and correlating these to clinical syndromes has always been a challenge to most clinicians. I wanted to learn and master that knowledge to be able to help patients. Some of the most rare, complex and perplexing clinical syndromes are related to endocrine dysfunction.
Most importantly, it is a very satisfying field from the patient care standpoint. Endocrinology and diabetes care allow me to establish long-term care relationships with patients and contribute to improving their health. The thyroid gland is a very complex and interesting organ; despite being small, its effect in our body is enormous. In addition, the field of thyroid malignancies allows me to use different diagnostic tools, perform procedures and collaborate with other specialties to help patients. Providing compassionate medical care, evidence-based information and emotional support to patients with a new diagnosis such as thyroid cancer or diabetes is very fulfilling.
What should physicians know about thyroid disease that they may not be aware of?
The thyroid gland is a complex organ; thyroid disease is common, and its symptoms are non-specific. Although fatigue and weight gain are some of the symptoms associated with low thyroid function, in most cases the thyroid is not the culprit. However, patients deserve an evaluation for this as a possible etiology. In addition, thyroid nodules are common in adult patients and most are not thyroid cancer. When found, these nodules need an evaluation by an endocrinologist to determine the need for further work-up. Another thing they may not know is that endocrinologists are some of the happiest medical specialists.
Does COVID-19 affect thyroid health? If so, how?
There has been some research done on this subject, but it is still limited. Thyroid dysfunction during and after COVID-19 has been documented in various clinical studies. In most cases, it is a reversible phenomenon. Most patients will have normal thyroid function; however, thyroid dysfunction such as subacute thyroiditis has been reported. Some of the medications used during COVID-19 can also cause abrupt changes in thyroid hormone secretion and alter assay results. Receptors used by the virus to enter cells are present in thyroid tissue, and it has been suggested that COVID-19 may trigger the activation of pre-existing thyroid disease or autoimmunity. Although some evidence suggests that this may be caused by possible direct infection or a cytokine-mediated autoimmune effect, more research is needed to better understand this.
What are the symptoms of thyroid disease and is there anything we can do to improve the chances of maintaining a healthy thyroid?
This depends on the type of thyroid dysfunction. Hypothyroidism has nonspecific symptoms such as cold intolerance, fatigue, constipation, dry skin, weight gain, depression, hoarseness and muscle aches, among others. Hyperthyroidism may present with heat intolerance, palpitations, unintentional weight loss, increased hunger, anxiety, irritability, sweating, tremors, frequent bowel movements, insomnia, among others. We recommend maintaining a healthy diet and regular exercise to improve our general health. To this date, there is not a scientifically proven specific "thyroid health diet".
Why did you decide to join ABIM governance?
I find this is a great opportunity to contribute to the very important work ABIM does. I believe that board certification has never been more important given the current challenges health care faces such as medical misinformation, mistrust in medicine and other clinical practitioners becoming more active in direct patient care. I also believe that the work of ABIM should continue to be centered on supporting physicians and implementing change based on the current needs during these challenging times. I feel I can contribute meaningfully to this work, which is of great importance.
Why is ABIM board certification important to you?
It is not just important; it is crucial—ABIM board certification sets us apart from the rest. It is a way to identify physicians who are well trained and have demonstrated their continuing education and expertise through a formal and effective process. It promotes further education and fosters advancement. As mentioned before, we are currently practicing in times where multiple different types of providers deliver health care; and accountability for the education, training, knowledge and skillset is imperative. This is what our patients deserve and this is what ABIM provides.
When you think about your medical career, what are you most proud of?
First and foremost, the work I do every day, the countless patients I have been able to help, educate, support, and make a positive change throughout their lives. I am blessed to love what I do and to serve those who need it the most in an area of the country where highly specialized medical care is not abundant. I have the honor to provide exceptional care to my patients every day at Sanford Health. I am also proud of my journey to get here, from my education at the Universidad of Monterrey in Mexico, my Internal Medicine residency at Baylor College of Medicine, and my endocrinology fellowship at the Mayo Clinic. I have the honor of serving in different leadership roles in outstanding organizations to make a lasting impact.
Do you have any hobbies that you enjoy outside of work?
There is nothing that brings me greater pleasure than enjoying time with my wife and two daughters; as a family we often travel, play board games, read books or watch movies together. For me, this is what life is all about.
Do you have a favorite book?
I have a few, but Mountains Beyond Mountains by Tracy Kidder is one of my favorites. This book illustrates very well our vocation as physicians and the strong commitment to serve those in need.
You may also be interested in...