Dr. Khan is a practicing general internist and Chief Medical Officer, Value-Based Care Strategy at Oak Street Health, a value-based health care company focused on the delivery of transformative primary care to vulnerable Medicare and Medicare-Medicaid enrollees across the United States.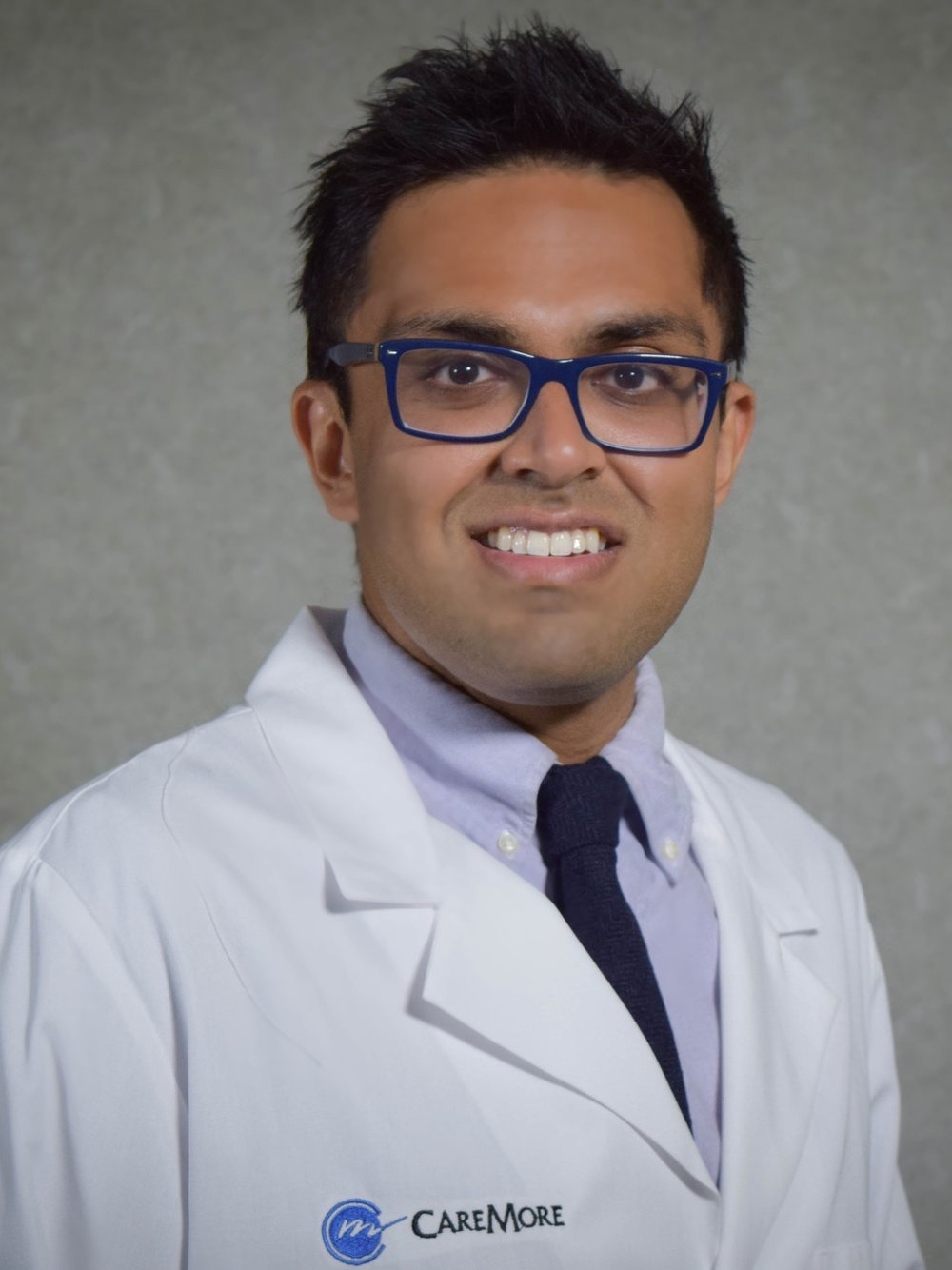 As Chief Medical Officer, Ali leads efforts in managed care strategy and operations, clinical design, medical management, clinical workforce development and public policy. Ali joined Oak Street Health in 2019 as Executive Medical Director of Oak Street's largest Heartland Division and continues to practice general internal medicine on Chicago's West Side. He also serves on the clinical faculty of the University of Chicago, Pritzker School of Medicine. Dr. Khan was listed as Crain's 2022 Chicago 40 Under 40, Crain's 2022 Notable Executives of Color in Health Care and Crain's Chicago Business Health Care Hero last year for his work during the COVID-19 pandemic. He has been a member of ABIM's Internal Medicine Board since 2020.
You work at the intersection of medicine, entrepreneurship, translational health policy, population health and public service to help transform American health care delivery. Can you explain what that means?
I've been really fortunate in that I have had opportunities to try to figure out the best ways to treat the deep problems of this country's urban underserved who deserve fantastic care, but too often don't receive it. As a general internist, clinical medicine is a daily part of that work. But since very early in my career I have also had the opportunity to be immersed in innovative health care delivery systems that can put policy changes into practice.
By that I mean things in the Affordable Care Act that increased the attention given to reforms in Medicare Advantage or managed Medicaid and led to new care models being developed where people are not paid based on how many patients they take care of that day, but on keeping populations healthy. That sort of translational health policy piece has enabled lots of different kinds of players—from individual physicians to venture capital and private equity backed startups to insurers and nonprofit cooperative groups—to come together to think about how we can deliver care differently, particularly in communities that have long been primary care or pharmacy deserts, and in communities that have long had a lot of mistrust of American health care for a variety of reasons.
My work as a physician is core to everything I do, but my work is this amalgamation of policies that allow for true social entrepreneurship. It's like taking creative ideas found in the private sector and applying it to public service. Trying to focus and improve care for Medicare and Medicaid beneficiaries is exciting work and is what gets me up in the morning.
How does this all comes together at Oak Street Health.
We are a ten-year-old primary care delivery system focused wholly on caring for patients who are on Medicare. These are low income, struggling, marginalized seniors and Medicare enrollees who have a lot of bio-psychosocial challenges in their lives. They have complex social needs that can be met in care models that are funded, like Oak Street, entirely on the basis of population health. I am not paid based on how many people I see in a day. I am paid a fixed amount per person, per month to keep them out of trouble. The federal government gives us a set amount every month for a patient and as clinicians and large care teams, we decide how that money is spent. If my patient goes to the hospital, Oak Street pays for it. If my patient needs food, we can decide to pay for that if it falls within the federal guidelines and regulations. If our patient needs transportation to appointments, we can pay for that.
It enables us to eliminate some of the digitization that happens in American health care delivery systems and instead it allows us to say, "What do we need to do to help this person?" We build big primary care teams with physicians, nurses, community health workers, social workers and behavioral health specialists, podiatrists, pharmacists, drivers and folks who are there just to make sure that our patients are engaging with the community that they live in and have access to all the benefits that they're eligible for.
That whole ecosystem works to shift the framework in primary care from reactive to proactive. And it really works. On average we see our patients eight times a year and all of our appointments are between 40 and 60 minutes. That kind of time just isn't possible in traditional fee-for-service medicine, where people are seeing on average 26-27 people a day for 15-17 minutes.
What is the biggest challenge for physicians providing this type of care?
Learning how to integrate social care, health care and medical care together can be challenging. We learn to have just as much context from a social situation as a social worker would and to look at the whole person and everything that's happening in their life. Sometimes that means when a patient misses an appointment and they don't answer their phone, I have to go out and find them. I have walked around parking lots, knocking on the doors of gray cars because one of our patients was housing insecure and had a diabetic foot infection. She knew her car was gray but not the model, so I set out with a wound care kit and one of our social workers to figure out how to stabilize her infection and assess her. It's different work and I find it incredibly meaningful. Others might not.
What led you to have an interest in this kind of medicine?
I grew up in Northern Virginia inside the Beltway, right outside of Washington, D.C. My mother is an elementary school principal. My father is in information technology and sales and they were both small business owners and intellectually very curious. I think those two things led me to be practical, thrifty and curious.
I spent weekends and summers working in their businesses doing things like vacuuming air filters at the elementary school so it lasted a little longer and learning how to do basic accounting for my father's IT firm. That kind of ethic of building things set in early. And being so close to Washington, D.C., I built a curiosity about and an interest in broader societal issues.
I applied to college thinking that I would become an investigative reporter. My parents really wanted me to fulfill my genetic destiny and become a cardiologist. I ended up going into an eight-year combined undergrad and medical program at Virginia Commonwealth University (VCU) in Richmond, Virginia. They essentially required you to major in something that was not science related and built on that. You had to complete a ton of service experiences, study abroad and do a lot of different experiential things with the goal of trying to train thoughtful generalists before they entered medical school. I began thinking about what sort of work would drive meaningful social impact and how I could bring that into a career in medicine. I ended up leaving undergrad school early and spent the better part of a year in Boston doing human rights and domestic policy work at a major nonprofit.
During my third year of medical school at VCU, I really thought about how I could be impactful from a policy perspective, and whether public health would be the right kind of career choice for me or whether law would be better alongside my medical career. I ended up going to the Kennedy School of Government. I woke up one day during my second semester and I realized I missed internal medicine. It took a little bit of being outside of the clinical environment in the training rat race to make it really clear what my home was going to be for a lifetime. I was able to combine all my interests and use them here at Oak Street.
What did you see at Oak Street during COVID in terms of the vulnerable population? What lessons did you learn and what adjustments did you make?
We were able to flip from 3% to around 95% telehealth in just under two weeks, which I think is a sign of the nimbleness that we have as an organization. We have vans that normally transport patients to and from their appointments and we leveraged those to do wellness checks and weekly food and toilet paper deliveries. That helped to keep our seniors at home. When a patient who clearly had COVID called, we sent supply kits with Gatorade, a pulse ox, a thermometer and other things that allowed them to isolate safely at home. If they couldn't isolate safely we'd proactively work to get them better housing so they could safely isolate in place. We focused on connecting people to the resources that they needed rather than just directing them towards it.
The other thing that became abundantly clear during COVID is that the communities that we serve, which are communities that have an average income way below the federal poverty limit, are structurally highly vulnerable. Communities of color and immigrant communities were hit hardest by COVID especially in terms of cases and deaths. Because we were able to so quickly and effectively switch to virtual, we had space that allowed us to become community testing hubs. We partnered with city and state departments of public health to make sure people had access to testing that they needed in the neighborhoods that they lived in. We were able to partner with community vaccination campaigns to deliver shots into the arms of people in the communities that were being hit hardest, where we were seeing the most deaths.
It made us realize how Oak Street can really fit into a community and deepen the partnerships working within those communities. What's come out of the pandemic is the deepening of relationships and the bi-directionality of relationships with city, state and federal agencies; those relationships have remained intact.
We continue to be proactive and we're thankful we've gotten a ton of people vaccinated thanks to the work that we do every day, trying to rebuild trust in American health care.
How do you rebuild trust in medicine?
A lot of that really comes down to investing and reinvesting in the communities that we serve and ensuring that the partnerships we made are not temporary but are built to last. When we're actually able to leverage authentic relationships to help our patients get the housing support that they need or the job training or adult day care services or assistance with caring for grandchildren—that builds trust. That's what helps people not worry alone, and that's what we're here for.
You are on the ABIM Internal Medicine Board and you are a Trustee for the ABIM Foundation. Why did you decide to join ABIM Governance?
I'm a lover of organized medicine, and I think the work of our profession is really important in crafting the future of American health care delivery. How we as a community of internists can advance clinical excellence is really, really important to me. Especially as a community doctor not working in academic setting, I recognize that things like logical assessment and certification are tools designed to elevate all of us so we deliver the baseline standard of care. We want to make sure whether my mother is walking into Mass General Brigham or Sunrise Hospital in Las Vegas that she's getting the same quality of care from physicians who have the same baseline commitment to lifelong learning and practice improvement.
Being able to engage that way through the Internal Medicine Board and now through the ABIM Foundation has just been such a privilege, especially at this stage of my career.
You may also be interested in...