By Nagendra Gupta, MD, FACP, CPE
Dr. Gupta is a is the Medical Director at Texas Health Arlington Memorial Hospital where he leads a team of over 20 physicians, overseeing the care for more than 180 patients each day. He is participating in the Internal Medicine Longitudinal Knowledge Assessment (LKA®). In addition to Internal Medicine, the LKA is available in 14 specialties. For more information, visit abim.org/lka.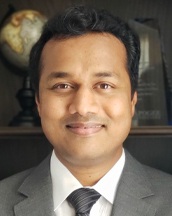 I have been participating in the Internal Medicine Longitudinal Knowledge Assessment as a part of my Maintenance of Certification for about two quarters. As an ABIM Internal Medicine Board Member, I wholeheartedly endorse the LKA as a valuable tool for advancing our knowledge and elevating internal medicine practice.
Here are four reasons why the LKA is transforming the way we approach maintaining board certification:
Promotes Continuous Learning: The LKA's focus on continuous learning aligns with the evolving landscape of medicine, where staying current is crucial.
Offers Flexibility and Convenience: The LKA allows us to complete assessments at our own pace, on our schedule and the flexibility provided by the LKA is unparalleled.
Focused on Targeted Self-Improvement: The LKA identifies specific areas of strength and weakness, allowing us to focus our efforts on areas that need improvement. The personalized feedback provided by the LKA empowers us to target our learning and improvement efforts precisely.
Relevant to Real-World Practice: The LKA presents questions that reflect real-world clinical scenarios, ensuring that the knowledge we gain directly applies to our daily practice.
By participating in the LKA, we demonstrate our commitment to lifelong education, ensuring that we provide the highest standard of care to our patients. And having experienced the benefits firsthand, I am confident in recommending LKA to my fellow internal medicine diplomates.
You may also be interested in...