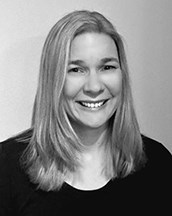 Elise Carlson, MD, is a private rheumatologist at New Haven Rheumatology, Assistant Clinical Professor at Frank H. Netter School of Medicine at Quinnipiac University, and Assistant Clinical Professor at Yale University School of Medicine, where she provides rheumatology training to fellows and medical students. Dr. Carlson volunteers at the New Haven Health Project and has served on the ABIM Rheumatology Board since 2021.
How did you become a rheumatologist? What about this specialty interests you?
I did a two-month rotation in rheumatology during my third year in medical school. My mentor, Dr. Naomi Rothfield, was a woman everybody respected because she expected a high quality of care. She was a pioneer in rheumatology in the 1980s and sat on the original panel to set up criteria for the discipline. We got along really well. She took me under her wing, introduced me to rheumatology and made me think outside the box. She wanted every patient undressed and thoroughly examined with a complete history. She taught me to be critical of the information I was gathering to make a diagnosis and treatment plan. I did my fellowship under her as well.
I think of rheumatology like a puzzle. You have pieces of history, the physical exam, bloodwork and evaluations, and you put everything together into a picture. Rheumatology is unique in that it does not involve just one organ system. It looks at the whole person, so listening to a patient's story and delineating the most pertinent information to make a diagnosis is essential.
You've been in private community practice for 18 years. How has rheumatology care changed from your perspective in that time?
My practice has been around for close to 50 years. When I began in practice, it was the old-school way of practicing and a team effort to care for patients. On weekends we would round on our patients in the hospital. It was a continuation of care that we do not see anymore. We have continued to follow the more traditional practice style. We do not have nurses or medical assistants; we greet the patients in the waiting room and bring them into the exam rooms ourselves. We maintain the spirit of it being a community-based, patient-focused office.
One of the most significant changes is the loss of continuity when our patients get admitted to the hospital. The patients are placed on the hospitalist's service, and they consult the hospital-based rheumatologists for our patients. I have the opportunity to attend with the rheumatology fellows for several weeks throughout the year and do hospital rheumatology consults, but these are most often not our patients.
Additionally, there has been a shift from community practices to joining larger groups or hospital organizations. I often feel like my practice is the mom-and-pop hardware store next to the big box hardware store giants.
What are the leading concerns for you as a rheumatologist in private practice? What issues in medicine and the profession are most vital for you?
My leading concern is being able to stay independent. I enjoy managing my practice with my partners and working closely with my staff. Much work and time go into managing a practice, but I love the challenge and independence. I am the "chief cook and bottle washer." I wonder if I will survive or be swallowed up by bigger organizations. I am concerned that my referring practices will not remain independent, and I will lose my patient referral sources.
Aside from medical knowledge, what lessons do you try to instill in the fellows and medical students you work with? What do you think is most valuable for them to know?
I always say to them that everything they are learning at this point in medicine will change dramatically in the next few years. Medicine is a constantly evolving discipline. I know I did not appreciate this when I went through my training. When studying the material for the first time, you are just trying to understand the vast amount of material. You quickly realize that diagnosis, treatment and management change when practicing. Trying to stay ahead of the changes can seem overwhelming. Part of the message I send them is that medicine is a constant learning process that continues throughout your lifetime.
The most important thing to me is to tell them not to lose their love of being with patients and the humanity that comes with medicine. It is very easy to get so wrapped up in prior authorizations, paperwork and daily practice stress that you can forget that caring for the patient is an essential part of our day. Always listen to the patient.
You design the curriculum for the musculoskeletal block and deliver lectures on rheumatology to medical students. Can you discuss your approach to curriculum development and teaching and how you strive to make the material engaging and accessible for students?
That has evolved. I have been teaching for about ten years; even through COVID-19, we transitioned from in-classroom lectures to Zoom lectures. We have now incorporated a hybrid model. I am also seeing medical education change from didactic lectures to active learning with students. We have both problem-based learning and team-based learning. Every year I find myself editing and adjusting the curriculum based on student feedback and success with the information presented to the students.
What have you learned from teaching/training and creating curricula? How does it impact your practice?
It does make me think critically. You must be one step ahead of the students, and I must try to stay current. In medical school, there is a deep dive into pathology, and as rheumatologists, the pathophysiology is part of what we do, but I have to take a step back to go into the pathology side. It has allowed me to fill in the gaps and expand my knowledge.
You also volunteer at the New Haven Health Project, providing health screenings to clients at the local food bank. Can you discuss the importance of community health initiatives and how they contribute to healthcare access and equity?
This volunteer opportunity has been a love of mine. I discovered during the pandemic that I was one of a few attendings comfortable with doing this, so I got to do it more often. The food bank is open every Saturday, and the New Haven Health Project provides health screenings. Medical, nursing, physician assistant and public health students run the project and are eager to make changes. What has stood out to me is, never assume who you think cannot afford food. Every person from every walk of life is present. There could be lines of 200 people waiting for food each week, and during COVID, there was even a higher need. People were struggling because they had lost their jobs or were not getting regular paychecks.
At the clinic, we provide blood pressure and sugar screening. Before COVID, social workers were also present to help provide community resource information, but during COVID, the social workers were unavailable, and the project began to fill this role. We would provide information about medical services available for uninsured or underinsured people and guide them to agencies helping with homelessness. We would also direct people to vaccination clinics for COVID vaccinations, flu vaccinations, etc.
What has been your personal experience of the impact of misinformation in community practice?
The most misinformation I experienced was and still is about COVID vaccinations. I am fortunate that this is only a tiny percentage of my practice, but some patients still have significant reservations about getting vaccinated based on misinformation.
Why did you want to join the ABIM Rheumatology Board? What has been your impression so far?
First of all, I love it—I've enjoyed meeting with my fellow board members and working with people from all different sections of rheumatology. Even though we have different experiences, we are all similar in our concerns about future issues in rheumatology and providing excellent patient care.
I wanted to be part of the ABIM Rheumatology Board because I feel it is essential to keep physicians accountable and up to date on the literature and care of patients. I love to learn. I find when you're studying for these exams it makes you stay up to date. Getting lost in the daily grind of work and getting comfortable doing the same things can be easy.
I am looking forward to starting the Rheumatology LKA next year.
What do you want diplomates to know about the work of the Rheumatology Board?
I think the Specialty Board is thinking critically and outside the box about what rheumatologists are encountering. There has been this transformation of ABIM to try to make a positive experience in continuing physician education.
Teaching and practice must take up a lot of your time. What do you like to do to unwind?
This year, my husband and I started curling at a club down the road from us; we started taking lessons, and we did a curling tournament, which was such a fun experience. The club has such a friendly group of people, and we hope to sign up as members and have fun and laugh as we struggle to learn this great sport—it's a great way to let off steam.