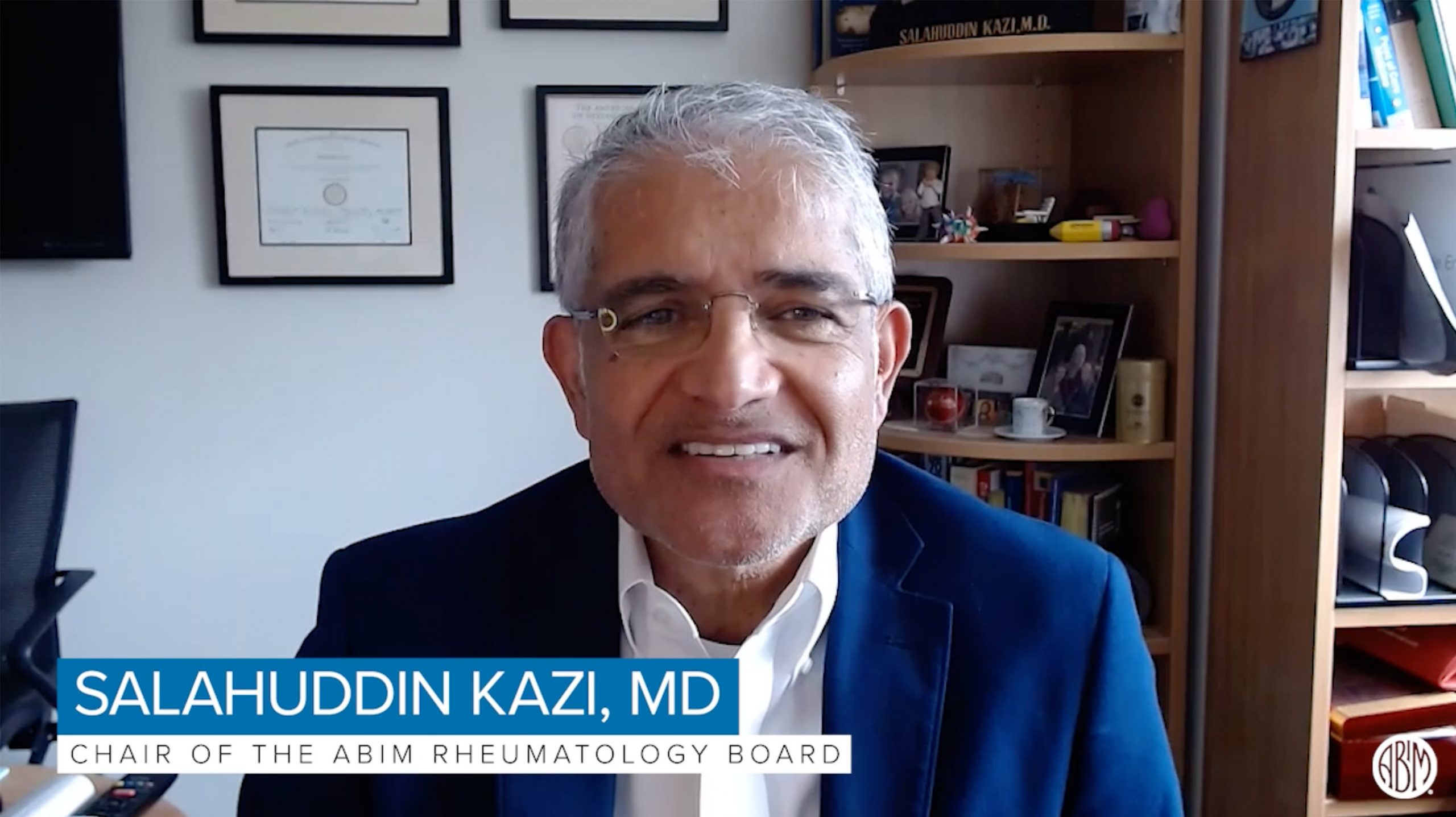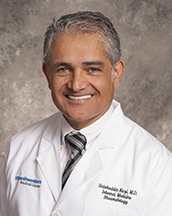 The Rheumatology Board held its fall meeting on Monday, September 11, 2023. The agenda provided an opportunity to update the Rheumatology Board on activity at ABIM and allowed for discussion of pressing issues in the field. The Specialty Board was joined by guests from the American College of Rheumatology.
The following is a summary of the fall meeting.
Conversation with the President
Prior to the meeting, members and guests of the Rheumatology Board had the opportunity to review a video update from Richard J. Baron, MD, MACP, President and Chief Executive Officer of ABIM and ABIM Foundation, reflecting on current issues for ABIM and the internal medicine community. Dr. Baron invited the Specialty Board to discuss these topics, including:
Recent public conversations and press coverage around the value of ABIM's Maintenance of Certification (MOC) program.
Engagement of early career physicians and trainees in ABIM's work and how members of ABIM governance can facilitate conversations with colleagues and leaders in their disciplines to foster better understanding of ABIM's mission and programs.
The ongoing and evolving challenges in addressing misinformation, and the historical roots of mistrust in science and medicine, as explored at the ABIM Foundation Forum in July.
Dr. Baron noted that ABIM's newest assessment option, the Longitudinal Knowledge Assessment (LKA®), has been the overwhelmingly popular choice—with largely positive reviews—for diplomates due for an assessment in 2022 and 2023, but some physicians are still calling for changes to the current MOC model. The Specialty Board discussed the prevalence of this topic on social media platforms and in trade media, and engaged in a conversation about what changes ABIM should consider for the future.
Regarding misinformation, Salahuddin Kazi, MD, Chair of the Rheumatology Board, posed a question about ABIM's work in this area while major corporations—like social media companies—are backing down from their efforts to monitor and curb the spread of misinformation. Dr. Baron pointed out that recent federal court rulings have weakened these attempts, and organizations committed to working against misinformation must act.
Diversity, Equity and Inclusion (DEI)
The Rheumatology Board received an update on ABIM's DEI work from Lorna Lynn, MD, Vice President of Medical Education Research; Kelly Rand, MA, CPH, Program Officer of Diversity and Health Equity; and Pamela Browner White, Senior Vice President of Communications and Chief DEI Officer.
Their central points included:
A meeting in September held in collaboration with 24 medical specialty societies around DEI and how ABIM can collaborate with and support societies in this work.
Updates to the ABIM Physician Portal to introduce more inclusive options for self-identification of gender, race and ethnicity based on feedback from diplomates who engaged in listening sessions.
Collaboration with the Accreditation Council for Continuing Medical Education (ACCME) to offer continuing medical education credit and MOC points for mentoring activities based on feedback that identified the importance of mentorship for students, trainees and underrepresented groups who face barriers to success because of personal characteristics.
Fairness review pilots conducted in cardiovascular disease, gastroenterology, internal medicine and nephrology over the past year using statistical analysis and content review to identify bias in ABIM assessment questions (items) in those disciplines.
There was some discussion of the last topic, including a suggestion from Marcy Bolster, MD, Chair of the Rheumatology LKA Approval Committee, to invite physicians to review items outside of their own disciplines for bias, which might foster participation in underrepresented groups. Shannon Scielzo, Ph.D., asked whether the passing proportion of different groups that are underrepresented in medicine was included in the fairness reviews; Dr. Lynn explained that the current work focused on individual test items, using statistical analysis to flag potentially biased items and then review of flagged items by a diverse group of content experts to remove items with any bias. Future research will consider overall exam performance.
The presenters invited the group to consider challenges to DEI work in their own respective environments. Several points were raised, including the repercussions of the recent Supreme Court ruling against affirmative action, difficulties fostering mentorship in the workforce because of a lack of acknowledgment of its importance, and the impact of the "minority tax" on physicians from groups underrepresented in medicine who are often asked to serve in multiple roles and activities.
Listening Session on the Longitudinal Knowledge Assessment (LKA®)
Thor Odhner, ABIM's Program Officer of Diplomate Experience, shared recent insights about diplomates' engagement in the LKA and their experience and feedback, inviting the group's perspectives from their own communities.
In discussion with some members of the group, Mr. Odhner made a few additional points, including that the relatively small number of diplomates unenrolling from the LKA may be physicians who find they prefer the traditional, 10-year MOC exam, or that the commitment to 30 LKA questions per quarter does not align with their availability. He also further clarified that diplomates certified before 1990 can now use the LKA to meet their assessment requirement to remain publicly reported as "Participating in MOC." Physicians continue to choose the LKA over the traditional, 10-year MOC exam at a rate of 4:1 on average across all 15 subspecialties in which it is offered. On average, LKA takers are taking less than two minutes to answer each question, less than one hour per quarter in total.
LKA enrollment for diplomates with an assessment due in 2024 opens on December 1, 2023. Diplomates are encouraged to check their Physician Portal for upcoming requirements and eligibility.
Annual Maintenance of Certification Status Review
Florence Mickens, ABIM Program Operations Manager, and Weifeng Weng, Ph.D., Director of Research and Data Intelligence, reviewed the annual process through which ABIM evaluates certificates to determine whether an individual diplomate is meeting MOC requirements and helps keep diplomates on track. The requirements are to be current with the MOC assessment requirement, attestations (for interventional cardiology only) and MOC points (some points every two years and 100 points every five years). Certificates that do not meet these requirements will either experience a status change in certification or participation, or enter a grace period. Diplomates are encouraged to sign in to their Physician Portal to check their status regularly.
Ms. Mickens and Dr. Weng explained that the 2023 cohort of "at-risk" certificates is comparatively large due to two primary contributing factors:
The number of physicians who earned initial certification in and prior to 2014 when the current MOC program requirements began are now due for their second five-year MOC point requirement. Physicians who earned certification in 2018 are also due for their first five-year point requirement in 2023.
The extension given to certificates in Critical Care Medicine, Infectious Disease and Pulmonary Disease as a result of the pandemic has ended.
ABIM engages in a robust and comprehensive communications strategy over several months to alert at-risk diplomates of upcoming deadlines in order to minimize the number of diplomates who miss the deadline and are subsequently reported as "Not Certified." Tactics include email campaigns, postcards and e-newsletters.
Members of the group reiterated the importance of making communications around these deadlines very clear and offered suggestions such as sending text reminders to diplomates. Ms. Mickens noted that this idea has surfaced before with mixed reactions from diplomates, but the ABIM Physician Portal app offers a similar function through push notifications. Richard G. Battaglia, MD, FACP, Chief Medical Officer of ABIM, encouraged guests from the American College of Rheumatology (ACR) to join ABIM in discussing how they could work together to amplify communications about MOC deadlines.
Update from the American College of Rheumatology (ACR)
Guests from ACR outlined the College's strategic plan and its three main areas of focus: innovations in rheumatology, an inclusive voice for the discipline and workforce retention. They also celebrated the positive impact of loosening pandemic restrictions on their upcoming annual meeting in November, and highlighted the recent publication of a white paper, "The Clinical and Economic Value of Rheumatology: An Analysis of Market Supply and Utilization in the United States," which has received a positive response. In addition, ACR noted that the introduction of the LKA has provided a useful alternative to the 10-year exam and they will continue to gather feedback on this from ABIM and from within the discipline.
Update on a Proposed Special Consideration Pilot Program for Exceptionally Qualified International Medical Graduates
At its spring meeting, the Rheumatology Board discussed the ABIM Council's plan to explore the proposed new special consideration pathway for international medical graduates (IMGs) who have completed their internal medicine training in another country and then completed accredited fellowship training in the U.S. or Canada. Anamika Gavhane, Senior Director of Discipline-Specific Governance for ABIM, provided an update on this proposal, outlined as follows:
Begin with a pilot program which results in the ability to answer key questions in order to build a data-informed decision about whether to create a formal pathway.
Connect the pilot to principles of competency-based medical education.
Connect eligibility for the pilot to IMGs who have met criteria of the Accreditation Council for Graduate Medical Education (ACGME) to be considered "exceptionally qualified" to enter accredited fellowship training. (See Section III.A.1.c) of ACGME Common Program Requirements for Fellowships.)
Before any decision is made, ABIM plans to conduct stakeholder outreach. Stakeholders would include the ACGME, ACGME International, medical specialty and professional societies, program directors, physician employers, state medical boards, patient advocacy groups, graduate medical education societies and state public health organizations. Data collected from these groups would inform the Council's recommendation which, if positive, would lead to a public comment period prior to a final decision by the Council on whether to apply to the American Board of Medical Specialties (ABMS) Committee on Certification to formally implement the pilot program.
Members of the group reiterated that this proposal could make a positive impact on the rheumatology workforce and offered suggestions of other stakeholder groups to include in the initial outreach, such as medical societies at the state and local levels.
Communications and Governance Engagement
John Held, Senior Director of Communications and Brand Management for ABIM, and Peter McConnell, Program Manager for Governance and Medical Society Communications, provided an update on ABIM's communications work and current trends in the community. The presenters invited the Specialty Board to share their own perspectives and discuss how ABIM can foster better understanding and enhance the perceived value of the MOC program among diplomates.
Members of the group noted, as above, that conversations about and criticism of MOC extend beyond social media spaces. Others compared certification and lifelong learning in professions unrelated to health care, emphasizing that maintenance of current knowledge is as important in physicians as it is in these other fields. They encouraged ABIM to continue engaging in communications to better explain the program and the value it provides to physicians, and to explore ways to reach public audiences outside of the profession, including patients.
Opportunities for Engaging Early Career Physicians
ABIM is one of several organizations that nominate candidates for the ACGME Residency Review Committee for Internal Medicine (RC-IM). The RC-IM invited ABIM to nominate two physicians for the committee who will still be in training during their two-year term. Nominations were solicited from ACGME-accredited internal medicine residency and fellowship program directors.
Ms. Gavhane explained the candidate vetting process to the Specialty Board and also shared ABIM's plans to explore a convening of early career physicians across the disciplines of internal medicine. The convening would offer an opportunity to further learn from young physicians by gathering trainees and/or newly certified diplomates, including prospective nominees not chosen to serve on the RC-IM.
Update on the Rheumatology Approval Committees
Marcy Bolster, MD, Harvard Medical School and Massachusetts General Hospital; Chair of the Rheumatology LKA Approval Committee
Kenneth S. O'Rourke, MD, Maine Medical Center; Chair of the Rheumatology Traditional, 10-Year MOC Exam Approval Committee
ABIM Approval Committees are responsible for approving and, if necessary, editing and providing feedback to item writers on all assessments, and maintaining the blueprints for the Initial Certification Examination, the Traditional, 10-Year MOC Examination and the LKA. There are two Approval Committees in Rheumatology: the Traditional, 10-Year MOC Exam Approval Committee (which also deals with the initial certification exam) and the LKA Approval Committee. Dr. Bolster and Dr. O'Rourke provided a brief update for the Specialty Board on the composition of the Approval Committees, progress on item development in meetings this year and news about the Item-Writing Task Force.
In Closing
The Rheumatology Board values the feedback and commentary of the entire medical community, including diplomates and society partners.
Do you have any questions? Are you interested in getting involved?
If you have questions after reading this report, please connect with us through the following channels:
You may also be interested in...