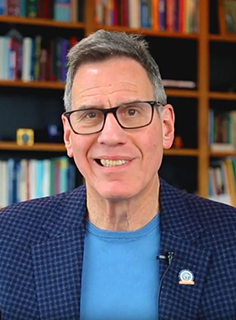 As we check in with diplomates to see what is on your mind, we are hearing a lot of questions, concerns and anxiety about how ChatGPT may change what we do. To provide some answers, I asked an expert, and here is what the expert told me:
"Overall, ChatGPT has the potential to transform medical practice by assisting physicians in decision-making, improving patient communication and enhancing medical education."
I have to be honest here: that "expert" was ChatGPT itself. This was the final summary in a 235-word document which it produced in 10-15 seconds. On the one hand, the results are shocking; how could it do that? And on the other hand, looking more closely at what it is actually saying, it is pretty generic, picking out some obvious things we do and saying it has the potential to transform the way we do them. As a different kind of expert who has spent a lot of time thinking about how what we do as physicians adds value for patients, I am not too worried about our being replaced by ChatGPT. At least, not as long as we keep laser-focused on the human aspects of what we do. We connect with people at vulnerable moments and offer them advice and guidance relevant to the particular predicament they face. We have the opportunity to synthesize so much of who they are in what we do: we can read nonverbal cues and tone of voice. We often have seen them before and may know their personal situation in some depth. We draw on our own humanity to guide them through challenging times. I don't foresee a machine replacing that. I agree that it can and will be a valuable tool for patients and for us. It will help us survey existing knowledge more efficiently than we can today, just as UpToDate
®
and Google have migrated with many of us into the exam room, allowing us to access current knowledge promptly and easily. Those of us who practiced before there was a tool like that in the exam room know how much we relied on what we could remember/thought we knew, because it was just too difficult to access current knowledge while seeing patients. But giving patients access to Google and UpToDate doesn't make them doctors and can't replace what we do. It does and will require skill to know how to search for knowledge, what kind of knowledge to be searching for and when our own knowledge is insufficient. I suppose the most honest answer to the question is, "I don't know." I wouldn't have predicted 20 years ago that we would all have powerful computer cell phones with us all the time and how that would change everything — from making beepers superfluous to being able to capture images in practice and make them part of the medical record. So, I am not going to say I know where this is going. But I can say that how we practice today has been deeply influenced and changed by technology (everything from clinical chemistry to sophisticated imaging to the stethoscope itself), and the core of what we do remains the human interaction. We will still be experts in that.
Richard J. Baron, MD, MACP
President & CEO, ABIM/ABIM Foundation
Since its launch in 2022, physicians have chosen to use the Longitudinal Knowledge Assessment (LKA
®
) to maintain more than 50,000 certifications. In addition to the flexibility and ease of use of the LKA, many physicians say that they appreciate the immediate feedback they receive when they answer most questions because it allows them to know their strengths and weaknesses. This spring, LKA participants who have responded to enough questions over a period of time will begin to receive interim formative score reports that will provide them with the following:
Individual Performance to Date: Revealing their current score and how it compares to the overall passing score
Group Performance: A distribution of scores for all examinees in that discipline and the average score in the distribution
Recent Content Area Performance: Showing how many items they got correct and incorrect within each content area over the past year, along with their confidence levels for each response
For most physicians, a score report will become available after the end of the first quarter of their second year of taking the LKA. The score reports are designed to help physicians understand areas they're performing well in, as well as those which they may want to focus on for future study. We've
prepared a short video
explaining what you can expect and what the score report will look like. If you're due for an assessment this year and interested in participating in the LKA, make sure to enroll soon as the absolute last day to do so in 2023 is June 30 (though that quarter's questions expire at the end of that day, so doing so even sooner is a good idea to make sure you have enough time). Remember that the LKA is included at no extra cost as part of your annual Maintenance of Certification fee. Learn more about the
LKA on our dedicated website
, or read what some
physicians think about the LKA on the ABIM blog.
ABIM is committed to learning from our diplomates and providing the best programs and services possible to promote the delivery of excellent patient care. In recent years, part of this learning process has involved listening sessions with physicians from all backgrounds to gain a sense of what they want and need from ABIM, and the issues they struggle with in their professional lives.
What we heard
Physicians consistently told us they are busy and often overwhelmed. All doctors — but especially those with young children — struggle to find a good work/life balance, and both men and women spoke about pay inequality for women. We heard that representation matters and it's important to include a diverse group of physicians on ABIM governance. We also learned that a large percentage of the community believes there is a lack of opportunities in leadership positions for those in the underrepresented in medicine category. Many we spoke to believe diversity is limited to entry-level positions and that obtaining research funding or their name on a research paper is difficult. It was clear that bias and discrimination came from both patients and colleagues. Many were discouraged that some regions were more difficult to navigate than others.
What you suggested
The physicians we spoke with said they would like us to collect information about physician workforce diversity and share what we learn with other organizations for a unified understanding of the internal medicine community. Many suggested we model diversity in ABIM governance and provide more flexibility in maintenance of certification.
What we've done
Following the murder of George Floyd in 2020, ABIM issued a statement promising to analyze our programs for potential disparate impact on racial or ethnic minority candidates, be transparent about the results and address any inequity to which we may be contributing. The following year, we reiterated our commitment and promised to ensure that our programs and policies are in-line with the lived experiences of our diplomates, including (but not limited to): age, race, ethnicity, ability, faith, sexual orientation, gender identity, geographical location or practice setting.
This past March, we introduced expanded options in the Physician Portal to allow diplomates to better self-identify their gender, race and ethnicity. This is an important initiative for several reasons: it allows us to further measure items on assessments for fairness across the diplomate community and it provides us with insight into the makeup of internal medicine physicians in the U.S. Updating your information in the Portal is voluntary, but we hope many will take the opportunity to share their gender identity, race and ethnicity.
Additionally, we have worked to make the Longitudinal Knowledge Assessment (LKA®) as flexible and convenient as possible for busy physicians. Launched in 2022, it has been well-received by diplomates who have said it is easy to use, it provides more autonomy for physicians to answer questions where and when they want, and the immediate feedback makes them better clinicians.
ABIM has teamed with other organizations for several panel discussions on issues including transgender care, pay equity in medicine and dismantling bias in the workplace. In addition, we have shared more stories spotlighting the important work members of ABIM governance are doing through issue-oriented blogs that address things like obesity, advice for early career physicians and transgender care.
You can learn more about our diversity, equity and inclusion efforts in a special section of our website.
What we will be doing next
We pledge to continue expanding our efforts – to expand our listening sessions and to share what we've learned with other American Board of Medical Specialties member boards so we can collaborate and learn from each other. We have panel discussions, webinars and blogs planned for 2023. And we will continue to work to make ABIM a better organization for all our diplomates.
We appreciate all those who have volunteered their time to help us better understand your experience and needs. Feel free to contact us any time at community@ABIM.org if you would like to share an experience or an idea of how ABIM can help foster inclusivity.
Before ABIM creates any questions (also called items) for an assessment, several things happen behind the scenes. First, a review of potential topics for the exam is conducted. ABIM governance, physicians, relevant societies and organizations may weigh in on what they believe is important for physicians to know in current practice in that specialty. The information gathered is used to create a blueprint.
A blueprint provides a clear guide to content (i.e., topics) and the relative percentages that will be covered on an assessment. Blueprints within a discipline are similar for Certification and for Maintenance of Certification assessments, including the Longitudinal Knowledge Assessment. The information is a great study guide for anyone preparing for an assessment. Find the blueprint for your specialty.
The blueprint review process for each discipline is rigorous. Approval Committees check each blueprint annually, to be sure the topics and terminology are appropriate and current. Updates may be made to reflect changes in practice.
ABIM surveys diplomates periodically for input on the frequency and criticality of blueprint topics and related clinical tasks. Once this information is collected, the Approval Committee and ABIM staff analyze the results and propose changes that are reviewed and ultimately approved by the relevant Specialty Board.
How does it work?
Once there is an approved blueprint, the Item-Writing Task Force takes over. The topics in the blueprint are assigned to specific item-writers — physicians who have expertise in each content area. Each question is mapped to a specific topic and task of the blueprint. Questions are reviewed and revised by members of the Task Force, then sent to the Approval Committee for a final check.
"Using the blueprint as the foundation for the assessment helps provide a stable distribution of content across administrations," says Suzanne De la Cruz, Director of Test Development Operations. "In addition, basing the assessment on its associated blueprint helps guarantee that questions, and the overall exam, are relevant and appropriate for the discipline."
ABIM works to ensure that our blueprints reflect what is important in current practice, so our assessments measure the knowledge, skills and judgement expected of ABIM-certified physicians. ABIM is currently in the process of revamping our blueprint review process to make it even easier for physicians to provide feedback on what is important in their specialty.
Visit our website for more information about blueprints, the blueprint review process or for information on current ABIM Item-Writing Task Force and Approval Committee members. Visit our openings page for more information on opportunities to become involved with ABIM.
The ABIM Exam Experience team ensures that every doctor who sits for an exam or works through questions on the new Longitudinal Knowledge Assessment (LKA®) has what they need to be successful. ABIM is proud to comply with Title III of the Americans with Disabilities Act, which for our diplomates can mean providing comfort aids or a modified break schedule when taking a 10-year exam, or finding a way to help an individual who has an invisible disability by providing additional time for questions on the LKA. The ABIM team is also available to provide additional support for nursing and pregnant women.
We know it's not always easy to ask for help. Please know that discretion is a high priority throughout the process and assessment accommodations are confidential.
"Working with ABIM shed a lot of light that I am not the only one who needs accommodations, and many people just don't know what's available to them or how to ask," said an internist whose life completely changed overnight when he suffered a series of strokes. "Like many people I have never needed accommodations for assessments, I am the typical type A internist but there came to point where I thought I would have to let my licensure lapse, which I hated to do because certification is important to me. Then I learned about the Longitudinal Knowledge Assessment — I was showed what it is, what it looks like and what accommodations were available. I had to provide some background on my story, to get a letter from my physician and to let them know what accommodations I need. It was seamless once I knew what to do and it was processed and approved within a day. They were able to provide additional time to go through the questions so I did not feel rushed and could open UpToDate® . I've done 3-4 rounds of questions and I've done remarkably well while not completely wearing myself out in terms of symptoms at the end of the session. I'll do a set of 10, go away, then come back another time and do 10 more. I learned how to pace myself through the sessions.
This accommodation from ABIM helped me to keep something I'm proud of having and at the same time allows me to do what I need to do in a sustainable way. On top of that, I'm learning. Getting that feedback in real time has been very helpful, whether I get the answer correct or not. It's a nice learning experience, done in a way I can tolerate, and I didn't have to walk away from certification, which I value so much."
Learn more about the accommodations available on our website or send an email to accommodations@abim.org.
You may also be interested in...