Introducing Quarterly News and Notes
We know how busy you are. That's why we've created this new quarterly newsletter to keep you informed about ABIM news, share insights from your fellow doctors and let you know about opportunities to get involved with ABIM. We hope you find it helpful, and thank you for all you do as an important member of the ABIM physician community.
When I first entered practice in 1989, I never imagined that I would someday be Chair of the ABIM Board of Directors. So, it is with great humility that I begin my two-year term. Not only am I honored, but I'm very excited as we continue to innovate our programs and how we engage with you, our diplomates.
The most notable development is the Longitudinal Knowledge Assessment (LKA™) for Maintenance of Certification (MOC) that will launch in January. This new assessment option, an alternative to the traditional, 10-year MOC exam, allows you to answer questions from anywhere, on any device, using any look-up resource (except for another person), at your own pace. Details are available at a new website dedicated to the LKA.
In response to your requests for a better way to keep track of your MOC, there's an app for that! The new ABIM Physician Portal App makes it easier for you to see where you stand with respect to your MOC requirements and to find CME opportunities that count for MOC. I was one of the pilot testers for the app and found it to be simple to use and convenient. It's available for Android and Apple devices.
Over the last couple of years, we've paid more attention to how we interact with our diplomates. In addition to traditional methods such as e-mails, social media posts, exhibiting at professional society meetings, and invitations to participate in surveys and focus groups, we are exploring new ways to engage the ABIM community.
I recently hosted several diplomates in private practice in a "virtual office hour," where we discussed topics that included the impact of COVID-19 on their practices and the value of board certification in a world where expertise is devalued. It was a lively discussion. I appreciated my colleagues' willingness to take the time to participate and their candor.  Moving forward, we hope to continue bringing groups of physicians together in conversation with ABIM Governance and leadership. We'd like to learn more about what topics interest you, and set up an online poll for you to tell us what you think.
I look forward to working with my fellow Governance members, the ABIM staff, and all of you to increase the meaning, relevance, and value of board certification while reducing the burden of participation in our programs.
Sincerely,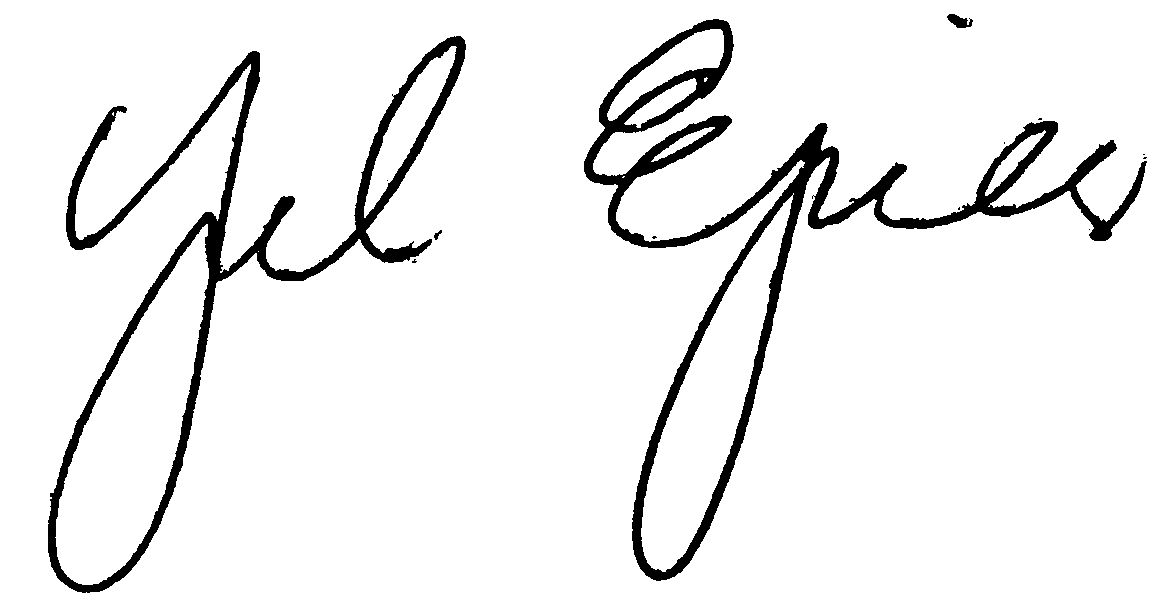 Yul D. Ejnes, MD
Chair, ABIM Board of Directors
Beginning in January 2022, physicians due for an assessment in 12 specialties can choose to use the Longitudinal Knowledge Assessment (LKATM) for Maintenance of Certification (MOC), with four additional specialties rolling out in 2023. The LKA is a new assessment option that was developed in partnership with physicians to help you know you're staying current while providing the convenience and flexibility to respond to questions any place, at any time and on any internet-connected laptop, tablet or mobile phone. And good news, the LKA will be included in your annual MOC fee at no additional charge beginning in 2022.
Learn how the LKA will work in this 87-second video:
When you participate in the LKA you'll receive 30 questions every quarter —for a total of 600 questions over 5 years. And you'll earn 0.2 MOC points for every correct answer—allowing you to potentially meet your MOC point requirement through LKA participation alone. Points you've earned will be automatically added to your personalized ABIM Physician Portal quarterly.

Learn more about the features and benefits of the LKA, and why it might be a good assessment option for you at www.abim.org/LKA.
The American Board of Internal Medicine (ABIM) collaborated with physicians to design a new, user-friendly app. With the ABIM Physician Portal app it's never been easier to keep up with your MOC program requirements.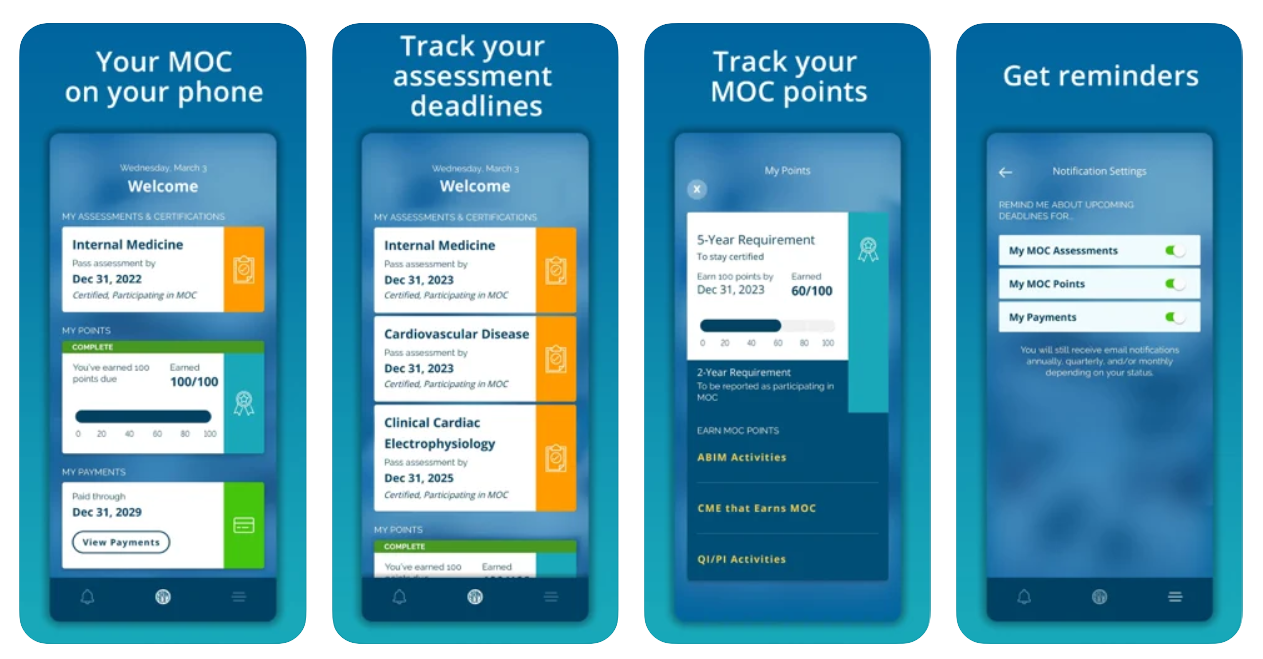 The Physician Portal app allows you to:
Track your MOC assessment deadlines
Track your MOC points requirement progress
Customize your reminders for assessments, points and payments
Watch the video below to learn more about what the new ABIM Physician Portal app offers.
Want to try the app for yourself? Download it now from your app store.
Your ABIM certification sets you apart and demonstrates to your peers and patients that you are an expert physician in your discipline. ABIM provides you with options for how you maintain your certification, giving you the flexibility to choose what works best for you while also giving you — and others — confidence that you are keeping your medical knowledge current. In 2022, ABIM will introduce a new assessment option: the Longitudinal Knowledge Assessment (LKA™), designed to provide you with more flexibility, convenience and faster feedback. How you pay for Maintenance of Certification (MOC) will change in conjunction with the launch of the LKA, and there's good news — the LKA will be included in your annual MOC fee at no additional cost. This means moving forward, ABIM Board Certified physicians will be able to choose an assessment option that allows them to pay less than they do today, as measured over a 10-year period.
Here's what you can expect to pay for MOC starting in 2022:

The new payment structure will go into effect 01/01/22 at the same time the LKA becomes available for 12 specialties. You can pay your 2022 MOC fee early and receive a 5% discount from 12/01/21 – 12/31/21. Unpaid program fees for 2021 can be paid until 12/31/21 at the regular rate, without incurring late charges.
Supporting 200,000 doctors through their careers, ABIM fees serve physicians by providing:

Examples of savings over 10 years for physicians choosing the LKA: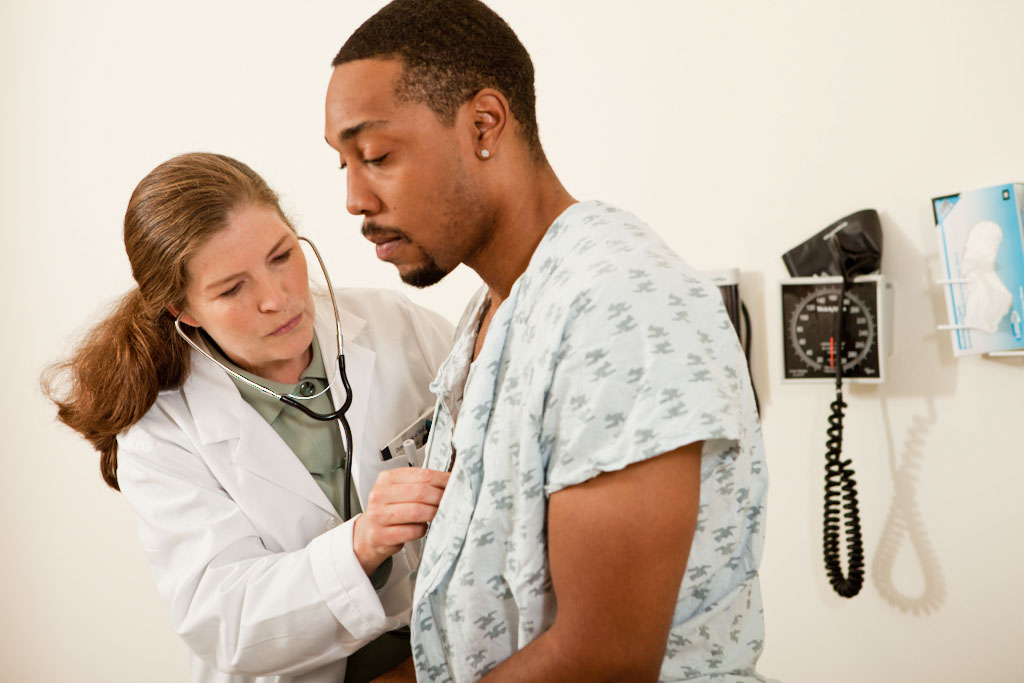 Like many organizations across the United States, the American Board of Internal Medicine (ABIM) and ABIM Foundation (ABIMF) are at a turning point, where we move from being "passively non-racist" institutions to committing ourselves to be an "actively anti-racist" influence in health care. In the tumultuous summer of 2020, we made a public commitment to explore our role in perpetuating—intentionally or not—racial disparities in health care through our Board's policies and programs.
And while our initial commitment in 2020 focused on racial justice, ABIM's Diversity, Equity and Inclusion (DEI) strategy has broadened to bring as many voices to the table as possible. Our goal is to ensure that our programs and policies are not divorced from the lived experiences of our diplomates, including (but not limited to): age, race, ethnicity, ability, faith, sex, sexual orientation, gender identity, geographical location or practice setting.
We have put together a blog post and a report outlining the work ABIM has done in the past year surrounding our DEI efforts, and invite you to share your ideas and feedback with us at DEI@abim.org.
Each year, hundreds of practicing physicians write thousands of questions for ABIM's Certification and Maintenance of Certification (MOC) exams. These questions undergo a rigorous review and testing process to ensure relevancy and fairness in order to help candidates and diplomates know that their medical knowledge is current.
As ABIM evolves its MOC program to include the Longitudinal Knowledge Assessment (LKATM)—launching in 12 specialties in 2022, followed by four more in 2023—we are also restructuring our test development process to better align with best practices and allow for more physician participation.
Exam Committee members currently write and review questions for the Certification and traditional, 10-year MOC exams and the Knowledge Check-In (which is being retired at the end of 2021). The LKA will require significantly more questions, so in 2020 ABIM expanded Item-Writing Task Forces to meet this demand. These volunteer physicians develop questions through prototyping and modeling.
ABIM's Specialty Boards are responsible for the broad definition of the discipline across Certification and MOC. Specialty Boards have oversight of the exam committees and are responsible for making Certification and MOC relevant vehicles in their discipline.
If you are interested in joining an Item-Writing Task Force or a Specialty Board, visit the openings page to learn more and apply for a position. 
You may also be interested in...